While East stumbles out of the gate, Pacers gun their engines
The other contenders have struggled but Indiana has looked good, confident, and dare we say better than last season to start 2013-2014.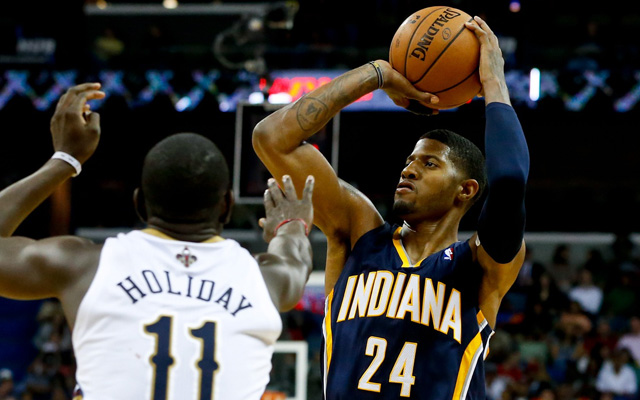 While the Bulls got trounced on opening night, the Heat turned around and flipped off the switch to lose two straight (including one to Philadelphia), and the Thunder and Clippers have each had a blowout, here are the Pacers, 2-0, after a comeback, on the road, in a team's home opener.
No, the competition isn't as tough as some of those other teams faced (the surprisingly tough Magic at home and the Pelicans, who were destroyed two nights later by those same Magic), but part of building a great season is simply avoiding big missteps. Getting trounced by the now 1-2 Kobe-Bryant-less Lakers on opening night? That's falling into a hole. Losing to the Sixers is like falling asleep on a couch with a lit cigarette.
Despite platitudes to the contrary, in an 82-game season, there are good wins and bad wins, you'll just take either one. And there are good losses and bad losses, you just try to avoid any of them. So far the Pacers have two good wins, taking care of business and running away from a feisty Magic team and then coming from behind to finish off the Pelicans.
The Pacers remain, for some strange reason, the easiest team for pundits to jump off of. Blogs and basketball nerds seem to get how good this team is, how well coached they are, how much Roy Hibbert dominates in the paint. (Opponents have completed just 26.3 percent of their shots in the restricted area against Hibbert, per the NBA's new SportVU data. If you were wondering, that's good, small sample or no.)
But the Pacers don't have that transcendent star. Derrick Rose has been brilliant, so the Bulls are who everyone talks about. The Nets are big and fancy and everyone loves KG, so they get pub. Yet the Pacers made the Eastern Conference Finals last year, and ... wait for it ... they look better.
Two years ago, I noticed Paul George was looking much better. He had a feel for the game, and was making a killing by coming off screens and shooting, using that length of his. That developed more and more along with his defense. Then he made a leap in his on-ball scoring last year and it was as if he came out of nowhere. George has been making strides every season and early (super early) this season, George looks even better. He's shooting the ball quicker and with more confidence. He has a better sense of when he's in a position to score and looks to be ahead of the defense's anticipation of him.
Combine that with a blistering start from Lance Stephenson and an improved bench and you have a model the Pacers can succeed with.
I pegged them for the under of their under/over total this season based mostly on the fact that they don't seem like a team built for the regular season, but the playoffs. But if they've really learned to close games better and if George and Hibbert (who dealt with a wrist injury last year) can balance the offense, they're going to be better.
No one seems to believe in the Pacers, despite them being one game from the Finals, and really if you think about it, one poorly designed defensive possession away. But if they fix two areas, their offense, their late-game execution, and if they choose to focus on winning regular season games instead of coasting, there's no reason to think the Pacers can't make an even better run than last year. With so many people predicting a falloff from Miami in the playoffs and anointing successors, it's about time the Pacers got the credit they deserve as potential heirs to the throne.
Trump rescinded Curry's invitation to the White House after Curry said he wasn't interested...

Silver said he was hoping Warriors would get chance to share their views directly with the...

Along with the Thunder, those were the three teams most involved in the Anthony trade talk...
LeBron said he was frustrated by the President's recent actions

A look at the various actors and elements in the latest sensational blockbuster trade in the...

Blockbuster deal doesn't change the Thunder's projected finish in the West