More NFL: Photos |  Videos & GIFs |  Training Camp updates | Manziel watch
We know that the Dallas Cowboys came close to drafting Johnny Manziel and we know that because Jerry Jones told us. Thanks to a new book, we now know how close the Cowboys might have been to grabbing Johnny Football. 
In 'Manziel Mania,' author Jim Dent says that Jerry Jones literally had the Manziel draft card 'snatched' out of his hand before he could turn it in. 
"Cowboys vice president Stephen Jones had snatched the Manziel card straight out of his dad's hand. Otherwise, Jerry would have drafted him and JFF would have sat for at least three years behind Tony Romo," Dent wrote in an excerpt provided to the Dallas Morning News. 
Dent seems to be a credible source on the subject of the Cowboys. The author covered the team for 11 years and even wrote a book about Jerry Jones. 
"I could just see Jones grabbing Manziel with the 16th choice of the first round," Dent writes. "I wrote a book about Jerry Jones in 1995 titled 'King of the Cowboys.' I know the Boss Hog. I knew that Jones' hands were shaking when the Cowboys went on the clock with Manziel still on the board. I could envision Jones scribbling the name of Johnny Manziel on the draft card. Indeed, all of these things happened."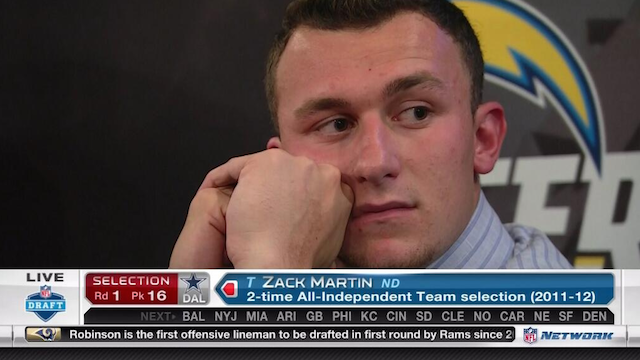 Dent's story is actually pretty consistent with what Jerry Jones said back in July. 
"I want you to know that almost as I was handing in the card, it was that close to putting that Manziel card in. It was that close," Jones said told NFL Network. "I looked over to my son, Stephen, our chief executive officer, and I said 'I took the right pick..' He was the top player by three players on our board at the time that we were sitting there looking at him."
The only part Jerry Jones left out in his story was the snatching part, but that's understandable, because no one wants to talk about their son undermining them by snatching something away. 
Anyway, we all know what happened next: The Cowboys didn't draft Johnny Football with pick No. 16. Instead, they went with a slightly less newsworthy pick in the form of Notre Dame offensive lineman Zack Martin. Johnny Football then sat in the green room for six more picks before the Browns 'snatched' him at No. 22.