Bengals owner regrets how Carson Palmer's time ended in Cincinnati
Palmer is playing at a higher level than at any time since the second year of his career, when he ended the Bengals' long playoff drought.
Carson Palmer, now in his 12th NFL season, is playing at an MVP level. He's completed 64.0 percent of his passes for a league-leading 8.9 yards per attempt, while throwing 23 touchdowns against only seven interceptions. Through nine games, it's easily Palmer's best performance since his second season in the league, when he led the Cincinnati Bengals to the playoffs for the first time in 15 years.
Palmer famously tore his ACL when he was hit low by Pittsburgh defensive lineman Kimo Von Oelhoffen on his first pass attempt of that game (a 66-yard completion to the late Chris Henry), and he was never really the same quarterback for the Bengals after that. Palmer spent five more seasons with Cincinnati, completing 62.2 percent of his passes and throwing 104 touchdowns and 70 picks. In his final season, the Bengals went 4-12. Apparently believing he was nearing the end of his career, Palmer requested a trade.
"We sat here in the office on a couple of occasions and argued about what the future should be for him and us," Bengals owner Mike Brown told FOX Sports. "Whether he really believed it or not I rather doubt. But my argument then with him was, 'You're a top quarterback and you've got real productive years in front of you.'
"He would say to me, 'Oh no. I'm all beat up. I'll be lucky to play another year or two,' which I didn't take to heart."
So rather than continue to play for the Bengals, Palmer retired. Shortly into the 2011 season, though, the Bengals acquiesced to his demands and traded him to the Oakland Raiders for first- and second-round picks. So Palmer unretired and played two mostly uninspiring seasons in Oakland.
He was subsequently traded again, this time to the Arizona Cardinals for a sixth-round pick in 2013 and a conditional 2014 pick. He's played far better for head coach Bruce Arians than he did in Oakland, though he did have his season end six games in by another ACL tear last year. Now, he's back and better than ever. 
Brown says he holds no hard feelings at this point, five years after the team traded the former No. 1 overall pick, but he does regret how Palmer's time with the team ended. "I like Carson Palmer personally," Brown said. "I did when he was here. I regret it broke apart the way it did. I don't want him to beat us any more than he wants us to beat him. I'm sure that will be in the back of his mind. But other than that, I wish him well.
"He's a special passer, very accurate," Brown continued. "I look at him play and I see the player that we had when he was here. When he's on and playing the way he can play, he is a big-time winning quarterback."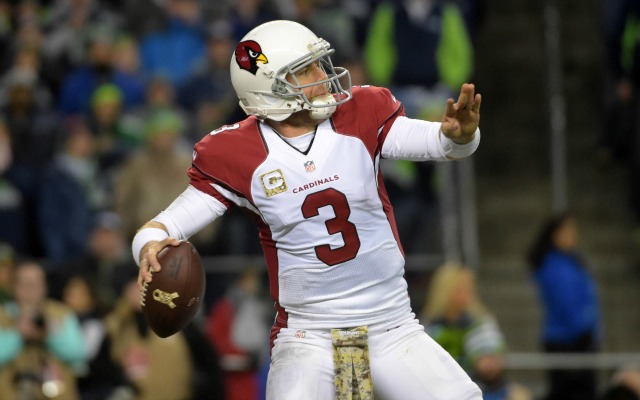 Pick Six Newsletter
Get the day's big stories + fun stuff you love like mock drafts, picks and power rankings.
Please check the opt-in box to acknowledge that you would like to subscribe.
Thanks for signing up!
Keep an eye on your inbox for the latest sports news.
Sorry!
There was an error processing your subscription.
Ron Rivera's confident the left tackle will be back, but maybe he shouldn't be

Everything you need to know to tune in for this week's rookie showcase

Once a new CBA is reached, the floodgates could open for the Patriots and Brady
Highlighting all the most notable inclusions of the league's proposal to NFL players

Scherff is set to make some big money in the near future, but a franchise tag is not out of...

Clowney likes Seattle, but is also open to 'new opportunities'
Kansas City won its first Super Bowl in 50 years as San Francisco struggled to maintain a late...

A Vince Lombardi Trophy is heading to Kansas City

Live scores, highlights and updates from the Broncos vs. Raiders football game