Bills Observations: Manuel capitalizing while Kolb watches
EJ Manuel is making the most of his opportunity while Kevin Kolb is sidelined with a knee injury. Jason La Canfora says the rookie is making it easy for the Bills to decide who is their Week 1 quarterback.
• 6 min read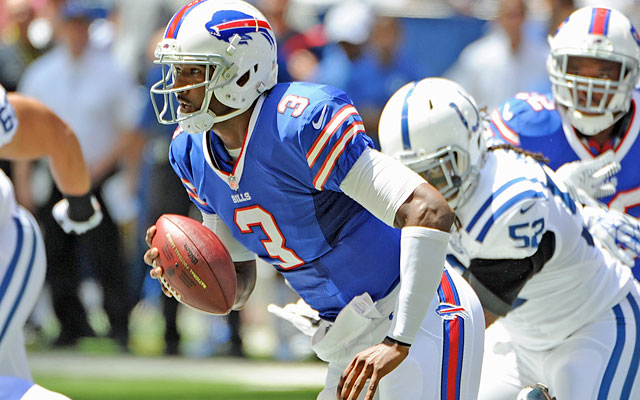 PITTSFORD, NY -- EJ Manuel had another strong practice following a strong overall showing in Sunday's preseason debut, Kevin Kolb fiddled with a brace on his injured leg and still might have to miss another week of game time, and the decision on the Buffalo Bills' Week 1 starter may prove to be one of the least complicated decisions rookie coach Doug Marrone will have to make.
Manuel was able to execute a decent two-minute offense, albeit against back-ups, in Buffalo's thrashing of the Colts over the weekend and he sprayed the ball around nicely at practice against today at St. John Fisher College.
Bills fans, so desperate for a quality quarterback, oohed and aahed even when Manuel completed long throws against air, and in those individual drills – often with Marrone serving as the center, his visor tucked backward -- it was easy to see the way the ball shot out of Manuel's hands compared to the other quarterbacks here. Marrone said it's too "too early" to know whether Kolb, who injured his knee in a freak slip after a practice last week, can play Friday, which means probably another half of work at least for Manuel and a chance to further cement the job.
"I was very pleased," Marrone said after reviewing film of Manuel's debut. "… You saw him settle into the game and start to do some really good things."
It's hard not to feel sorry for Kolb, who was having his best practice when he slipped on a mat that leads players off the field toward the path to the locker room. His grandmother also passed away, keeping him away from the team a little longer, and he didn't seem comfortable with the brace he was wearing at times today, eventually discarding it. Bad luck has been routing for Kolb in recent years.
"For something goofy like that to happen was very frustrating," Kolb said.
•  Marrone certainly has some old-school in him. With the CBA very restrictive on how often and how long teams can practice, the Bills are the rare team to actually take the field the day after a preseason game. They played in Indianapolis Sunday, but were back at St. John Fisher College, near Rochester, NY, for a morning walkthrough and then a two-hour practice this afternoon, with plenty of breaks and ample special-teams periods.
It was a brisk practice and not heavy hitting, but accomplished a lot and it's refreshing to a young coach not so caught up with conventional wisdom.
"I feel like we're hungry as coaches and hungry as players," Marrone said, "and players have to trust me that we go out there and do the right thing and I thought what we did today was very good.
"It's not like we've played one game, and 'Here we are, we're ready to go.' We still have a lot of progress we have to make, and days off will come and players will be rested and ready to go, and that's where the trust factor comes in and I respect the players trusting in me."
More observations
• A healthy Fred Jackson -- and he looks refreshed and rejuvenated here -- will give Buffalo the best backfield in the league. With a rookie quarterback and few proven pass catchers, there will be plenty of carries for both he and C.J. Spiller. That would be a very good problem for this team to have.
• With top receiver Stevie Johnson ailing, rookie Robert Woods is getting a great opportunity to feature in practices and games. He's showing good hands and could end up clicking well with Manuel.
• Watching veteran Kyle Williams work with youngster Marcell Dareus at the defensive tackle spot is a joy. Williams has battled injuries but could still be a beast this season and the Bills should be equipped to run the heck out of the football and, well, there is nowhere to go but up when it comes to stopping the run. Buffalo ranked 31st overall in 2012, and dead last in terms of most 10-plus yard runs allowed. Alan Branch is another big body who looks good so far and there is a buzz about defensive tackle Alex Carrington as well, a third-round pick in 2010.
"We're fortunate that we've got a couple of them at tackle," Marrone said. "A lot of teams might have one, but with Alex Carrington and Corbin Bryant and [Torell] Troop, to go with Williams and Dareus, those are some pretty stout guys there and all have the ability to be pretty productive for us."
Getting Williams and Dareus anchoring for an entire season would be a big boost, and Marrone is banking on a strong rotation up front. Defensive line coach Anthony Weaver said he can see Williams getting more confident each day as he's finally healthy.
"Our back-ups can play, now, too, I'm telling you," Weaver said. "I've got some studs in this group. They're going to be fun to watch."
• The hiring of Weaver could turn out to be a sage move. Mario Williams, the highest paid defensive player in the league when he signed with Buffalo in 2012, is coming off a poor first season in Buffalo, he's the subject of scorn from fans and he wasn't exactly a leader in the locker room, sources have told me. He can be a little bit of a different cat, not always part of the group, but Weaver played three years with him, is a young coach who can relate to him, and I have a hunch he gets Williams playing closer to the level he did in Houston. If so, and the Bills finally have a real edge rushing presence, look out.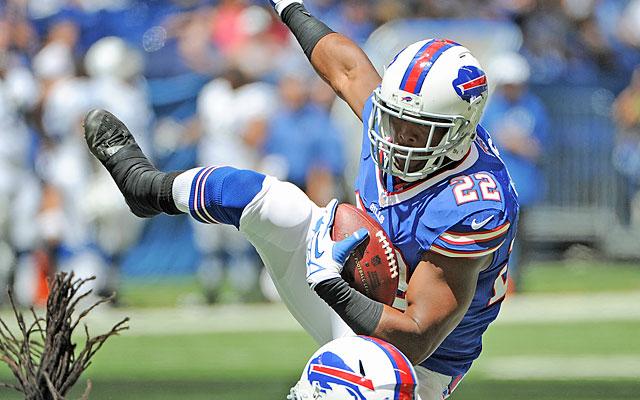 Williams, who battled injury issues last year (real or perceived) is being noticed for the right reasons so far in this camp.
• Quarterback Jeff Tuel, an un-drafted rookie out of Washington State, was impressive again today after faring well in his debut game Sunday. He completed a bomb for a touchdown in 11-on-11s and doesn't look out of place. (He's also one of a handful of rookies who didn't want to take off their helmets today, as they had recently received butchered haircuts by teammates as part of their indoctrination into the league).
Marrone keyed in on Tuel during the rookie free agent process and has liked what he's seen even dating back to the very limited reps he got in the spring (with Kolb hurt Tuel has gotten more reps.
"We spent a lot of time on him," Marrone said. "It wasn't just like, 'hey, let's just sign any kid.' Even when he wasn't getting reps I kept saying, 'We feel good about this kid, he's a good quarterback.' And he's gone out and played extremely well."
• The speedster who caught that deep touchdown from Tuel was third-round pick Marquise Goodwin, who has been outstanding. Goodwin was a dervish on special teams in the return game against the Colts and is flashing good hands and instincts.
Goodwin ran track and played football at Texas and represented the US in the 2012 Olympics. He continues to flash big potential.
"A lot of us have been around a lot of track guys and sometimes they get labeled that way, and that's unfair," Marrone said. "Anyone who steps on the football field has a high level of toughness, and he's a tough guy and he has elite speed. He needs to keep working and we've been very pleasantly surprised. He's caught the ball very well during this camp, and after the catch he's strong and can break tackles and he can run by people. And not too many people can catch him."
Overall, this certainly seems like one of the fastest Bills teams in quite some time, which isn't a bad place to start.
Our computer model simulated every Week 15 NFL game 10,000 times with very surprising resu...

Britt is going from the worst team in football to a Super Bowl contender

With three weeks to go in the regular season, the MVP race is wide open
The Eagles are sticking with Nick Foles

We all deal with devastation in different ways

It doesn't matter if he was a special teams player, Hester was the best player at his position...