Broncos OC Gase keeps rising as coaching star with Manning intensity
He has won over everyone from Nick Saban to Peyton Manning. Now driven Broncos OC Adam Gase stands clearly as the NFL's next coaching phenom.
• 15 min read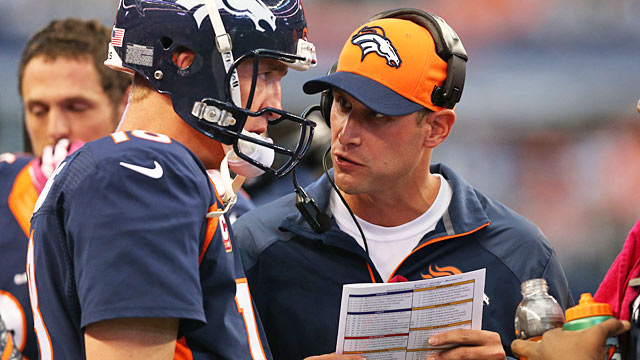 More SB coverage: XLVIII odds | Expert picks | Latest news
NEW YORK -- Adam Gase will try to tell you that his rise is due in large part to good fortune, being lucky enough to be surrounded by some of the best coaches in America from a very young age.
The coaching prodigy, one of the most respected coordinators in the NFL already, at just age 35, and the prize candidate of next year's head coaching searches, will point to the remarkable confluences through his career, of being mentored by Nick Saban and Steve Mariucci and Mike Martz and Mike McCoy, and now, John Fox, and of having had the opportunity to work alongside current NFL coordinators like Josh McDaniels and Mel Tucker while all were still students in college.
But then, should you spend even a few minutes chatting with any of those men, should you happen to pry Saban away from a busy lunch meeting, or catch Mariucci while preparing for a Pro Bowl broadcast or merely mention Gase's name to Martz, it becomes immediately evident that Gase in his own way has inspired these men. All of them from their initial dealings with Gase came away smitten with the young man, seeing a football intellect, speed of thought, remarkable instincts and a relentless work ethic that would carry him from a college student assistant at Michigan State to Saban's staff at LSU, to Detroit, primarily under Martz, a former Super Bowl coach, and then eventually as part of McDaniels' staff in Denver, where he remained to replace McCoy as the offensive coordinator in 2013 when McCoy left to become San Diego's head coach. Now, to this Super Bowl media day, where, as Peyton Manning's trusted sounding board and confidant, he has become a must-talk to subject for the media and someone other owners very much want to hire.
Gase, in his own self-deprecating manner, recalled the men who so greatly influenced him, and still seems genuinely surprised himself that his hard work has born such fruit already, to the point where he politely rebuffed advances by the Browns and Vikings to interview for their head coaching openings in order to focus all of his energy on Denver's playoff run. He is very much one of the "it" guys of this Super Bowl week, and he seems, though quite confident in his abilities, still a bit humbled by this newfound attention. While still younger than several of the men playing in this game, Manning included, this is no overnight success story, but rather the tale of a driven, determined coach-in-progress, whose singular passion has resulted in him becoming a coaching wunderkind, a seemingly can't miss prospect bound for still greater things.
"A little bit of luck," Gase said, in summarizing how he got here, "and a little bit of meeting the right people at the right time."
The Saban connection
It started back, well, almost as soon as Gase's high school football career ended, which would be the highest level he ever played the game. A native of Ypsilanti Mich., he enrolled at Michigan State where Saban, seen as a half rock star, half god in coaching circles, was running the football program. Gase's high school coach knew how much the teenager had to give, how much he loved learning about the game and studying the game, and his coach also happened to be friendly with Dean Pees, a member of Saban's defensive staff.
His first project for Pees was to try to put together an evaluation handbook for the coaching staff. Pees, upon Gase's first time in his office, handed the freshman a copy of the "1994 Cleveland Browns Self Scout," a report overseen by none other than Bill Belichick, Browns head coach at the time, with Saban his defensive coordinator (Saban came to Michigan State in 1995). Gase had the task of taking the charts, figures and spreadsheets contained within, and producing the same sort of document for Michigan State, with the research the staff had conducted about their own tendencies, evaluations, etc. Luckily, he was fairly well versed in Excel, and he went to work.
"I printed the 1996 Michigan State Self Scout from my dorm room," Gase remembered, still smiling about what amounted to his first ever coaching task.
Gase was the lowest of the low as a student volunteer, but he quickly earned Saban's trust. Gase would go on to be a graduate assistant for Saban, and help train other future grad assistants and NFL coordinators like McDaniels and Brian Daboll. He also began drawing more meaningful assignments and projects.
"It was easy to tell right off the bat that he had the right stuff to be a good coach," Saban said. "He worked hard, he got along great with the players, he was very bright and had sort of a natural instinct for football, and picking up on things, and those are the kinds of guys you grow and develop and they see the big picture a little more than some other guys who have to grind to know it and memorize things.
"It was a conceptual thing with Adam. He just understood how things worked, and he was willing to work and he started from ground zero; it's not like this is some star player who had played a lot of football. But he wanted to be a coach and he was willing to invest his time in it and he did a fantastic job for us, supporting our offensive coaches and our defensive staff as grad assistant and quality control guy after that."
In fact, when Saban left Michigan State to go to LSU in 2000, Gase was the only coach to go with him (contractual issues had something to do with that regarding others). In all, Gase spent seven years with Saban, notoriously hard on his coaches, a demanding perfectionist and a task master (Saban went on to build national championship programs at LSU and now at Alabama), and compliments are heard-earned. Gase quickly understood that, The other grad assistants sometimes marveled about how Saban never had to repeat a play or a concept twice to Gase -- he'd study it and master it and spend all night in the football offices if he had to -- and Gase had an intrinsic feel for him. "I knew what he wanted," Gase said.
For Saban to keep this kid around resonated to others, so people took notice. "I worked for (Saban) for seven years, and coaches know that's not an easy thing," Gase said.
At one point Gase thought about how bleak the odds were, though, that he'd become a coach himself, and came close to accepting a job with an insurance company. When he got on a speakerphone with three of his close friends, they quickly nixed that idea. Yes, he was working ridiculous hours for virtually no compensation, and there were no guarantees the apprenticeship would pay off, but Gase was doing what he loved, and what he was meant to be doing.
"They told me I had to stay at LSU," Gase said, a conversation his buddies relive with the bigshot NFL coach to this day.
The Russ Bolinger connection
While at LSU, Gase become friendly with Lions scout Russ Bolinger, who would come through to evaluate players in Baton Rouge fairly frequently and was impressed by Gase's knowledge. When Bolinger asked him if he wanted go back home to Michigan and work as a scouting assistant (another low-level position), it felt like the time to move on.
"It was the right opportunity at the right time," Gase said, "and I had six months to make the most of it. And six months became a year, and a year became five years."
Gase, typically, threw himself into his work, but the rigors of scouting did not feel as rewarding as coaching. There wasn't than interaction with the players, the ability to more directly impact a game, the chance to teach every day on the practice field. "We were a couple of games in, and I was like, this is tough being in personnel, because you feel like you're removed from it. You're not on that daily grind of practice and OTAs and minicamp and training camp."
After two years in Detroit's scouting department, Gase ached to get back to coaching, his calling. He had become close with Lions running backs coach Tom Rathman, who wanted to make him an assistant with his position group ("I think he just wanted me to do his depth charts for him so he wouldn't have to do them," Gase joked). It was 2005, and Saban was about to head to the NFL himself (he coached the Miami Dolphins for two years), and Gase could have joined them there, but instead opted to knock on the door of Lions head coach Steve Mariucci to ask about the chance to work under Rathman.
"He wasn't a complete stranger to me, it's not that I didn't know who he was," Mariucci said. "But he was on the scouting side and I had no idea what made him tick, so I said, 'OK, close the door and let's talk.' "And he made it clear he really had a passion for coaching and he had enough confidence that he could share that with him and ask me for my time, and I appreciated that too. So I learned a little bit more about him, that he was a Michigan State guy and he had been there with Saban, and I said, 'Yeah, this guy belongs in coaching rather than scouting right now."
Of course, Mariucci was a Michigander himself, and his lifelong friend, Tom Izzo, is the basketball coach at Michigan State. "Yeah, the Michigan State thing helped, too -- if he was from some other place I'm not sure I would have given him the time of day," Mariucci quipped.
But Mariucci was fired just after Thanksgiving of that 2005 season, and with that staff on the way out, Gase's future was in the balance. The Lions ended up hiring Rod Marinelli as head coach, who brought Martz as his offensive coordinator; Gase's ascent as a bright offensive mind was on the horizon. It was under Martz he would begin to learn the art of devising a game plan and a play call sheet and the science of calling plays under fire. Martz would make him a position coach for the first time (Lions quarterback coach in 2007), and, when Martz become San Francisco's offensive coordinator in 2008, he insisted Gase come with him as an assistant.
The men would form an almost instant bond that continues to this day, sharing ideas and philosophies and their lives with one another.
"He was like 25 at the time I met him, and here was this kid who didn't play college football, and I was overwhelmed by his knowledge and passion for the game, how smart he was," Martz said.
Martz wanted to test his mettle however, and began dishing out tough love, assigning special projects and then critiquing him harshly. "I beat up on him pretty good," Martz said.
He wanted to be absolutely certain Gase was in this business for the right reasons, and Gase had long since won over the likes of Saban, so this phenomenon was nothing new. Martz was so impressed he asked Marinelli if Gase could be his quarterbacks coach, "Rod said, he's never played or coached before, but you can have him as an offensive assistant." Gase became his shadow, taking notes, helping design game plans, doing pretty much the job of the quarterbacks coach without the title.
Taking bullets for his QBs
In 2007, with Gase as quarterbacks coach, veteran passer Jon Kitna posted the sixth-most yards in the NFL, while becoming only the ninth player in NFL history to go over 4,000 yards in consecutive seasons.
"He had the respect of everyone on that offense," Kitna said of Gase. "It didn't matter how old he was. He made everyone better. Some coaches, you go to them with a question, or you talk about what happened on a play, and they might not know what's going on. Adam always made sure we had the right information and he would do anything he could to help you. He made sure he knew that offense better than anyone possibly could; this wasn't about a paycheck for him, it was about being the best he could at his profession.
"It didn't matter that he hadn't played the game, because he would always ask if something looked different under center than it did from the camera on film. He would fight for his players. I remember one time we were in a rut and he kept studying film and sent a play to the league and got an interception changed to a fumble. Anything he could do."
Kitna, himself now a high school coach who calls Gase for coaching tips and suggestions, could recall instances within games, where Gase would notice a minor error in the way a defensive back was shading his technique, store it away, and then remind the quarterback later in the game to look for it again. His recall, and ability to process information in real time, amazed the veteran passer.
"He would take a bullet for his quarterbacks, and as a quarterback out there, you want someone in your corner. He just understood what we needed and he was so loyal to us, and in the end that probably ended up costing him and Coach Martz their jobs."
When Martz went to San Francisco in 2008, the team already had a quarterbacks coach on staff, so he brought in Gase as an offensive assistant again, but in essence becoming a co-offensive coordinator of sorts. Gase was in the masters portion of his training now, with Martz having him construct a call sheet, throw out different scenarios out him, and have Gase call a mock game the night before kickoff. He'd test Gase to prioritize a mock call sheet before a game based on certain downs and distances and eventually he would relay plays from the press box, through Gase on the sidelines, to the quarterback.
"He was spot on about everything," Martz said. "By the time we got to San Francisco I knew he was very, very special and was going to be a tremendous head coach. He would go above and beyond with everything you asked him to do.
"He doesn't have a political bone in his body. He's always going to do the right thing by his quarterback. You won't find anyone who says a bad word about him. He just needed the opportunity. There's nothing at all I did. I just provided the opportunity. He understood me better than anybody I ever worked with, and that's a tough task. He had a more intimate knowledge and understanding about what we did on offense than anybody else."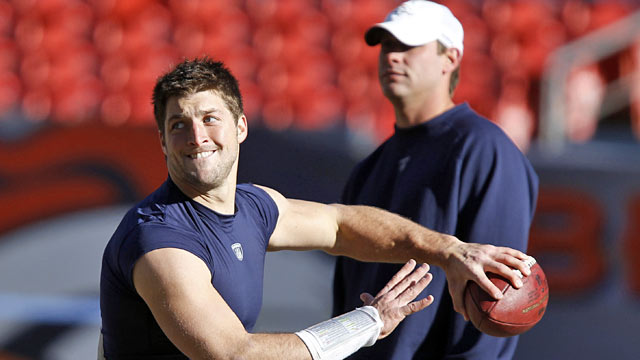 Gase, who literally married into the coaching fraternity with his bride the daughter of Saints grizzled linebacker coach Joe Vitt, still runs plays and concepts by Martz, and, more than anything else, took away Martz's credo about quarterbacks with him to this day. "You have to be able to really step in front of a bullet for him if need be."
But after 2008, the 49ers changed coaching staffs, and Martz and Gase would not coach again together. Instead, Gase reunited with old pal from Michigan State, McDaniels, who had just become the youngest coach in the NFL with the Broncos.
Denver has been Gase's home ever since.
McDaniels trusted Gase with anything, valued his opinion highly, and made him a wide receivers coach, a massive task considering some of the off-field issues and big personalities of wideouts like Brandon Marshall and Brandon Lloyd during McDaniels tenure there. Even so young, McDaniels knew Gase could handle the group, and in 2009 Marshall posted a third straight 100-catch season, and in 2010 Lloyd -- an NFL vagabond by that time -- became the first Bronco to ever lead the league in receiving yards.
McDaniels lasted just two seasons, but new coach John Fox wanted Gase on his staff, and in 2011, Gase served as quarterbacks coach, with McCoy the offensive coordinator, as the Broncos reinvented themselves on the fly with Tim Tebow as starting quarterback. Gase poured over college offenses on film, relishing a unique challenge with a run-first, run-second, and throw haphazardly athlete quarterback.
"It was fun to have to do something that no one else was doing," Gase said.
The Broncos managed to reach the playoffs and win a wild-card game despite those limitations, and in 2012, Manning arrived through free agency. The education of Adam Gase reached another plateau, becoming very close with Manning, winning him over, the rare person as prepared and thorough as Manning, exchanging late night/early morning texts in a state of constant game planning, always trying to be a step ahead of the next practice or installation.
With McCoy gone to San Diego, Gase became the offensive coordinator and play caller this season, and as we know, even Manning had never had a better season, setting all-time, single-season marks for yards and touchdowns, and now is on the precipice of perhaps his second Lombardi Trophy.
Gase is savoring every moment, which led him to decline head-coaching interviews at the end of the regular season, and, with another season with Manning ahead, he's poised to only become even more coveted as a head coach a year from now. His loyalty to the Broncos now will only serve to make others want him more.
"I just thought the fair thing to do was to focus on this game for our team, and let them move on with their search," Gase said.
Next year, the Broncos just might be back here again and Manning might be capping another historic season. Maybe, maybe not. But regardless, Gase's time in Denver is now limited. The next phase of his coaching career is almost upon him. His journey here, would indicate, if nothing else, a man uniquely poised to succeed.
Plus everything else you need to know about Week 2 of the 2017 NFL preseason

The Ravens kicker wanted to try a ridiculously long field goal against the Dolphins

From drops to dumb penalties, the Panthers offense had a day to forget Thursday
Dave Richard helps us determine Fantasy football's biggest August draft decision

The former Ravens linebacker initially retired in January but tried to find a job this sum...

Kizer respects his elders, especially elders protecting his blind side