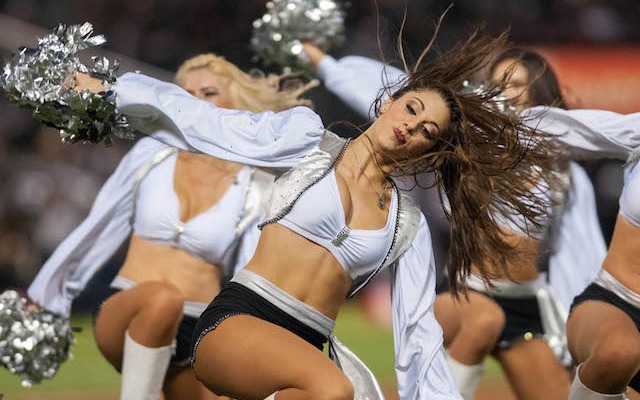 The Raiderettes might not get to cheer for a lot victories on the field this season, but they got to cheer for a victory in court on Thursday. According to the Los Angeles Times, the Raiders have reached a settlement with their cheerleaders that involves the team paying the Raiderettes $1.25 million. The settlement is still pending court approval. 
Two Raiderettes filed a lawsuit in January claiming that the team underpaid them. The suit alleged that the team withheld the cheerleaders' pay until after the season, didn't fairly compensate the women for all their hours of work and asked the cheerleaders to pay for many of their own businesses expenses. One of the cheerleaders who filed the lawsuit estimated that she earned less than $5 an hour in pay. 
The Raiderettes also were forced to pay fines for things like bringing the wrong pom-poms to practice. 
Under terms of the settlement, the Raiderettes will now earn $9 an hour, including overtime. Over the course of a season, that will mean the Raiders' cheerleaders will earn about $2,000 more than what they were making before the lawsuit. The cheerleaders will also be paid every two weeks, instead of just once a season. 
The settlement also involves back pay for Raiderettes who cheered for the team as far back as 2010. Each cheerleader will receive $6,400 for each season they cheered between 2010-13. Cheerleaders who have been with the squad since January will also receive $2,500. 
On top of all that, the two Raiderettes who filed the lawsuit have each been awarded $10,000. One of the cheerleaders who filed the suit, Lacy S., said she feels a 'sense of satisfaction' from the settlement.  
"I'm so excited, honestly," Lacy said. "I feel a sense of satisfaction knowing this long journey is over and will end happily for 90 women. I feel very proud about that. I know we're just cheerleaders to people, but we're low-wage workers working for a billion-dollar industry. It shows everyone that one little girl who stood up and said, 'This is not right,' changed the way the Raiders do business."
The cheerleading controversy might be over in Oakland, but there's still at least four pending lawsuits in Cincinnati, Buffalo, Tampa Bay and New York (Jets).