Clint Session, after multiple concussions in 2011, finally feeling better
In order to heal his concussion symptoms, Clint Session enrolled in a program at the University of Pittsburgh. He says he feels much better now.
• 2 min read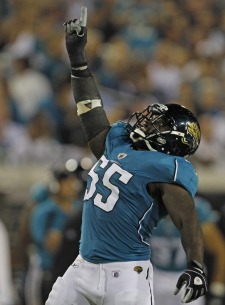 Session hasn't had a concussion symptom in a month. (US Presswire)
As we continue to talk about the
Gregg Williams audio
that was released by filmmaker Sean Pamphilon in which we noted his desire for the
Saints
to check
Kyle Williams
' concussion-- and as we continue to digest what
players are saying
about the speech -- another player who's suffered from multiple head injuries is trying to improve for 2012.
That's
Jaguars
linebacker
Clint Session
-- who suffered at least two concussions and maybe three in 2011, including one in November that ended his season -- and as the
Florida Times Union
writes, Session still was struggling in January to figure out how to control his symptoms.
He had a tough time sleeping, eating without becoming nauseous and controlling his headaches, and to try to combat those symptoms, he placed himself into a concussion treatment program at the University of
Pittsburgh
Medical Center.
According to Session, he almost immediately began feeling better, and for the past month, he told the paper, he hasn't experienced any concussion symptoms.
"My agent … told me, 'They're going to be more proactive toward getting you back in the field, not necessarily a time frame, but just getting you back to a normal life,'" Session said. "I got kids, I want to be able to be a dad as well as after football.
"They were able to get me back to being a normal human."
Session estimates he's had five concussions during his football career (including a particularly nasty one in college), and even though rest is supposed to help heal the brain, Session wasn't seeing much improvement during and after his stint on IR. But by taking part in the program in Pittsburgh -- if you want full details of what the program entails,
click this link
-- Session got the relief he coveted. Now, he can look ahead to the 2012 season.
"It was more than I had ever been exposed to during any concussion that I've ever had in my career," Session said. "I think everybody who ever had a concussion should be a part of it. Not only does it help you, but it teaches you as well. It teaches you what a concussion is. It allows you to pay more close attention to your body and brain and your normal functions. Now, God forbid, if it ever occurs, I know how to handle it."
For more NFL news, rumors and analysis, follow @EyeOnNFL on Twitter, and subscribe to our Pick-6 Podcast and NFL newsletter. You can follow Josh Katzowitz on Twitter here: @joshkatzowitz.
All of the best highlights from Week 15 are right here

The league has suspended some players, but not others, for helmet-to-helmet hits

This is taking trash-talk to the next level
For the second week in a row, Johnson honors the injured Steelers linebacker

Gene Steratore will be in charge of calling the Cowboys and Raiders game on Sunday night