Detroit Lions owner William Clay Ford Sr., 88, dies
More than 50 years after buying the Lions franchise, owner William Clay Ford Sr. has died at 88.
• 2 min read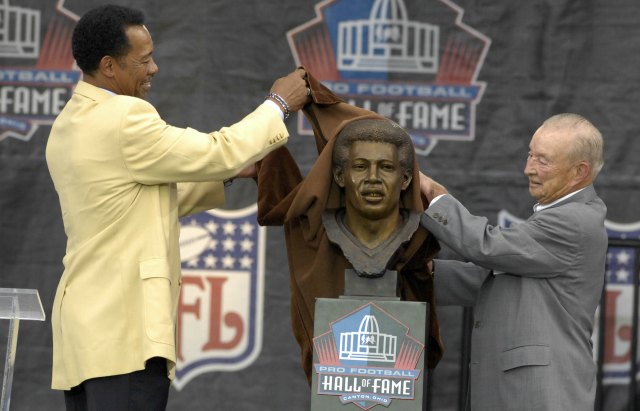 Four months after his family celebrated the 50th anniversary of the Ford family buying the Lions franchise, owner William Clay Ford Sr. has died.
"It is with profound sadness that we mourn the loss of Mr. Ford and extend our deepest sympathies to Mrs. Ford and to the entire Ford family," said team president Tom Lewand in a statement. "No owner loved his team more than Mr. Ford loved the Lions. Those of us who had the opportunity to work for Mr. Ford knew of his unyielding passion for his family, the Lions and the city of Detroit. His leadership, integrity, kindness, humility and good humor were matched only by his desire to bring a Super Bowl championship to the Lions and to our community. Each of us in the organization will continue to relentlessly pursue that goal in his honor."
Ford, 88, was the grandson of Henry Ford, and he bought the franchise for $6 million in 1963 (according to Forbes, it's worth $900 million today).
The final sale actually occurred the same day President Kennedy was assassinated.
"It turned into a sad, terrible day," Ford told the Detroit Free Press in 2003. "About a half-hour after the meeting, a few of us were having lunch at the Statler Hilton to celebrate. And a waitress came up to me and asked if I heard about Kennedy in Dallas. And I was waiting for the punch line. There were a lot of sick people making jokes about Kennedy around that time. But then you could tell that she was serious, and she said that he had been shot.
"It's a terrible coincidence that both of these things would occur around the same time. But there were a couple of times over the years when some things happened to us that you just couldn't figure out why or how it happened, and you'd briefly think if there's some kind of stigma attached to anything else that may have taken place that awful day."
Detroit was one of the better NFL squads in the 1950s, but after Ford took over as owner, the team struggled, making only one playoff appearance in the next 18 years. It took another decade before the Lions actually won a playoff game -- the only postseason win of Ford's reign -- making the NFC conference title game in the 1991 season.
From 1993-99, the team made the playoffs five times, but lost in the wild-card game in each appearance. Then, from 2000-13, the Lions went to the postseason only once.
"Mr. Ford was not a kind of guy who showed his authority," former Lions running back Mel Farr told the Free Press in November. "He was very real and genuine and really, really wanted to do the very best thing for the players. But unfortunately, he chose some poor, poor, poor managers. And I can see how it'd be very difficult for Bill to be able to determine -- he was a guy that did not want to exert his power, never have. But some of the people that he'd stick with [were] not very good."
His loyalty, though, was one of his best attributes, according to a former Lions assistant coach.
Said Jerry Glanville: "He'd do anything for you if you had a problem."
Everything you need to know heading into Week 10 is right here

Bennett's decision to sign with New England instead of have surgery continues to rankle the...

An Uber driver alleged that Winston grabbed her crotch during a ride; Winston denied the a...
The max compensation on the commissioner's new deal is $200M over five years if all incentives...

Haslam has a history with Manning and could be willing to offer a small stake in the team

The Bills had been weighing the decision to bench Tyrod Taylor and start Nathan Peterman for...