Draft coverage: Picks and grades | Prospect Rankings | Sam goes No. 249 | News
Miami Dolphins defensive back Don Jones has been fined an undisclosed amount by the team following an incident on Saturday where he sent out a tweet critical of Michael Sam. Jones has also been banned from team activities until he undergoes sensitivity training.  
After St. Louis selected the openly gay Sam with the 249th overall pick in the seventh and final round of the NFL Draft, Sam was caught on camera kissing his boyfriend in celebration. Just after the kiss happened, Jones tweeted 'OMG' and 'Horrible.' 
On Sunday night, Jones apologized for sending out the two tweets. 
"I want to apologize to Michael Sam for the inappropriate comments that I made last night on social media," Jones said in a statement. "I take full responsibility for them and I regret that these tweets took away from his draft moment. I remember last year when I was drafted in the seventh round and all of the emotions and happiness I felt when I received the call that gave me an opportunity to play for an NFL team and I wish him all the best in his NFL career."
Jones didn't just apologize to Sam either. He also apologized to the Dolphins: "I sincerely apologize to Mr. Ross, my teammates, coaches, staff and fans for these tweets," Jones said. "I am committed to represent the values of the Miami Dolphins organization and appreciate the opportunity I have been given to do so going forward."
Dolphins general manager Dennis Hickey made it clear on Saturday night that the team wouldn't tolerate Jones' actions and coach Joe Philbin echoed that sentiment on Sunday. 
"We were disappointed to read Don's tweets during the NFL Draft," Philbin said. "They were inappropriate and unacceptable, and we regret the negative impact these comments had on such an important weekend for the NFL. We met with Don today about respect, discrimination and judgment. These comments are not consistent with the values and standards of our program."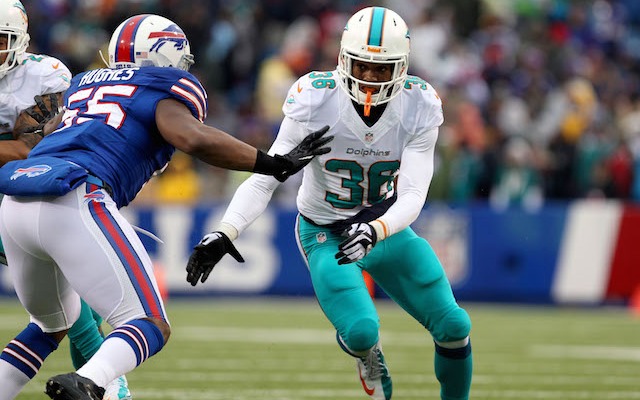 The tweets sent by Jones marked the second time over the draft weekend that the Dolphins had to deal with a social media controversy. On Thursday, after Miami selected offensive lineman Jawuan James with its first-round pick, center Mike Pouncey took to Twitter to make a joke.
"Great pick! I can't wait for our gifts he's getting us lol."
Pouncey was named several times in the Ted Wells report that came out in February after Wells' four-month investigation into bullying and hazing allegations made against the Dolphins by Jonathan Martin.
The Dolphins haven't commented on Pouncey's tweet, but Pouncey has since deleted the tweet and his Twitter account. 
As for Jones, you can see the moment that made him send out his tweets at about the 1:20 mark below.