Draft: Even after blockbuster deal, Titans trying to trade into the top 10
According to numerous NFL executives who have spoken to Jon Robinson, the Titans general manager is now exhausting possibilities to move back into the top 10 from the 15th pick.
• 4 min read
Jon Robinson isn't done putting his stamp all over this upcoming NFL Draft. Not by a long shot.
The rookie general manager already executed one blockbuster trade in an effort to replenish the tattered roster he inherited in Tennessee, receiving a bounty of selections to swap the first-overall pick to the Rams last week, and he's far from done.
According to numerous NFL executives who have spoken to him, the general manager is now exhausting possibilities to move back into the top 10 from the 15th pick, and just as many of them fully expected him to deal the first-overall pick. Now rival execs who know him well are just as confident this team is not done trading.
"He's moving back up," said one executive who all but guaranteed to me recently the Titans would be trading the top pick. "He has the ammo to do it and it's heading in that direction."
Of course, this is the kind of trade that might not be culminated until draft day itself -- not every deal can be cemented two weeks before anyone comes off the draft board -- but I wouldn't bet against Robinson pulling it off. He could surrender a second-round pick and still be in position to control the third round, and while his team needs quantity, without a doubt, it is also starved for quality.
That's why, despite getting a ransom for the first-overall pick, some execs I spoke to didn't love the deal for the Titans, either, given how they had surrendered the chance to land an absolute blue-chip player like left tackle Laremy Tunsil to fall all the back to the middle of the first round, where the talent just is not as robust.
Now, if Robinson ends up back in the top 10 somewhere -- maybe swapping with the 49ers at the seventh pick, for instance -- he still might be able to address that void by landing a difference-maker. Clearly, protecting potential franchise quarterback Marcus Mariota is Job One for Robinson and that's what he was charged to do upon his hiring. Frankly, that's a big part of the reason why former coach Ken Whisenhunt was fired midway through the season.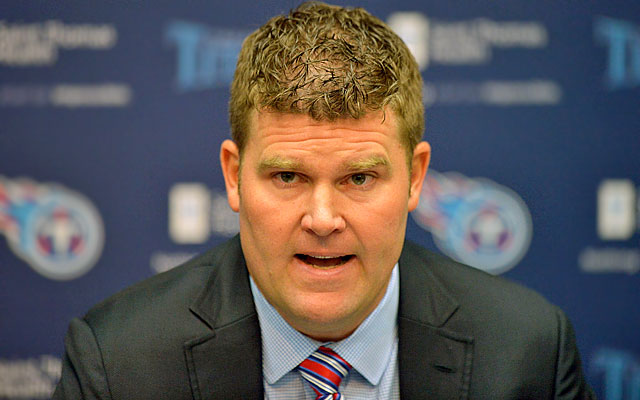 So while it's conceivable Robinson could stay at 15 and perhaps land Michigan State tackle Jack Conklin, that's not a sure thing and it seems like Robinson would prefer moving back up to get a left tackle -- like Notre Dame's Ronnie Stanley -- who may be less of a gamble as a left tackle.
If Robinson is super motivated, and wants to go way outside the norm, he could end up getting Tunsil after all. Numerous NFL executives who have been in contact with teams at the top of the draft said that, following the Rams acquiring the top pick in the draft -- which they will undoubtedly use on a quarterback -- the Browns have become increasingly motivated to deal the second-overall pick.
"They want to move out of that spot and everyone knows it," is how one exec put it.
The Browns want Jared Goff, and, I have yet to talk to an executive who does not believe that is who the Rams are taking. While the talk prior to the Rams making that huge move was that they preferred Carson Wentz, no one is buying that they jumped up half a draft round to select a quarterback who played low-level college football and may need to sit for a few years while the Rams try to make a dent in the Los Angeles market.
Maybe there is actually some ruse going on, but just as other teams were never buying that the Rams were going to go with Case Keenum as their quarterback, they aren't buying for one minute that Jeff Fisher doesn't already know who he is picking; and they believe strongly it is the California kid who played in the Pac-12 who is more pro ready from Day One than Wentz.
Browns coaches, for their part, believe the gulf between Goff and Wentz is fairly wide, and thus taking Wentz at No. 2 is a tough sell. And while Joey Bosa and DeForest Buckner would be under consideration for the selection, the opportunity to drop down, land more picks, and not have to pass on a passer appeals to the Browns as well. And for an alleged forward-thinking, analytics-driven front office that prizes the cheap commodity that draft picks are, trading down would make plenty of sense and would take them off the hook of picking at 2 and would give them something they could sell to the fans if their quarterback is indeed going to be gone.
(As several execs pointed out to me, the true forward-thinking moves the Browns should have already made is dealing left tackle Joe Thomas by now, which would have given them more ammo to move up to the first pick to get the QB they wanted, or being positioned to take Tunsil at 2).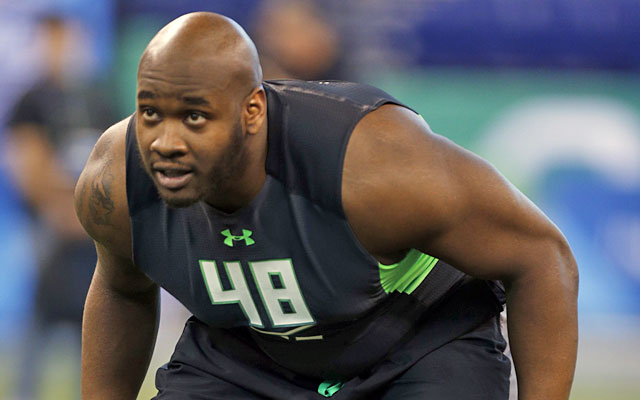 Now, the Rams will do their best to complicate things by propagating this charade that they have no idea who they are going to pick, and, oh the drama and intrigue! Which is exactly what the NFL office would want them to do as it attempts to land a bigger TV audience at the spot. With the Rams wanting to host future drafts, combines and everything else at the new stadium they are building, they need to stay in the good graces of Park Avenue at any price.
So I get it, and other teams see it for what it is, and it may mean the Browns make some contingency deals in place assuming Goff is announced first overall, but if they are diligent in their work finding a trade partner shouldn't be impossible even under these circumstances.
The Giants got a scare in the second quarter against the Browns

Welcome to the NFL's version of a dress rehearsal

The Browns protested the anthem on national television
Beckham passed tests for a concussion but the Giants will do more tests on his ankle

The president has something in common with Vladimir Putin

The Seahawks are trying to beef up their offensive line with George Fant out