GM Bruce Allen responds to Senate: Redskins name has deep meaning
In a letter to Senate majority leader Harry Reid, Washington general manager Bruce Allen wrote that, 'The Redskins team name continues to carry a deep and purposeful meaning.'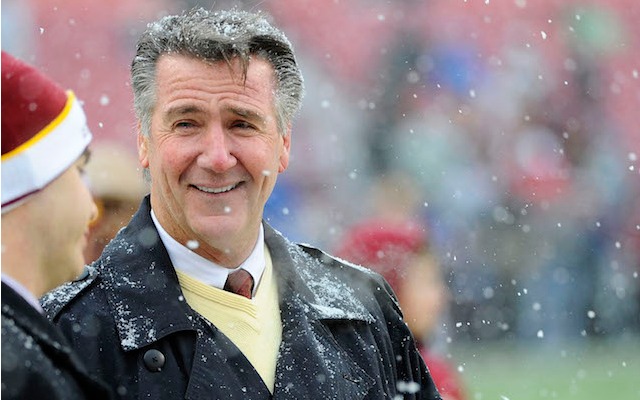 If anyone out there thought a letter signed by 50 US senators was going to be enough to get the Redskins to change their name, they thought wrong. Washington general manager Bruce Allen responded to the Senate letter Friday with one of his own that emphasizes why the Redskins won't be changing their name. 
In Allen's letter, addressed to Senate majority leader Harry Reid, Allen writes that, "The Redskins team name continues to carry a deep and purposeful meaning."
Reid was one of 50 US senators who signed a letter and sent it to Roger Goodell urging the NFL commissioner to force the Redskins to change their name. In the letter, the senators pointed out that the comments made by Los Angeles Clippers owner Donald Sterling should be a catalyst for change. 
"The despicable comments made by Mr. Sterling have opened up a national conversation about race relations. We believe this conversation is an opportunity for the NFL to take action to remove the racial slur from the name of one of its marquee franchises."
In his letter, Allen went through most of the talking points that owner Daniel Snyder has been using over the past few months. Allen noted that the term Redskins "originated as a Native American expression of solidarity."
Allen also claimed that a majority of Native Americans don't find the name offensive and that the Redskins logo was actually designed by Native Americans. Allen also wrote that he hopes Sen. Reid will attend a Redskins game this season. You can read the entire letter here. 
When it comes to a name change, Goodell has said the league is listening, but he also said in September that "ultimately, it is Dan [Snyder]'s decision." Snyder has said repeatedly that he has no plans to change the team's name. 
On Sunday, the Patriots' coach will go up against the coach he recommended almost exactly a...

Here's a look at the NFL's entire postseason schedule for 2018

It's been "Brady vs. everyone" all year, so it makes sense to vote for the constant
The commissioner already went to Foxboro twice this year but IT'S NOT ENOUGH

Galin Dragiev is on a piping hot run in NFL picks and just locked in a play for the AFC title...

Minnesota's fans were so impressed with the Saints punter that they are giving to his char...