Harry Potter's fantasy team hurting after Julio Jones injury
The actor who played Harry Potter is a fantasy football junkie who will probably be spending some time on the waiver wire this week looking for someone to replace Julio Jones.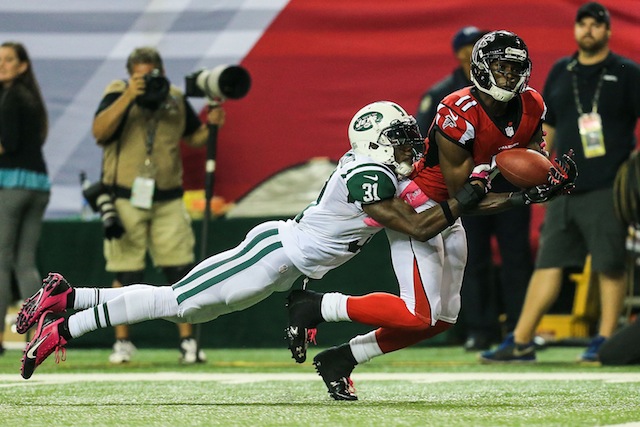 If only Harry Potter could wave his magic wand and make Julio Jones better.
If Jones is on your fantasy football team, you'll probably be spending the rest of week scouring the waiver-wire for someone to replace him. If it makes you feel any better, Harry Potter will probably be doing the same thing -- or at least the actor who plays him. 
Actor Daniel Radcliffe loves fantasy football and in an interview with the New York Times recently, Radcliffe was asked who the most important player was on his team.
"Julio Jones for the Falcons," Radcliffe said. "I'm always very, very grateful to him. I've got him in one league and in the other league I've got Demaryius Thomas."
Apparently Radcliffe isn't a fantasy football rookie either, he's more of a junkie. The 24-year-old clears his schedule every Sunday so he can watch NFL football, "I make sure there's absolutely nothing to do on Sundays," Radcliffe said. 
The fantasy nut also does mock drafts -- like, a lot of them. "I do an insane amount of mock drafts," Radcliffe said. "It's something you do when there's nothing else to do, just do a quick mock draft."
And in case you're wondering, the name of Radcliffe's fantasy team isn't anything Harry Potter-related, like say 'The Robert Gryffindor the third's.' It's actually very NFL-related and we'll let Radcliffe take it from here to explain it. 
"My team name is Barkevious Mingo's Mum," Radcliffe said. "I just think Barkevious Mingo is the greatest name I've ever heard, and the fact that his mum invented that name is also amazing. And in that league I have the Cleveland defense as well, and they had an amazing game the other day against Buffalo, so I'm incredibly grateful to the Cleveland defense, Barkevious Mingo and his mother."
Other things you may find interesting about Radcliffe: he's in a small-stakes league, he thinks the Super Bowl will be Broncos-Saints and thanks to his love for fantasy football, he now cares zero for soccer. 
The Giants got a scare in the second quarter against the Browns

Welcome to the NFL's version of a dress rehearsal

The Browns protested the anthem on national television
Beckham passed tests for a concussion but the Giants will do more tests on his ankle

The president has something in common with Vladimir Putin

The Seahawks are trying to beef up their offensive line with George Fant out