How can Seahawks repeat? Players like Sherman, Harvin, Michael key
Many of the Seahawks' brash young stars got big raises in the offseason. But they still look hungry for more rings and postseason glory. But the stout NFC West and topsy-turvy NFL will be tough to overcome.
• 7 min read
More NFL: Photos |   Videos & GIFs |  Stories | Training Camps |  Manziel watch 
SEATTLE -- The concern for most reigning Super Bowl champs is complacency. Sipping that bubbly and hoisting that Lombardi trophy for the first time brings with it certain caveats for the following campaign.
Some self-worth will be inflated, some contract demand will be bloated, and some players, fresh from their championship march, will be bestowed with more riches than they have ever known. History tells us there will be a letdown, subconscious or otherwise. The NFL is littered with teams unable to get back to the postseason or win a postseason game after winning it all. These Seattle Seahawks vow to be different.
Getting bathed in constant flattery and adulation -- like the reaction from their devoted fans Friday night at CenturyLink Field, where they throttled San Diego in their first home game since thrashing Denver in the Super Bowl -- can be heady stuff, but this group just might have the mental fortitude to buck the trend.
Repeating, alas, is beyond difficult, and having to run the gauntlet in the NFC West might take too much of a toll. But I wouldn't put it past them, either.
I expect Seattle to be a factor in the NFC postseason, and no one around here is shy about talking about a desire, perhaps even a demand, for more rings. Management has been enthused by the reaction in particular to those players who received significant raises this offseason -- guys like Richard Sherman , Earl Thomas and Doug Baldwin -- who have been anything but content to count their money and rest on their accomplishments.
"I'm not sure we've had three harder workers than those guys," general manager John Schneider told me. "Through the entire offseason, they were always pushing."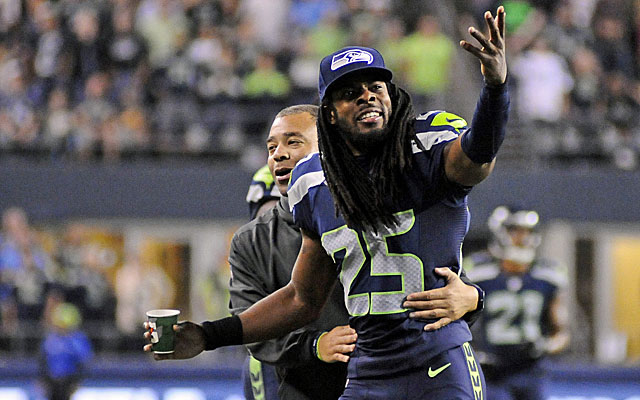 If that's the message being sent from the top of the payroll and the core of the team, it bodes well for the overall group. The intense rivalry with the 49ers will be another constant motivational pull for the Seahawks on their quest to repeat.
Behind the scenes, Schneider and coach Pete Carroll are looking for subtle ways to keep the team's fire lit. The war against complacency is being fought on the field and in the meeting rooms, and few coaches have had the pulse of a team better than Carroll since his return to the NFL, while Schneider does yeoman's work culling the roster and doling out savvy contracts.
This team just may have more championships in them. Maybe this year. History would say probably not. But there isn't any "window" for the Seahawks to compete for a title, and, offensively, I wouldn't be surprised in the least if they were more explosive and well-balanced than last year's championship team.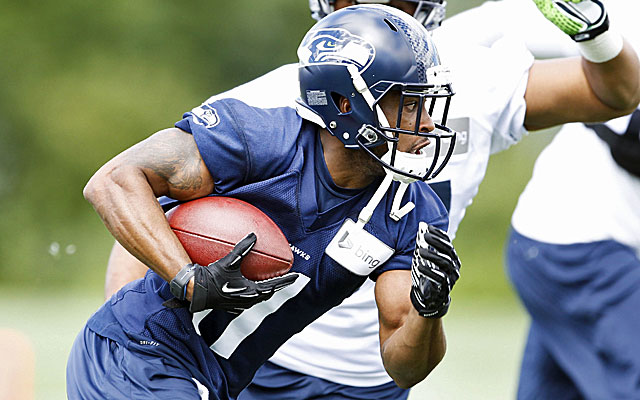 •The level of excitement about Percy Harvin 's return to full health is off the charts. "Every day he does two or three things at practice that make everyone stop and go, 'Damn, did you see that,'" one member of the organization told me. Remember, the Seahawks barely got to tap into Harvin's skillset last year, and even then really only as an outside receiver. He has been devastating out of the backfield in camp. Don't overlook that element now that he is feeling healthier than he has in a long time. Friday night Harvin was featured early in the pass game, exploding after the catch on bubble screens and looking like he could take the Chargers defense over if he wanted to. I'd expect him to sacrifice returning punts, to avoid some risk there, but that's a tradeoff the Seahawks would gladly make to have this dynamic weapon lining up all over the field.
•Even with all of the great work this front office did to secure its primary objective of contract extensions, they are still not opposed to doing a few more deals. I'd expect them to take a real shot at extending emerging outside linebacker KJ Wright before the season starts, and possibly trying to turn Cliff Avril 's short-term deal into a longer one. Left tackle Russell Okung is entering the final year of his deal, but I get the sense that, given all of his injury issues, the team would prefer to evaluate these 16 games before determining the price point for the talented lineman. And, don't let it go without further mention that of all the deals the Seahawks did post-Super Bowl, the one to get Carroll inked for the long term was most significant, though it was largely glossed over. It was done quickly and quietly and speaks to the trust and bond that he and Schneider have formed.
•If there is a concern with the roster, it's at offensive line. It's one area where things aren't totally set in stone and it's a unit that frankly needs more time to play and gel together. They are hopeful that rookie Justin Britt can hold up at right tackle. Veteran Eric Winston was signed as insurance, and that's precisely what he is. This isn't an open competition, though at times it might be how it's couched. There is every hope that Britt shows enough to take the job. If he stumbles badly at some point, they can go to Winston (who has some health concerns at this point in his career). Britt did well out in space to buy time for Wilson a few times and the Chargers didn't generate much pressure at all when the starters were in. If anything, Seattle's offensive line was pushing them all over the place as the Hawks gained 255 yards on their four-first half drives to take a 24-0 lead.
•Some would look at the Seahawks' receiving group as a potential weakness, but I see it as a major strength. It lacks sex appeal and flashy names outside of Harvin (who really is more of a jack-of-all trades), but there is good depth and a lot to like. The first impressions from rookie Paul Richardson have been overwhelmingly positive and the Seahawks believe he can be a game-breaker with the long ball. As Richardson adds strength and grows into the pro game, he could have some Donald Driver in him. Kevin Norwood , another rookie, has been a pleasant surprise, too. And Doug Baldwin makes the chains move and remains underrated. Some names will emerge from this group who are getting virtually no attention this summer. Bank on it.
•Second-year back Christine Michael is going to have a bigger role this season. No one in this locker room or front office or coaching rooms were fretting when Marshawn Lynch was being a malcontent about his contract. If the Seahawks had to move on without him, they would have. Michael has no shortage of supporters in the building and he and the rest of this group were looking at his absence as an opportunity. Everyone is glad to have him back, but as hard as Lynch runs I suspect there will be ample chances for others to enter the game. Reserve Spencer Ware has created a buzz, too, with his physical style.
Robert Turbin was the man Friday night. He got tough yards inside on third-and-short and for a goal-line touchdown. He ripped off a 47-yard run he was looking to punctuate with a stiff-arm, initiating contact. After Seattle's first three possessions it led 17-0, and Turbin had 12 carries for 81 yards. As a team they amassed 105 rushing yards just 20 minutes into the game, on just 15 attempts. Michael took over the and promptly ripped off an eight-yard run inside the red zone. It looked like the homecoming game up front.
•This Chargers defense may have its share of issues, but Russell Wilson was masterful nonetheless. He routinely spun outside the pocket to carve the Chargers for big chunks downfield. His accuracy in the screen game was excellent. He made great reads inside the pocket and spread the ball all over the place. And he ripped off long runs whether designed, or via scrambling, to keep the Chargers on their heels. In four first-half possessions Wilson scored two rushing TDs and was 11/13 passing for 121 yards. Again, it came against a struggling defense that wasn't going to attack much in the preseason, but Wilson really could not have looked any better.
•Pretty good battle going on between O'Brien Schofield and youngster Benson Mayowa for a backup defensive end spot. Mayowa is an ascending player who could make a push.
•While Bruce Irvin is still recovering from his hip surgery, he has impressed his coaches and teammates with his maturity, and how he has grown up in the past year or so. His head is in a good place, he loves being a parent and there is a hope that he is at a point where he can put everything together from a mental and physical standpoint. If he can be the pass rushing presence the Seahawks believe he can be, that element over 16 games would make this already dominant defense even more menacing.
The Texans desperately miss their tackle, but they're not going to break precedent to bring...

Receivers like Pryor don't want to be hit low but defenders are running out of places to hit...

The Browns' Pro Bowl left tackle has mastered the art of losing gracefully
An example of how not to use social media

Mike McClure, a DFS pro with more than $1M in winnings, gives optimal DraftKings and FanDuel...

Let's check in on the Giants a day after their loss to the Lions