Jay Gruden expected to emerge as Redskins top coaching candidate
While he's not allowed to interview yet, Bengals OC Jay Gruden will eventually talk with the Redskins and is the leader in the clubhouse to take that head coach job, Jason La Canfora reports.
• 2 min read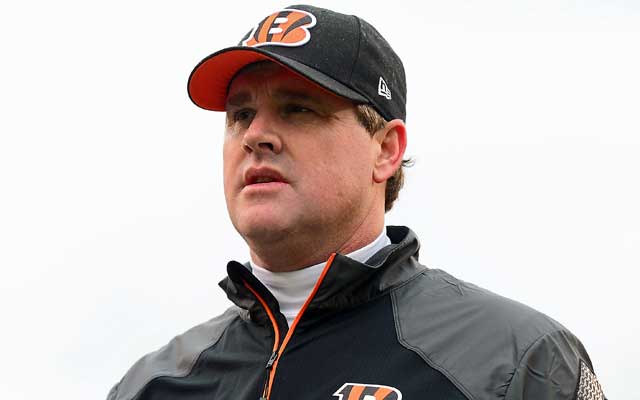 For more news and notes from Jason La Canfora, tune into The NFL Today Sunday at noon ET on CBS.
Redskins general manager Bruce Allen has told others he plans to interview 10-12 candidates for his coaching opening, then re-interview two-or-three finalists. Several of the most intriguing candidates are not eligible to be explored until this week with their teams playing in the divisional round. Bengals offensive coordinator Jay Gruden is among the top names on their list, sources said, and Allen's relationship working with Gruden's older brother, Jon, could end up being a positive factor in the process.
Gruden will have numerous interviewing opportunities, and Washington is appealing to him, sources said. Detroit is seen by many as the best job still out there, and the Browns are expected to speak to Gruden as well. Thus far, the Redskins have been applying an old philosophy that was long espoused by Raiders owner Al Davis -- Allen worked for Davis in Oakland -- which is to use a coaching interview process to accrue as much information for your team as possible. Particularly, among division rivals.
Allen interviewed Cowboys special teams coach Rich Bisaccia this week, and, league sources said they expect him to interview at least one member of Chip Kelly's staff in Philadelphia. It will be likely either offensive coordinator Pat Shurmur or quarterbacks coach Bill Lazor, or perhaps even both. Allen interviewed Carolina defensive coordinator Sean McDermott Saturday (McDermott was a former coordinator with the Eagles), and, by talking to such a wide group of candidates -- but really knowing only a handful are likely to get the job -- Allen and owner Dan Snyder get to solicit ideas, potential other staff hires, and useful information about other organizations, as well as get free scouting reports on the Redskins' roster from each candidate.
The last time their regime ended with a high-profile head coach, when Joe Gibbs retired, they ended up spending weeks interviewing candidates only to end up with Jim Zorn. With Mike Shanahan's firing ending an ugly final few weeks in Washington, this process could mirror what took place back in 2008, when they ended up with Zorn.
Many believe the Redskins could still explore Baylor's Art Briles, who coached quarterback Robert Griffin III in college, before all is said and done, and of the list of top coordinators, Jay Gruden could end up atop their wish list. Some coaches are concerned with the idea that Allen, who does not have a scouting background, will be in charge of personnel in Washington and have final say, but the unique relationship between him and Allen (Jay Gruden was once a part of his brother's staff in Tampa) and the fact that Jay Gruden has personnel experience himself from his time running an Arena League team, could work in his favor, too. Furthermore, some of the coaches Allen elected not to fire immediately when cleaning out Shanahan's staff, have ties to Gruden (like former Bucs coach Raheem Morris, now Redskins secondary coach, who worked with Jay Gruden on Jon Gruden's staff in Tampa) or are thought of highly by him, sources said, with tight ends coach Sean McVay and offensive line coach Chris Foerster among them.
It had been rumored that the Jaguars might cut ties with Bortles, but instead he'll stay in...

Dez has struggled with injuries over the last few seasons

Cohen started last season red-hot before falling off dramatically but he has a ton of tale...
Beckham got injured during the 2017 preseason and then fractured his ankle after just four...

The Eagles were one of the most aggressive teams in the NFL in 2017, and it helped them win...

The ex-Dolphins offensive lineman was detained over a threatening social media post