Jerry Jones: NFL didn't ask us to sign Michael Sam
Jerry Jones signed Michael Sam because the Cowboys 'need pass-rushers and defensive linemen,' not because the NFL asked the team to do it.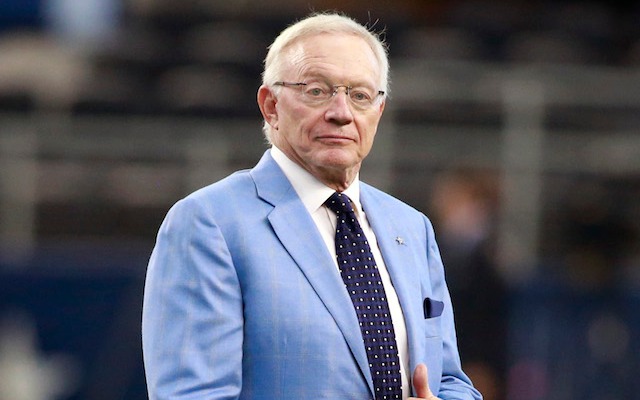 When the Cowboys signed Michael Sam to their practice squad this week they did it because they thought he'd help the team, not because the NFL asked them to do it. 
During the NBC pregame show leading up to Thursday night's opener between Green Bay and Seattle, MMQB.com's Peter King reported that the NFL reached out to several teams to see if they would be interested in adding Michael Sam to their practice squad. 
"A league official contacted multiple teams asking if they had evaluated Sam as a probable practice squad player," King said on Thursday. "Sam and the NFL avoided a nightmare situation when he signed with the practice squad of the Dallas Cowboys."
Obviously, the league doesn't generally contact teams on behalf of free agents, but the NFL apparently did it in this case to avoid a 'nightmare situation.'
One team the league didn't contact though was the Dallas Cowboys. In an interview with 105.3 KRLD-FM on Friday, Jerry Jones had this to say when asked if the league contacted the Cowboys about signing Sam. 
"No we were not [contacted]," Jones said.
The Cowboys owner almost sounded insulted by the question, "That would not be something that I have ever done, is visit with the league," Jones said. 
Jones also shot down rumors that the team might start selling Sam's No. 46 practice squad jersey. 
"It never crossed my mind, it was never a consideration," Jones said. "I think his number is not even a number you could use if you were a defensive lineman, if you were playing and made the roster."
Jones is right about Sam's number. If Sam were to make the active roster, he wouldn't be allowed to wear No. 46, he'd have to wear a number between 60-79 or 90-99. 
The Cowboys owner also explained why the team signed him, "It's no secret, we need pass-rushers and we need defensive linemen," Jones said.  
Jones isn't kidding. The Cowboys had three defensive lineman listed on their final injury report for Sunday's game against San Francisco. Defensive tackle Terrell McClain [ankle] is questionable. Defensive end George Selvie [shoulder] is probable, while defensive end Anthony Spencer [knee] has been ruled out.
Then there's second-round pick DeMarcus Lawrence, who was placed on IR-return this week with a broken foot.  
Keep up with the latest moves in free agency as teams try to build a Super Bowl contender

The owners are voting on the pass-interference proposal and others next weekend

The Giants are a likely candidate to take Bradley Chubb at No. 2 overall now
Michael Bennett believes you need some attitude on your team and he is not wrong about tha...

Looking at some more players who could be dealt during the second wave of free agency

Browns wind up with both Sam Darnold and Saquon Barkley, while Giants stay traditional with...