Michael Bennett summons his inner Russell Wilson, reserves table
Michael Bennett doesn't look like Russell Wilson, but apparently, that doesn't matter in a phone call.
• 1 min read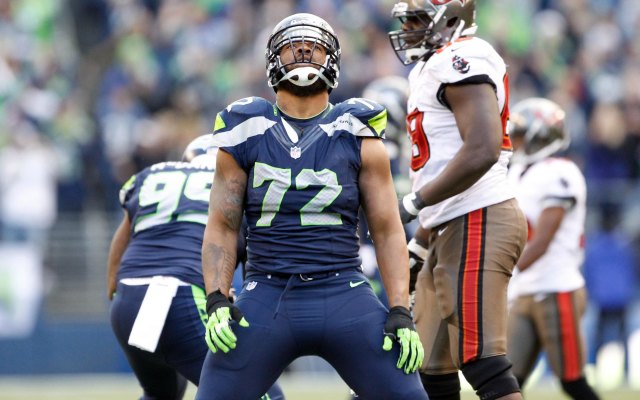 The first time Seahawks defensive lineman Michael Bennett tried to make a reservation at a highly-popular Seattle restaurant, he was denied because the entire place was already completely booked.
When he called back, though, Bennett decided he might name-drop one of his more famous Seattle teammates. And when the restaurant heard that Russell Wilson wanted a reservation -- a Russell Wilson who apparently doesn't sound much like the real Russell Wilson -- suddenly that restaurant was no longer completely booked.
"And she was like, 'Yes! We can make a table for you! You were 22-for-30 the other night, 130 quarterback rating!' She knew every stat," Bennett told ESPN 710.
Of course, when Bennett, his wife and kids arrived at the restaurant, Russell Wilson was not accompanying them. And there aren't many people in Seattle who would mistake Bennett for Seattle's quarterback.
"I got to the restaurant with my wife and kids," Bennett said. "I said, 'Oh, thank you. I'm Russell Wilson.' She was like, 'Good joke.' I said, 'Gotcha.'"
Still, the restaurant took the disappointment in stride.
"She took me to the table and they had it roped off," Bennett said. "They had sparkling water and everything."
Sparkling water, as we all know, is only meant for star quarterbacks on playoff-bound teams. NOT for defensive ends who ONLY have 20 tackles on the season (but also 6.5 sacks).
Follow Josh Katzowitz on Google+
Griffin says Moss is lying about the QB being happy when Shanahan was let go

LSU's star defender returned from injury this weekend and highlights our 2018 Draft Top 20

McCarron could gain a lot from a Dalton benching, but he's sticking up for the Bengals' embattled...
'Top Dog' Tierney is 26-10 on NFL over-under picks since last season, has strong play on 4...

The injured Lions left tackle does not take kindly to being called a Wolverine

The Cowboys owner doesn't sound too worried by Elliott's lack of effort on an interception...