NFL: Eagles cut DeSean Jackson for football reasons, not gang ties
The NFL's senior vice president of law and labor policy said on Thursday that the league is 'comfortable' that the Eagles cut DeSean Jackson for football-related reasons.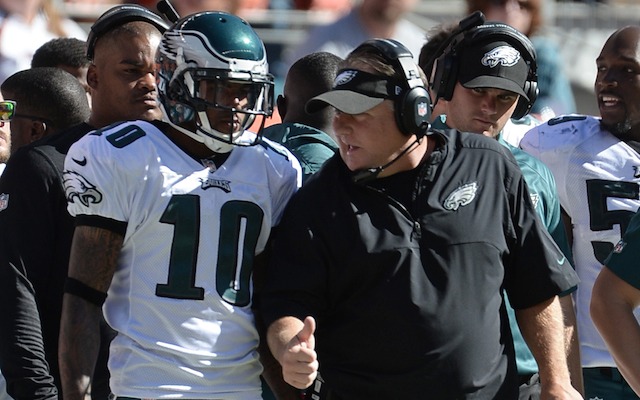 More NFL schedule: 10 best games | Ranking Thurs. | Reunion games | Full schedule
After the Eagles released DeSean Jackson back in March, the NFLPA promised to investigate the circumstances that led to Jackson's released. Specifically, executive director DeMaurice Smith said the NFLPA would look into "whether or not there were comments or leaks from the team."
In the hours before Jackson was released on March 28, NJ.com reported that the Eagles were concerned with his "continued association with reputed Los Angeles street gang members who have been connected to two homicides since 2010." 
There was also a report that Jackson was cut because he was a problem in the Eagles locker room. There was some concern that one or both of these reports came from the team. 
Although the NFLPA hasn't provided any updates on its investigation, the NFL has weighed in. Adolpho Birch, the league's senior vice president of law and labor policy, said on Thursday that the NFL believes Jackson was released for football-related reasons. 
"I think we are comfortable that the decisions that were made on both ends were football decisions," Birch said, via the Philadelphia Inquirer. "Both sides, the objective that they sought from a football perspective, they got, whether that be the Eagles or the Redskins. I think the player's going to be in a good position. I think at the end of the day, everyone was comfortable with that."
As far as possible gang-ties, Birch said there was "certainly no indication that the [Eagles] reviewed or looked at anything like that" when they released Jackson. 
Jackson issued a statement the day he was released saying he has "never been part of any gang."
Of course, the Eagles could have made this whole thing easier if they had commented on Jackson's release and explained why they dumped him. It has been almost a month since Jackson was cut on March 28 and the team still hasn't commented on the move. 
A football-related reason could mean almost anything, Chip Kelly may not have liked Jackson's locker room demeanor -- he was reportedly selfish -- and it's highly probable that money played a factor. Jackson had three years left on a five-year deal that was going to pay him over $10 million in 2014.
Whatever the specific reason was for Jackson's release, the NFL is convinced that it was a legitimate one. So now we can put all of this behind us and go circle Sept. 21 and Dec. 20 on our calendars so we don't forget to watch Jackson and the Redskins play the Eagles. 
The Green Bay Packers quarterback seems to be a go for the Carolina Panthers game

Shazier's season might be over, but he still wants to help his team

The young head coach took the blame after a heartbreaking loss to the Eagles
Our computer model simulated every Week 15 NFL game 10,000 times with very surprising resu...

Britt is going from the worst team in football to a Super Bowl contender

With three weeks to go in the regular season, the MVP race is wide open