Charles Haley is a San Francisco 49er. The 49ers plucked him out of James Madison University as a fourth round pick in the 1986 NFL Draft and he immediately began dominating as a part-time pass rusher for defensive coordinator George Seifert's unit.
Haley played all 16 games as a rookie, but he got the start in just one, and yet he still managed to record 12 sacks (the highest total among all NFC rookies), 59 tackles, four forced fumbles and an interception for the No. 3 scoring defense in the league. He didn't win Defensive Rookie of the Year – that honor went to Leslie O'Neal of the Chargers, who had a heck of a career in his own right – but Haley announced his presence with authority nonetheless.
Haley's numbers dipped the following season as he remained in a part-time role, but when he finally got the chance to regularly start in his third season, he took off and never looked back.
Only six players recorded more sacks between 1988 and 1990 than Haley's 38. Four of them (Chris Doleman, Lawrence Taylor, Reggie White and Bruce Smith) are in the Hall of Fame, and Kevin Greene may well join them. During that three-year span, Haley ranked seventh among all defensive players in Approximate Value (AV, Pro-Football-Reference's attempt at assigning a one-number value to every player since 1950). Each of the six players ahead of him is already in the Hall of Fame.
That three-year period also included the first two of Haley's five Super Bowls. He was especially productive in Super Bowl XXIII against the Cincinnati Bengals, sacking Boomer Esiason twice in helping hold the NFL's No. 1 offense to only 16 points on the day.
By the time he was five seasons into his career, Haley was a two-time Pro Bowler, an All-Pro, a two-time Super Bowl champ and as dominant a defensive force as existed in the NFL. He was arguably the best player on what was almost certainly the NFL's best defense at the time (It was Ronnie Lott for most of that time, but by 1990, Lott was 31 and had missed 17 games over the previous four seasons, while Haley was really coming into his own) and was coming off being named the UPI NFC Defensive Player of the Year.
Haley was trouble off the field, too
But not all was what it seemed. While Haley was a monster player and all you could possibly ask for on the field, he apparently was quite the handful off it. There were allegations that he took a swing at George Seifert, that he had to be restrained from charging at quarterback Steve Young, that he urinated on a teammate's car.
"You never knew when he was going to go off," running back Dexter Carter said. "Other guys would kid around and tease, but Charles was different. He was meaner. I didn't like the guy, and I told him that to his face. And believe me, I'm not alone."
After several well-publicized incidents during the 1991 season, a season in which Haley once again made the Pro Bowl, the 49ers decided to trade him to the Dallas Cowboys.
"So, finally, I'm projected as a lunatic, crazy, a raging animal and I'm traded," Haley said (when looking back at the trade in a 1993 New York Times article). "And I guess it will never change as long as we live in a society where negativism is a plus. You're popular in this league if you're a good old boy and don't speak up about what's wrong, about racism or anything else. Everything is O.K. as long as you don't think for yourself. It's that or either have a gimmick. That sells. But you be truthful and you've got problems. Bill Walsh didn't operate that way. It tells you a lot that I didn't have any such problems when he was my coach because he treated me with honesty and like a man.

"It's always been negative somewhere, and I've always been a misfit. I've fought that all my life. It's been me against the world. You get tired."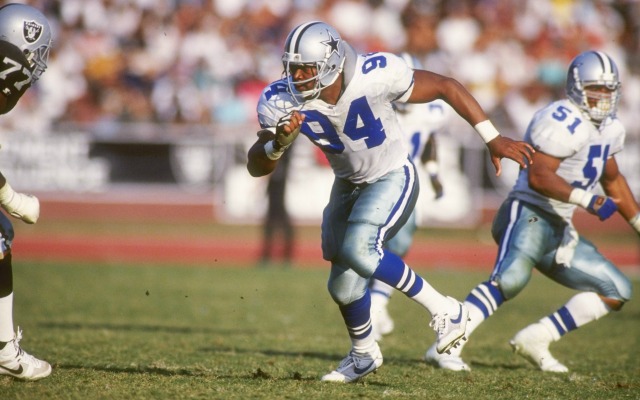 Cowboys win three Super Bowls in Haley's first four seasons
Charles Haley is a Dallas Cowboy. Jerry Jones allowed Jimmy Johnson to take a chance on a player that was deemed more trouble than he was worth, and Johnson, along with defensive coaches like Dave Wannstedt, Butch Davis and Dave Campo, harnessed Haley's ferocity and directed it at opposing quarterbacks and ball carriers. There were plenty more locker room incidents during Haley's days in Dallas, including confrontations with various teammates and Johnson himself, but Jimmy was perfectly OK with that.
"I had talked to the 49ers," Johnson said, per the Dallas Morning News. "They told me about his antics and rebellion, peeing on the car, etc.
"But everyone said he was intelligent, had a great passion for the game and was a hard worker. What else could I ask for? I had plenty of Charles Haleys in my days of coaching the University of Miami."
Haley's first four seasons in Dallas resulted in another three Super Bowl victories. The Triplets -- Troy Aikman, Michael Irvin and Emmitt Smith -- were showered with most of the adoration and attention on those teams, but the defense was just as responsible for the 90s Cowboys' successes.
No team allowed fewer points (excluding the Jaguars and Panthers, who first came into existence for the 1995 season), yards or yards per play than the Cowboys from 1992 through 1995. No team held opponents to fewer than 150 total yards more often than Dallas in that timespan, while only the Steelers and Chiefs had more games where they allowed single-digit points.
Few things terrified opposing offenses more than Haley with his hand on the ground on the right hand side of Dallas' defensive line, especially when they had to deal with Russell Maryland lined up right next to him. There were some terrific players that came through the Dallas defense in that four-year span, from Tony Tolbert to Tony Casillas, Leon Lett to Ken Norton and Darren Woodson to Deion Sanders.
But Haley was truly the class of the group, and certainly the one who set the tone for the defense's attitude. He made the Pro Bowl in 1994 and 1995 and was named both first-team All-Pro and UPI NFC Defensive Player of the Year in 1994, as well.
Injuries took their hold on Haley beginning in 1996, and he retired after the season. He'd return to San Francisco for the 49ers' 1998 playoff run and 1999 season, but he wasn't nearly the same force the league had come to fear.
The Charles Haley we knew finished his career in Dallas.
Haley diagnosed with bipolar disorder
"I know that if you mention the name Charles Haley, a lot of people immediately are going to say something negative," Karen Haley, Charles' ex-wife and mother of his four children, said back in 2010. "It will be based on something they've heard, read, or it could be based off of a personal experience."
Haley was "abrasive" during his playing days, she said, but also noted that she regrets that so few people know the man he was in college or the man he's become since his career ended. "I'm very proud to witness his transformation," she said. "I don't use that word often, but I really feel it has been a transformation.
Haley was diagnosed with bipolar disorder a few years after his career ended. Karen said she once tried to give him literature on the subject back in 1990, but he dismissed it. By the time he was done playing, though, "He was willing to accept it."
He's mellowed out considerably since those days. "It's a blessing to be able to change and see things for the first time," Haley said. "It's the greatest thing I've ever had, more pleasurable than winning a Super Bowl. Because I don't have to walk around being angry all the time."
Starting a few years back, he tried to reach out to various players he clashed with over the years, including Carter, the 49ers running back who said Haley was "different" and "meaner" than the typical NFL-er. Haley wanted "to try to rectify some of the hurt. But a lot of times, people don't want to go back across that bridge." It's understandable, given some of the stories floating around about how Haley behaved during those days.
Haley: Part-time Cowboys coach, tutor
Over the last few years, Haley's remained involved with the Cowboys. He was inducted into the team's ring of honor back in 2011, and he's been known to pop up at training camp to work with the team's defensive line. This year, he's tutoring second round pick Randy Gregory in the finer points of pass rushing.
On Sunday, Haley will finally, officially enter the Hall of Fame. His personal foibles likely contributed to it taking 11 years of eligibility for him to be elected, but you know what they say: good things come to those who wait.