Owner Mark Davis: Oakland is on its 'last chance' to keep Raiders
Raiders owner Mark Davis calls the latest stadium plan the 'last chance that Oakland is going to get' to keep the Raiders.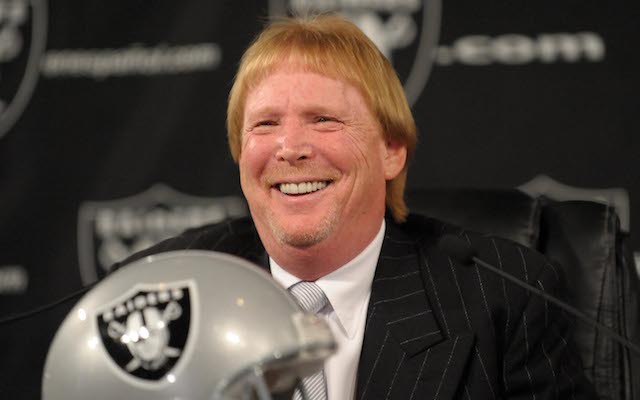 The Raiders want a new stadium and if something doesn't happen soon, they might be leaving Oakland. Owner Mark Davis said this week that he wants to stay in the city where his team has been since 1995, but he needs to see some progress as far as stadium planning goes. 
An investment group led by the world's third-largest privately held real estate firm, Colony Capital LLC, made headlines in October when they promised to redevelop the coliseum-area into a 'sports and entertainment center.' 
"We are very enthusiastic about the opportunity… to develop this unique property, which we expect will become a transformational and vital urban, residential sports and entertainment center for [Oakland]," Colony CEO Thomas J. Barrack, Jr. said in October, via the Oakland Tribune.
If Colony Capital's plans fizzle out though, the Raiders will likely be leaving Oakland. 
"I don't want to call it a last-ditch effort, but it does seem to be the last chance that Oakland is going to get," Davis told the San Francisco Chronicle. "We can't continue to play in that stadium, with the baseball field and all of that stuff."
The Raiders lease at O.co Coliseum actually expired after the 2013 season and the team could've looked at moving to another city, but Davis and the Raiders agreed to a one-year extension to stay in Oakland. Davis made the agreement with hopes of seeing the stadium project move forward in 2014.   
The Colony Capital deal looked promising when it was announced in October, but almost five months later, Davis hasn't heard anything regarding the project moving forward. 
"They brought in Colony Capital and based on that, I decided to go ahead and do a one-year extension with them. But there's been no progress," Davis said. "I had high hopes when Colony Capital came in. I still do have hopes, but they're not as high because I haven't really heard anything positive from either group. It's gone silent again. We have to get something done."
If something doesn't get done, then 2014 could be the Raiders final year in Oakland. However, Davis didn't want to talk about a possible move to another city, "I don't want to talk about using someplace else for leverage," Davis said. "If I get something done in Oakland, I am staying."
The Raiders had a chance to move-in with the 49ers at their new stadium, but Davis decided that wasn't in the best interest of his team. That's a decision he still doesn't regret, "I really believe with the 49ers moving down to Santa Clara, and leaving the San Francisco Bay Area, that it leaves it wide open for someone to say, 'Wow, this is really a good opportunity for Oakland,' Davis said. 
Besides the stadium deal, Davis touched on several topics during his lengthy interview with the Chronicle, which you can read here. If you're a Raiders fan, or you just want to read about Davis calling the 2012 Chiefs 'inept,' it's worth a click. 
Here's every official injury designation for each NFL team for Week 15

Rivers has been the NFL's best quarterback over the last four weeks

SportsLine's football insider is all over the Bears and another huge NFL underdog to win this...
Bowles declined to explain why Wilkerson won't make the trip to New Orleans

Donald is on a Hall of Fame track four years into his NFL career, Wilson says

The inaugural youth world championships kicked off on Dec. 14 with more than 100 teams