Packers sign RB Cedric Benson; is James Starks in trouble?
Two days ago, it was reported that the Packers were expected to sign a contract with former Bengals running back Cedric Benson. On Sunday, the Packers announced that deal has been completed and signed
• 1 min read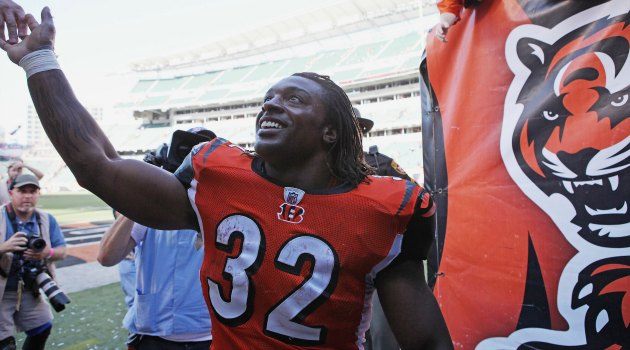 Presumably, Amani Toomer doesn't believe Tebow is a better quarterback than Manning. (US Presswire)
We told you two days ago that the Packers were expected to sign a contract with former Bengals running back Cedric Benson to bring some experience and some talent (three-straight 1,000-yard seasons) to a backfield that certainly could use some.
On Sunday, the Packers announced a that deal has been completed and signed (ESPN reports that it's a one-year contract and that he'll make the veteran's minimum of $825,000).
The signing raises a couple significant question marks:
1) What does Benson have left? He's combined for 3,429 yards and 19 touchdowns the past three seasons in Cincinnati, but he's also averaged 298.3 carries per season. That's a hefty load for a running back who's in his late 20s (Benson is 29 years old). Benson is consistent, but he's also averaged more than 4 yards per carry only once in the past five seasons.
He's never been a burner, and he's never broken long plays. As he nears 30, that's not likely to change.
2) Will Benson have a chance to make an impact on this team? He very well could. Starting running back James Starks hasn't performed well in training camp, and he dropped a pass in the team's first preseason game (he also misplayed a hand-off). And for a third-year player, he doesn't seem to have shown much improvement.
"The Packers were looking for big things from James Starks in his third season," the Milwaukee Journal Sentinel wrote earlier this month. "So far, they haven't seen it. Even though he has taken probably three times as many snaps as Alex Green, it has been Green who has been the more dynamic performer. … Starks hasn't made strides as a pass blocker or ball carrier. He just doesn't carry himself like a reliable, top-flight player."
Benson probably isn't a top-flight player either. But then again, he'd probably beat out backup Alex Green for a starting spot. At this point, Starks isn't even assured of doing that.

For more NFL news, rumors and analysis, follow @EyeOnNFL on Twitter, and subscribe to our Pick-6 Podcast and NFL newsletter. You can follow Josh Katzowitz on Twitter here: @joshkatzowitz.
Warren Sapp was one of several players named in a lawsuit against NFL Network

Check out the uniforms that Denver and Indianapolis will be wearing on Thursday

The Cowboys are going to need a few things to go their way to get into the postseason
Rudolph will be put under the microscope in Mobile by clubs looking for a quarterback early...

This fan is taking the Saints to court for using 'football games as a platform for protest...

Can Aaron Rodgers get the Packers to the postseason? Even if they win out, they'll need he...