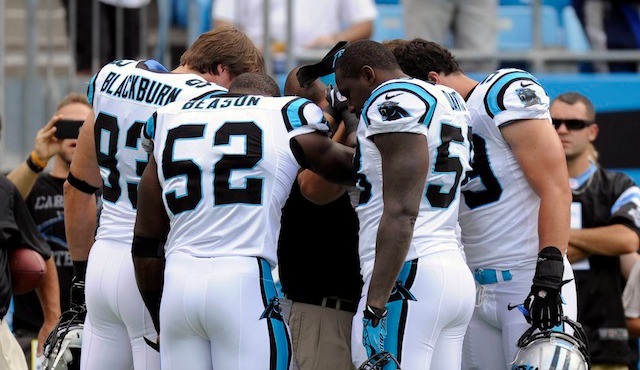 Through four weeks, the New York Giants have given up more points per game (36.5) than any other team in the NFL. One way to fix that problem is to bring in defensive help and it looks like Tom Coughlin's trying to do that.
The Giants are trying to work out a trade with Carolina that would send Panther Pro Bowl linebacker Jon Beason to New York, CBS Sports NFL Insider Jason La Canfora reports. Beason is scheduled to take a physical on Friday morning and if he passes, the trade will be complete.
In exchange for Beason, the Giants would send a late-round draft pick to Carolina. The news was first reported by Jay Glazer of FoxSports.com.
The Giants defense has struggled this season. Besides giving up more points pre game than any other team in the NFL, the Giants have also had trouble stopping the run. New York's surrendering 122.5 yards per game on the ground, a number that ranks 28th in the league. 
In Beason, the Giants would potentially get a seven-year veteran who's been to the Pro Bowl three times. However, Beason's had trouble staying healthy: After only playing in one game in 2011, Beason only played in four games last season before undergoing season-ending microfracture surgery. 
The Giants got an up close look at Beason in Week 3 in a 38-0 loss to Carolina. However, it's not clear how much they saw. Beason didn't even start in the game, the Panthers went with Chase Blackburn at linebacker instead. 
Panther coach Ron Rivera announced on Wednesday that Blackburn would stay ahead of Beason on the depth chart going into Week 5, which may have made Beason expendable.