Patriots-Redskins practices: Skins' offensive line is coming around
Even the Patriots were impressed by the big uglies up front for the Redskins during joint practices. LT Trent Williams can be as good as anyone.
• 7 min read
More NFL: Photos |   Videos & GIFs |  Stories | Training Camps | Manziel watch 
RICHMOND, Va. -- Washington's offensive line has been more of a concern than a strength for about as long as I can recall, but the unit held up well in the two days of practices with the Patriots and earned praise from New England's coaching staff.
Left tackle Trent Williams is in excellent shape and when he comes to play is as talented as anyone in the NFL. His battles with Chandler Jones were spirited and the Redskins line in general looked good in individual drills. The Skins will need a bounce-back year from guard Chris Chester, but overall the group was impressive.
Offensive line coach Chris Foerster has done a nice job molding the unit as it adapts from a zone team to one that will incorporate elements of power running under new head coach Jay Gruden.
Gruden will have a lot to sort out, above and beyond trying to get his offense installed, and if he doesn't have to spend nights fretting about the ability to protect Robert Griffin III and running the football, well, that's not a bad start. This unit has some promise, and if Williams dominates at an All-Pro level, the more light will be shined on the work of the entire unit. Griffin still needs to figure out when to help out the big uglies and simply unload the football, and his extending plays will create issues as well.
The Redskins look upgraded at center for sure. Some wondered whether moving guard Kory Lichtensteiger to center would work, but he clearly knows the offense, he and Griffin seem comfortable together and that move could be vital to cementing the interior of the offensive line.
"He's been one of the surprises of camp," Gruden said. "He's a natural center."
More observations
• Devin McCourty's move to safety still looks seamless, and it has solved what was a lingering issue for the Patriots. No doubt, they'll want him around a long time, as he enters the final year of his deal. The sides exchanged some initial proposals this offseason, sources said, but weren't particularly close, and there hasn't been any movement since. The looming financial reality here is that the safety franchise tag is quite team friendly, so that could put a chill on a drive to get something done, though I'd expect the sides to maybe chat it up once more before the start of the season just in case.
• I like the look of Patriots quarterback Ryan Mallett. He seems more composed and at ease and in command of this offense than before, and he is getting a ton of reps. Rookie quarterback Jimmy Garoppolo was used sparingly during these sessions with Washington and when he did get a shot in team drills, he quickly threw an ugly pick. He will have a big learning curve, which is to be expected jumping from a small school, and in the meantime Mallett is the next man up should Tom Brady get hurt.
Mallett's physical comparisons to Brady, just in size and body type, are hard to miss (I overheard more than a few fans in the stands who actually got them confused from afar). Expect to see a ton of Mallett in the preseason, and I bet he looks pretty good doing it. When asked if things have really slowed down for him, Mallett said: "I have to say yeah. I feel really good right now. I'm seeing stuff well."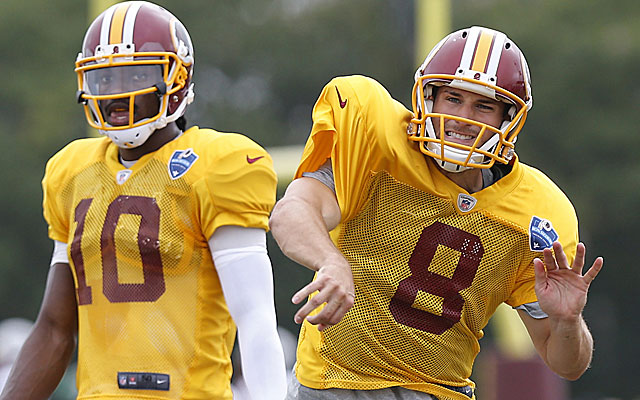 • I tend to think the time has passed to pull off a trade, now well past the draft, but I wonder if the Skins get more calls at some point in 2014 on backup quarterback Kirk Cousins. He has two years on his rookie deal, the Browns offered a mid-round pick for him this offseason (Washington GM Bruce Allen wanted a second-rounder, I'm told), and Cousins has plenty of fans in some other front offices and coaching rooms. Regardless, with the Skins all in on RG3, I'd think they'd try to get realistic value for Cousins rather than have him play out his entire rookie contract. We'll see. If Griffin remains an injury risk, Cousins might end up playing real games again.
• Neither injury seems significant right now, but the fact that the Skins will be without top receivers DeSean Jackson (ankle) and Pierre Garcon (hamstring) for the preseason opener against the Patriots on Thursday is hardly ideal. Garcon has a history of the muscle issues, and those things can linger and recur. Jackson was cleated during the glorified walk-thru with the Pats on Wednesday and had to leave. No one seems too worried about it now, but Jackson can expect to see plenty of physical play at the line of scrimmage, and with tight end Jordan Reed used more as a receiver than a true tight end, having a healthy starting tandem of Jackson and Garcon is imperative. Receiver Leonard Hankerson has been out for a while, too, so the Skins will be riding novice receivers hard early in the preseason.
• There is a definite personnel imbalance between the Patriots and the Redskins in certain areas. It was impossible to miss. Washington's defense continues to scare me, and I don't see too many individuals with the wherewithal to turn it around quickly. They were awful in the red zone last year and they might be so again; if that's the case this team won't be able to make a leap from its 2013 campaign.
• The pairing of safeties Ryan Clark and Brandon Meriweather is troubling. I love Ryan as much as anyone, but he isn't a spring chicken anymore and is already banged up; Meriweather is an out-of-control head-hunter at worst and has been marginal at best. They will get challenged early and often. Clark has been trying to coach up and pump up young safety Bacarri Rambo from the sidelines during drills, but he was picked on a bunch by the Pats. The good news is they don't have to play Brady every week, but I still would be worried about the back end if I was a Skins fan, and I wonder whether coordinator Jim Haslett will have to dial up all-out blitzes to generate sustained pressure.
• Outside of running back James White, who has flashed well and I suspect will be a part of New England's rotation there from the onset, this could end up being a developmental year for a lot of the draft class, which isn't a surprise to the front office. They had the luxury to draft for the future in many spots (news flash). They're going to win the AFC East, again, and be in the Super Bowl equation, so they took several players coming off injuries who would need time. Garoppolo is a long-term project as well. I wouldn't fret about it. They have good depth in general.
• The Pats are quietly pleased with what they have seen from veteran receiver Brandon LaFell, who has been plagued by inconsistency. LaFell spent his first four season with the Panthers and looked great at times, and invisible at others. He has shown a grasp of this system and with Danny Amendola an injury concern and Aaron Dobson still out and tight end Rob Gronkowski's return still in doubt as well -- and who knows who long he will stay healthy at this point, too -- there is an opportunity for LaFell to get plenty of looks and he's generally taking advantage of it to this point. Could end up as a nice free-agent signing. Brady has a way of making guys shine.
• Hate to leave a place without identifying a deep sleeper or two. I wrote a bit about tight end Justin Jones before the draft -- he has eye-catching size and good hands -- and how intrigued teams were even though he had not played college football since 2012, as he was ineligible at East Carolina last season and left school to start draft prep. The Pats were of those teams tracking him most closely, he is a huge target for their big quarterbacks (he's 6-foot-8, 275 pounds) and he's making a good impression. He is raw and has some inconsistencies, but there is a lot of clay to mold, he's showing up on special teams and some special situations, and with Gronk's health always a concern and mostly smurf receivers around him, this kid has a shot to stick around as an undrafted free agent. He'll be another guy I keep an eye on through the preseason.
The Chargers are hoping that Philip Rivers can play on Sunday

This is the biggest showdown of the week in the NFL

The battle between the Rams' offense and Vikings' defense will be waged in the middle of the...
An 'inappropriate' comment by the Cowboys' owner was caught on video in 2013

Here's every official injury designation for each NFL team for Week 11

The Chargers can't seem to avoid controversy this year