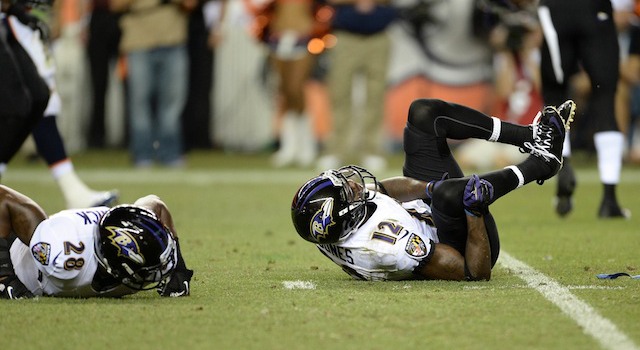 We haven't heard from Baltimore Ravens wide receiver Jacoby Jones since Week 1 when he sprained his MCL in Baltimore's 49-27 loss to the Denver Broncos. 
If you're wondering how Jones' rehab is going, it's going well enough that he was on a party bus early Monday morning with teammate Bryant McKinnie and a stripper named Sweet Pea. And apparently, Sweet Pea and Jones didn't get along. 
According to TMZ.com, Sweet Pea hit Jones over the head with a 'gigantic Ace of Spades bottle.' After Jones was hit with the bottle, an ambulance was reportedly called for 'a bleeding male.' According to TMZ, not only did the blow to the head hurt Jones, but he was bleeding everywhere after it happened. 
One of Jones' friends reportedly tried to retaliate against Sweet Pea, but McKinnie stopped the friend and then a fight broke out between McKinnie and Jones' friend, according to TMZ.
It's not clear why Sweet Pea hit Jones over the head with the bottle. It's also not clear how big the Ace of Spades bottle was. Ace of Spades bottles come in eight sizes, ranging from 750 milliliters to 30 liters. You can see the big bottle at the bottom of the page.
The whole situation occurred around 3 a.m. ET Monday. Authorities responded to the scene, however no arrests were made.
McKinnie, Jones and several other unidentified Ravens teammates were out celebrating McKinnie's 34th birthday. The Ravens were coming off of a 30-9 win over Houston on Sunday that kicked off at 1 p.m. ET. 
According to the the Ravens official Twitter page, Jones was at Baltimore's practice facilities on Monday and went through his normal rehab. However, the Ravens didn't specifically confirm or deny whether or not he had any type of head wound or injury.