Over the summer, Bills head coach Rex Ryan declared his playbook would have the most running plays in the "history of man." Given the Bills' roster included LeSean McCoy and Karlos Williams, the approach was justifiable. Unfortunately, the Bills seemingly forgot to add any passing plays for wide receiver Sammy Watkins.
In seven games, Watkins has been targeted 38 times, catching 25 of those passes for 368 yards and three touchdowns. Considering the Bills gave up draft picks to select Watkins in the first round of the 2014 NFL Draft, his statline should be considered a disappointment. And at one point this season, Watkins complained about his lack of involvement, urging the team to target him more frequently.
Ryan is aware of the issue, though. He knows his offense should involve Watkins more heavily. Ryan recently addressed the issue and indicated that more balls could be coming Watkins' way.
"You try to look at the defense and put your guys in an opportunity where they can be successful. You're trying to throw to the open guy," Ryan told WGR 550, via ESPN. "However, I think Sammy is such a talent that you can probably force the issue a little bit there. And obviously if there's one-on-ones across the board, then let's take our best shot. We'll throw up our best against your best and see what happens. Because I truly believe Sammy is that good.
"So we got to look at that. As we're moving forward, start taking advantage of this young man."
Monday night's loss to the Patriots sums up the issue. Though Watkins only caught three passes for 39 yards, one of those catches showed just why the Bills traded up to draft him.
One hand. Somehow Sammy Watkins was able to bring this down with just one hand. #BUFvsNE https://t.co/cUxzd8OhDZ

— NFL (@NFL) November 24, 2015
Again, the lack of production isn't all on Watkins. Take the Bills' win over the Jets, when Watkins went up against Darrelle Revis. On the Bills' first offensive play, Watkins schooled Revis, but Tyrod Taylor failed to lead Watkins across the field for a sure touchdown.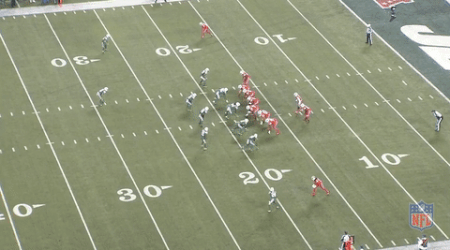 Later in that game, Watkins shook Revis silly again, this time coming down with a catch too.
Watkins v. Revis pic.twitter.com/3FleWxkdGW

— Bre (@bre_88) November 13, 2015
At 5-5, the Bills are very much alive in the AFC Wild Card race. Getting Watkins involved in the offense certainly wouldn't hurt their playoff chances.