The Super Bowl halftime show is the ultimate one-off gig -- unless you're Justin friggin' Timberlake.

When JT takes the stage Sunday at U.S. Bank Stadium in icy Minneapolis, he'll make halftime history as the only performer to do the Super Bowl three-peat. But will his shot at redemption on the world's biggest stage be remembered as an all-timer? Or will he be swallowed by the Super Bowl spotlight like so many brave souls before him? 

Dude certainly has his work cut out for him -- especially after Lady Gaga's high-flying act last year in Houston, not to mention what happened last time Mr. Sexyback played a Super Bowl.

Just like JT, you probably thought he'd never get this gig again. That was the general consensus after he tore off a piece of Janet Jackson's bustier that exposed her right nipple to nearly 150 viewers for 9/16 of a second, igniting a national scandal that created the term "wardrobe malfunction" and gave birth to YouTube.

That is, until Roger Goodell pulled the secret Timberlake file out from the bottom drawer of his desk, next to those Spygate tapes he reportedly had destroyed, and took JT off double-secret probation.
You can bet that Justin will be sticking precisely to the script after pinkie-swearing with Goodell and that the NFL has been apprised of every single detail in the show.
"It's just one of those things where you go like, 'Yeah, it [happened],'" Timberlake recently told Zane Lowe when asked about that infamous show. "What do you want me to say? Like, we're never going to do that again."
Still, landing this thing takes some serious skill. For every Prince, Beyonce or Bruno Mars, there's Phil Collins singing Disney soundtrack songs in cargo pants or that wretched Blues Brothers Bash in the Superdome. Or, even worse, Coldplay.
Certainly, JT's been taking notes. With that in mind, here are the totally subjective, undisputed, entirely debatable rankings of every Super Bowl halftime show ever.
Trust us. We watched all of them (or tried to) so that you don't have to. 
Check out SportsLine's look at the top 10 craziest prop bets for Super Bowl Sunday.  
51. Coldplay, Bruno Mars, Beyonce (2016)
We may be divided as Americans, but if there's one thing on which we can mostly agree, it's this: Coldplay sucks. The British band works great as a punch line in "The 40-Year-Old Virgin." But as the headliner for the biggest Super Bowl of all time? Terrible idea.
"Wherever you are, whoever you are, we're in this together," Chris Martin says into the mic while being surrounded by a bunch of smiling kids from a United Colors of Bennetton ad, as if this Super Bowl performance hangs on your mom's seven-layer dip. Sorry, Captain Goop, but count me out.
Yes, there have been worse acts for this gig, but there has never been a lamer one. Even lamer: Coldplay playing highlights of previous Super Bowl halftime extravaganzas, only to further drill home the point how much this show stunk. The only thing that made these 13 minutes redeemable was Bruno Mars and Queen Bey, who both crushed in previous halftime headlining gigs, coming to the rescue. Yep, "Uptown Funk" gonna give it to ya. And Queen Bey's got more than just "hot sauce" in her bag. She also has a custom-made outfit paying homage to the King of Pop himself.
Beyonce's performance of "Formation," an unapologetic Black Lives Matter anthem, created some controversy, but the real flap should've been Coldplay -- and the fact that they even wound up on this stage.
50. The Black Eyed Peas (2011)
It's clinically proven that listening to the Black Eyed Peas makes you dumber. OK, maybe that's not true, but somebody should do a study on what happens to the human brain after repeat exposure to "Boom, Boom, Pow."
Gotta get-get ... Gotta get-get ... Gotta get some new ideas, Peas.
The shameless "Dirty Dancing" cover, the lame "Tron" theme, it all sucks. The Happy Meal action figure tie-in is the only thing missing
Fergie is on auto tune and still can't hit a note, Will.I.am is wearing a metal hair piece, and Taboo is self-editing the curses out of every third line of his lyrics. Apl.de.ap? Just happy to be here.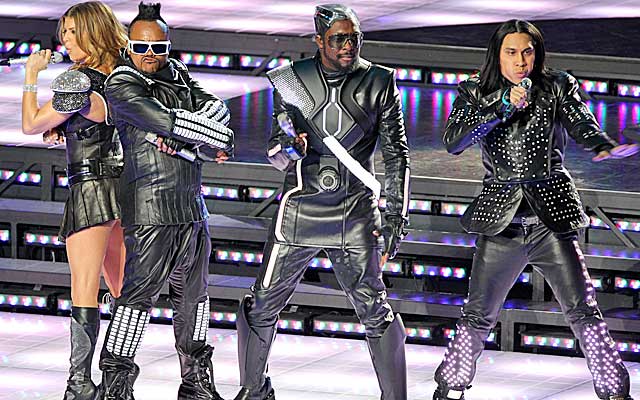 I got a feeling ... Wooooooooo hooooooooo ... that this might be the time for a pee break.
Yep -- definitely: Slash just teleported in wearing a metal top hat, and Fergie is butchering "Sweet Child O' Mine." Usher is wearing dark shades and hoping no one remembers he was here. Note to the NFL: It's never a good idea to go with an act that previously headlined the halftime show at the CFL's Grey Cup.
49-24. Everything before Michael Jackson (1967-1992)
Remember that killer halftime show featuring the Rockettes and Chubby Checker and 88 grand pianos in 1988? Or the captivating "Be Bop Bamboozled" at the Orange Bowl in 1989? No, no you do not. Ditto for Carol Channing (twice) or any one of those four annoyingly contrived Up With People performances in the late 70s and early 80s.
Before the King of Pop, the Super Bowl halftime show was an endless wasteland of college marching bands and maddening flag-spinning tributes, from salutes to Hollywood (twice), to Motown, to Duke Ellington, to the Big Band Era, to the Caribbean. We also got the New Kids on the Block (1991) not singing any of their biggest hits and Gloria Estefan (1992) providing the soundtrack for Olympic figure skaters Dorothy Hamill and Brian Boitano of "What would Brian Boitano do?" fame because nothing says a Minnesota Super Bowl like the lead singer of the Miami Sound Machine.
23. Tony Bennett, Patti LaBelle (1995)
America wanted an apology for Janet Jackson's exposed nipple, but it should've gotten one for this 11-minute cheesefest.
The most amazing thing about this halftime show? That it actually happened. Just read the YouTube summary:
The halftime show was titled "Indiana Jones and the Temple of the Forbidden Eye" and was produced by Disney to promote their Indiana Jones Adventure attraction at Disneyland that opened later that year. The show featured actors playing Indiana Jones and his girlfriend Marion Ravenwood who were raiding the Vince Lombardi Trophy from the Temple of the Forbidden Eye. The show also had performances by singers Tony Bennett and Patti LaBelle, jazz trumpeter Arturo Sandoval, and the Miami Sound Machine. The show ended with everybody singing "Can You Feel The Love Tonight."
You can't make this stuff up.
Patti LaBelle isn't even trying to pretend she's not lip-syncing, while that's gotta be the animatronic version of Tony Bennett. That, or the poor guy must've been drugged and dropped here and he's praying someone flies him to the moon, pronto. There's that hopeless 1,000-yard stare and that awkward thumbs up while he's singing, "This is so exciting."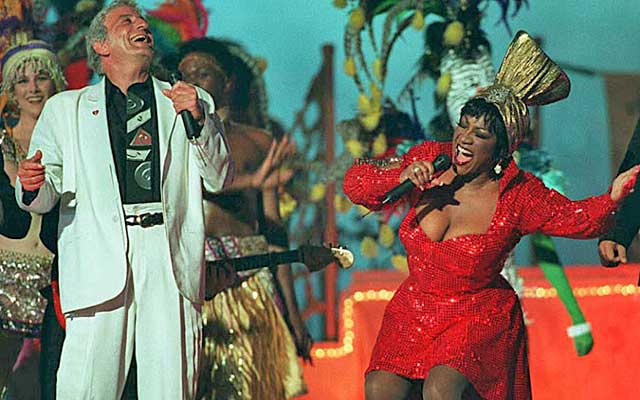 The only thing faker than the choreographed fighting and the theme park voice-overs is the plastic Lombardi Trophy that Indy is trying to capture.
"Snakes! Why's it's always gotta be snakes?"
22. Phil Collins, Christina Aguilera, Enrique Iglesias, Toni Braxton (2000)
Another Disney-themed disaster at another ABC Super Bowl. This was more Olympic opening ceremony than halftime show, and nobody cares about the Olympics. There's no Xtina in ass-less chaps getting "Dirrty". No Phil banging out the drums on one of the greatest stadium rock jams of all time, "In the Air Tonight". Just a bunch of awful songs that nobody has ever heard of, like "Celebrate the Future Hand in Hand."
But wait, it gets worse. Edward James Olmos as narrator? Dude needs to narrate himself out of this thing and take Toni Braxton's bad lip-syncing with him.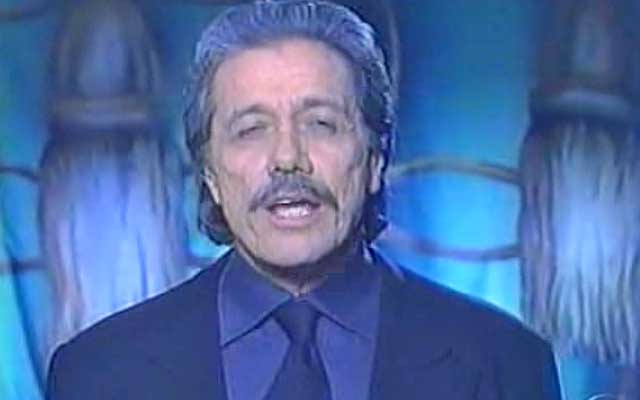 21. The Blues Brothers, James Brown, ZZ Top (1997)
The first thing you need to know about this mess is that Oscar Meyer Weiner produced it.
You can almost imagine the pitch meeting: "Hey, what if we got the wrong Belushi brother, John Goodman, Dan Aykroyd, James Brown and ZZ Top together in the middle of the Superdome? Genius!"
What do you wind up with? One giant cheddarwurst.
The fake Fox News report about Elwood Blues escaping from the Illinois State Penitentiary is probably the funniest thing here, if only for that awesome '90s news anchor hair.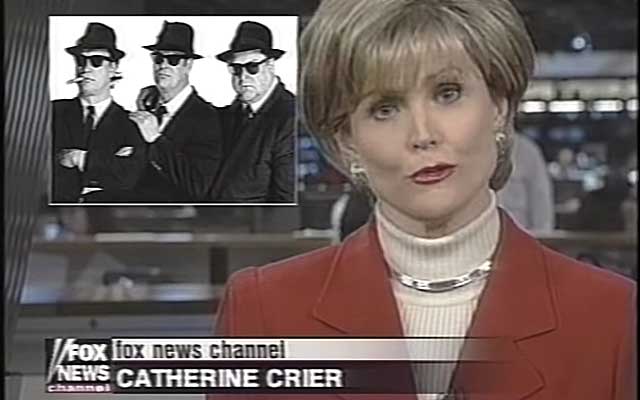 This is definitely the hardest workout that Goodman and Aykroyd have done in the past 20 years. Meanwhile, the Godfather of Soul looks like he's doing bad James Brown karaoke over a canned track. He keeps missing his cues, then smiling.
"Hey! I feel good!"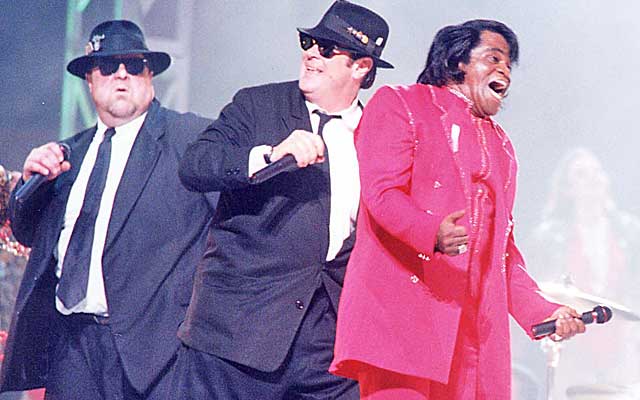 No, like most Oscar Meyer products, you're not gonna feel good after consuming this thing.
20. The Temptations, Smokey Robinson, Martha Reeves and the Vandellas, Queen Latifah, Boyz II Men (1998)
Everybody loves to dance when Motown comes on at weddings, but in a Super Bowl where John Elway finally came up a winner, nobody remembers this thing.
The Temptations -- at least what's left of the original members -- and Smokey Robinson are timeless, but somebody should have left Martha Reeves and the Vandellas back in Detroit. Like a heat wave? More like hot flashes.
You gotta love those Boyz II Men, though, back in their '90s heyday doing some "Motown Philly." But, what, no "End of the Road?" C'mon, that would've been perfect.
19. Tanya Tucker, Clint Black, Travis Tritt and The Judds (1994)
Talk about a letdown the year after Michael Jackson. Then again, nobody was topping that, and this show wasn't anything but some warm apple pie that went down easy on the most American of holidays, outside of Thanksgiving. Also, Travis Tritt wore this jacket, which, let's be honest, belongs in the Pro Football Hall of Fame.
18. Stevie Wonder, Gloria Estefan, Big Bad Voodoo Daddy (1999)
E.T.! Big Bad Voodoo Daddy! Savion Glover! Gloria Estefan! Now this is one big, bad nostalgia trip. Big Bad Voodoo Daddy was so money after that "Swingers" flick came out, and who doesn't love everybody's favorite little cuddly extraterrestrial? And, man, can Savion tap ...
Waaaaait a second ... Who let Stevie drive the car?
Hey, anything goes in Miami at the Super Bowl. Just ask Eugene Robinson.
17. Shania Twain, Sting and No Doubt (2003)
Girl power!
Shania screaming "Let's go football fans!" may have been the only time her mic was live. Man, I feel like a beer run ...
The guys in her backing band all look like they dressed up as the Lost Boys from "Hook." Also, check out the dude rocking the sweet keyboard guitar. Or is it a key-tar? Killer, bruh.
No Doubt and Sting rescue this thing, somewhat, with Gwen Stefani trading lines with Sting on "Message in a Bottle." But no Police reunion?
At least ABC got the message by 86ing the Disney-themed dreck from previous Super Bowl halftime fails.
16. Diana Ross (1996)
Nothing says XXX like Diana Ross taking off her clothes in front of hundreds of millions of people. Actually, you didn't see that, but her running through four wardrobe changes in about 12 minutes is the most amazing part of this halftime show. That, and getting followed around the stage by a bunch of kids on their way to the prom.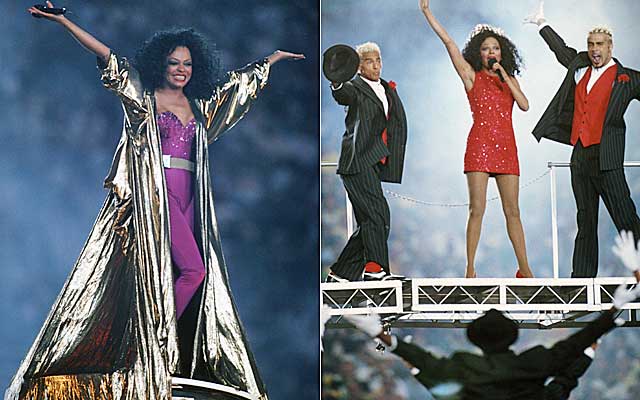 Then the biggest Diva at the Super Bowl -- sorry, Prime Time -- exits the stage as only she can, in a helicopter ... like a Ross. Hey, postgame traffic is always hell.
15. The Who (2010)
There was a serious wardrobe malfunction, but nobody was running to YouTube to get another look at Pete Townshend's beer gut popping out while he did windmills on "Baba O'Riley."
What was eye-catching was maybe the coolest stage setup in Super Bowl history, with the band churning through its hits on a platter that looked like a pulsing speaker or a spinning record. The Who reportedly had never watched an American football game, and some critics complained they mailed this thing in. Whatever.
These guys perfected stadium rock in the '70s. Playing the hits for 12 minutes? Almost too easy, like Drew Brees picking apart the Colts secondary.
14. Tom Petty and the Heartbreakers (2008)
Lost in the craziness of David Tyree's amazing helmet catch, the Giants' shocking win and the heartbreak of the Pats blowing a perfect season was Tom Petty's underrated rock-solid set of hits. "American Girl," "Won't Back Down," "Free Fallin'," "Running Down a Dream." 
This one has aged well, and that's because Petty clearly got what this thing's about. Just play the hits. Smile for the cameras. Get a spike in record sales. Have a story to tell later.
13. Rolling Stones (2006)
"This one we could have done for Super Bowl I," Mick yells before the Stones break into "Satisfaction," prompting you to ask your mom why she's moving her neck like that.
How it took 40 years for these guys to get on the Super Bowl stage is a wonder. They wrote the playbook for stadium rock.
But expecting Mick Jagger to self-censor "You make a dead man ..." on "Start Me Up" was a play call that backfired. The NFL cut the vocal on the tape delay anyway, as well as another reference to a male rooster on "Rough Justice," both of which ruffled Mick's feathers. Talk about a cock block. 
12. Bruce Springsteen and the E Street Band (2009)
Twelve minutes of Bruce Springsteen and the E Street Band is akin to only getting to watch the first 12 minutes of "The Godfather." But, hey, it's the Boss and he's here to "bring the righteous and mighty power of the E Street Band into your home."
"I want you step back from the guacamole dip," he shouts. "I want you to put the chicken fingers down and turn your television all the way up!"
Done and done, Boss.
"Tenth Avenue Freezeout," "Born to Run," "Glory Days," what more do you want?
OK, maybe "Born in the USA," the most misinterpreted song of all time, but that's probably too much to expect in one Super Bowl show.
11. Aerosmith, Britney Spears, N'Sync, Nelly & Mary J. Blige (2001)
When your kids ask what America was like pre-9/11, just show them this video. Welcome to a world where MTV produces halftime shows and actually plays music, boy bands and pop tarts rule the charts, and Aerosmith is still making albums.
The mashup of N'Sync, Nelly and Britney Spears doing "Walk This Way" with the Bad Boys from Boston has to be one of the most awesomely bad spectacles ever done on live TV. I'm sure JT and the guys in Aerosmith are still wondering how they ever got talked into this. Nice work, Ben Stiller. This is probably the most crowded Super Bowl stage ever, too. Everybody's walking around, looking for a plot of space -- no, not here, nope, not here either -- and the camera guys are totally confused about where to pan next.
10. Paul McCartney (2005)
How do you clean up the Super Bowl halftime show after Nipplegate? Enter Paul McCartney.
It would have been straight punk rock if Sir Paul launched into "Why Don't We Do It in the Road," but instead he played it straight, ripping through "Drive My Car" and "Live and Let Die" and thankfully avoiding "Freedom."
9. Bruno Mars, Red Hot Chili Peppers (2014)

Definitely the best moment in a terrible Super Bowl, and the closest thing to James Brown on the Super Bowl stage (the real James Brown lip-syncing with Jim Belushi and John Goodman doesn't count).
There was a little controversy, too, after it became obvious that the Red Hot Chili Peppers weren't playing those instruments live.
As if they were the first band to not play behind a pre-recorded track at the Super Bowl. Even less of a shocker: that Flea and Anthony Kiedis came out shirtless despite temperatures in the 40s.
8. Madonna with M.I.A., Nicki Minaj, CeeLo, LMFAO (2012)
Blonde Ambition, Super Bowl Edition. This is a hot mess that you can't take your eyes off. Madonna as Cleopatra, the elaborate Roman costumes, the gospel choir, the cheerleader routine. Nobody does spectacle like Madge.
She stayed on her best behavior, too, aside from doing a headstand in some guy's crotch, but M.I.A went AWOL on the pregame marching orders, flipping the bird right in front of a TV camera. That led to a lawsuit from the NFL seeking $1.5M that was eventually settled.
Maybe M.I.A. pulled her stunt after playing Truth or Dare with Nicki Minaj in the dressing room.
The theme was clearly about Madonna, pop royalty, passing the torch to the next generation of stars, but, seriously, LMFAO? CeeLo?
Yeah, LMFAO right now ...
7. Katy Perry with Lenny Kravitz and Missy Elliott (2015)
Greatest entrance in Super Bowl halftime history? Yeah, Katy Perry owned that honor -- until Lady Gaga jumped off the roof of the stadium a few years later -- after rolling into University of Phoenix Stadium on a giant, golden mechanical tiger. Or a lion, maybe, which would have been the first time a Lion ever made it into the Super Bowl. (Sorry, Detroit.)
She also nails the extra point for making light of the Super Bowl's No. 1 storyline all week.
Katy Perry rides an animatronic tiger through a sea of deflated balls. #meta

— Heidi N Moore (@moorehn) February 2, 2015
But while Perry nailed her turn in the Super Bowl spotlight, and maybe set a new record for most wardrobe changes in 12 minutes (move over, Diana Ross), Missy Elliott and Left Shark definitely stole the show.
Perry closed out the show riding on a star across the stadium while belting out her anthem of empowerment, "Firework."
Look familiar?
6. U2 (2002)
U2 lands the Super Bowl and doesn't play "Sunday Bloody Sunday?" What kind of crap is that? OK, maybe not the best idea given the national mood at the time, but, still, that would have been epic.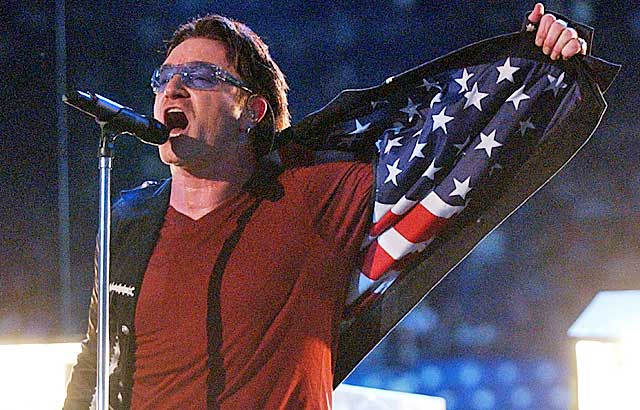 Jokes aside, this is the most poignant halftime show in Super Bowl history. America was still coming to grips with 9/11. U2's perfect tribute to the victims by scrolling their names while playing "Where the Streets Have No Name" struck the right note without being overly preachy. Bono then opened his jacket at the end to reveal the Stars and Stripes sewn inside, perfectly predicting that big Patriots upset.
5. Janet Jackson, Justin Timberlake, P. Diddy, Kid Rock, Jessica Simpson and Nelly (2004)
Watergate. Spygate. Deflategate. None of those national scandals reached the level of pure absurdity and histrionics that resulted from Janet Jackson's right nipple being exposed to some 144.4 million viewers for 9/16 of a second at the end of the Super Bowl halftime show.
Nipplegate forever altered the course of history. The FCC reportedly got more than 200,000 complaints. Janet Jackson got blacklisted from MTV and radio, and her career never fully recovered. Networks had to do live TV on a longer delay. "Wardrobe malfunction" became common nomenclature. And a software programmer who was frustrated about not being able to find repeat showings of the nip slip created what eventually became YouTube.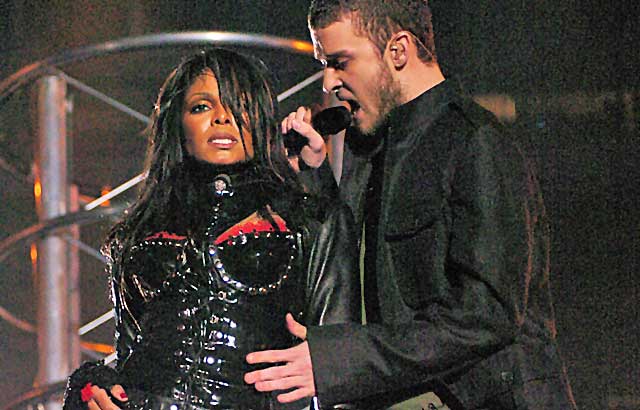 Yes, you read that right: Janet Jackson's nipple spawned YouTube.
The finger pointing rivaled Kennedy assassination conspiracy theories and also completely overshadowed a great Super Bowl.
MVP Tom Brady could've thrown six second-half touchdowns with fully deflated soccer balls and Bill Belichick could have admitted after the game that he personally filmed the Panthers' walk-through and knew all their defensive signals. Wouldn't have mattered.
The only thing people were talking about was Janet Jackson's unique body jewelry. No one remembers that Kid Rock wore the American flag as a poncho ... or that Diddy used to fashion himself a rapper. Months later, when David Letterman had Jackson on his show, he got right to the question that all of America had been waiting for her to answer.
'How's Tito?' he asked.
4. Michael Jackson (1993)
You know this is going to be epic the moment that James Earl Jones' voice pipes through the stadium speakers, announcing an "unprecedented Super Bowl spectacular starring Michael Jackson." If you grew up in the 1990s, you probably remember exactly where you were on Jan. 31, 1993.
The best part, still, all these years later, is M.J. literally exploding out of the bottom of the stage and then just staring at the world for a full 90 seconds. This was the ultimate "Wait for it ... wait for it ... wait for it ..." while the entire stadium screams.
Then Michael breaks into his big hit at the time, "Jam" before ditching his coat and grabbing his famed fedora for "Billy Jean" and "Black and White." Crotch grabs, impossibly executed spins, leg kicks -- it's enough to get you off your couch and moonwalking. Who cares that Mike is singing to a canned track? Then we get the coolest Super Bowl prop ever conceived, with the King of Pop using the entire Rose Bowl to lift up posters to create giant portraits of kids while he sings "Heal the World." OK, maybe this is a little creepy, considering Jackson was accused of child sexual abuse just months later, but it's still the standard upon which all Super Bowl halftime shows are judged from here to eternity.
3. Beyonce 2013
This is like the Michael Jordan Hall of Fame speech of halftime shows. Beyonce arrived at the Super Bowl engulfed in controversy after lip-syncing the national anthem at Obama's second inauguration.
At her pre-Super Bowl press conference she humbly explained that the cold led her to make the call to sing a canned track, and then she belted out an amazing rendition to the assembled press.
But when it came time for Super Bowl Sunday, she went straight Sasha Fierce. Those mics aren't just live, they're smoldering. Forget the inauguration controversy. It's like Beyonce brought Michelle Williams and Kelly Rowland out for a Destiny's Child reunion to prove that "Star Search" totally blew it all those years ago.
Everybody expected Jay-Z to make an appearance, but H.O.V.A would've just slowed this thing down. Queen Bey runs this town tonight.
When the power went out in the second half, there were fears of some kind of Tom Clancy terrorist plot.
Turns out New Orleans' grid wasn't up to snuff and it wasn't Beyonce's show that blew the lights. But nobody would've been shocked if it had.
2. Lady Gaga (2017)
Leave it to Gaga to redefine "over the top" at the Super Bowl. She literally jumped off the friggin' roof of NRG Stadium onto the field. OK, not exactly -- it was some clever stagecraft -- but, seriously, will anybody ever top that entrance? Not unless Justin Timberlake parachutes into U.S. Bank Stadium in a speedo. 
From there, she put on her "Poker Face" for arguably the greatest Super Bowl spectacle in halftime history that also included the hits "Edge of Glory," "Born This Way," "Telephone," "Just Dance," "Million Reasons" and "Bad Romance."
Really, there wasn't anything this show didn't have, other than a surprise cameo. This was the Pepsi Zero halftime show -- with Gaga, you don't need no extra sugar. 
Four outfit changes? Check? Talking on a crystal star phone? Check. Flying drones? Check. Making a statement of tolerance and inclusion without being overly political? Check and check.
Gaga also gave a shout-out to her parents, while playing the piano on "Million Reasons."
Tom Brady might have led the Patriots to the greatest comeback in Super Bowl history, but let's be honest. Gaga is the real MVP here. 
MIc drop? Definitely.
1. Prince (2007)
The King of Pop invented the modern Super Bowl halftime spectacle, but Prince perfected it. When he was inducted into the Rock and Roll Hall of Fame in 2004, in the same class as George Harrison, he reportedly heard "While My Guitar Gently Weeps" only the week before performing with Tom Petty -- and then delivered this face-melting guitar solo.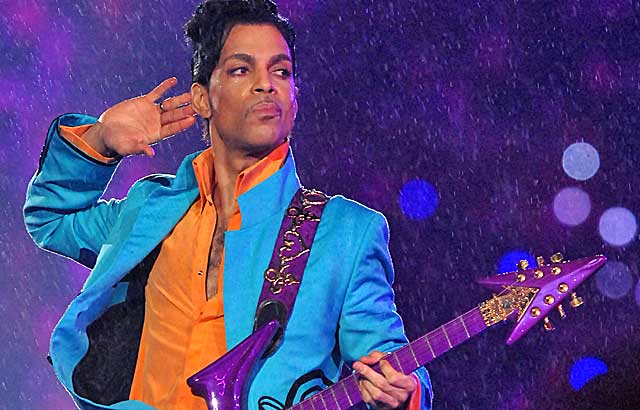 You can kind of imagine his prep for the Super Bowl halftime show went the same way. Like, OK, this looks easy. Marching band, check. Actual rain, check. Controversial use of Prince symbol-shaped guitar to make a giant phallic symbol? Check!
Yep, let's get crazy, let's get nuts! Best Super Bowl halftime show ever. And it's not even close.
Game, blouses.