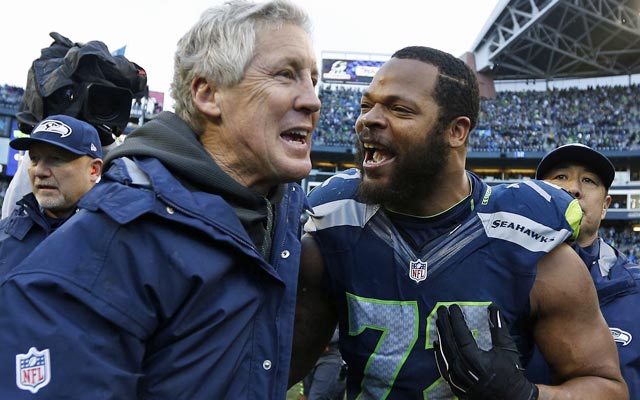 Coaching matters in the NFL, and nothing drives that home more than the two coaches in Super Bowl 49. Seahawks coach Pete Carroll and Bill Belichick of the Patriots are arguably the two best in the business.
I worked with both during my NFL career, though my time with Belichick was short. But I've known Carroll for 26 years and we remain friends. Hopefully, some of my experience regarding the Seahawks' coach provides insight into a man trying to win back-to-back Super Bowls for the first time in more than a decade. To fully explain who Carroll is, I've broken this piece into four categories: personal traits, coaching style, personality and handling career crossroads.
Since the Seahawks won the NFC Championship Game, fans and media alike have asked me to talk about Pete. I decided it better to tell the story myself so nothing is lost in translation.
1. Personal traits: A number of words that come to mind: creative, energetic, youthful, loyal, empathetic and decisive.
Carroll always has been a creative defensive mind but has developed on the other side of the ball, figuring out Russell Wilson was perfect to run his offense.
His players find it difficult to believe his age (63) because of his energy level. Whether it's running around at practice, or looking for a player to go one on one with on the basketball court, he never seems to drag.
"I never saw him yawn around the office late at night working on a game plan," one of his coaches said the other day.
Loyalty to staff members shows up in his efforts to get them better jobs than they already have. I asked him about losing a few assistants because of the Seahawks' success, and he said he was trying to help two more assistants get coordinator jobs.
Decisiveness was a developed trait, but these days he doesn't hesitate to make tough decisions -- like trading Percy Harvin or weeding through QBs till he found the right one in Wilson.
"You have to keep trying till you find the guy," Carroll said back when telling me he was going with the 5-foot-10, third-round rookie.
2. Coaching style: He was way ahead of the curve in using video and bombards players with it, passing along the message of what's required to win via video, regularly mixing it humor in meetings with players. For instance, I happened to be in Seattle the day Robin Williams died. Williams went to high school with Carroll, who used a humorous video from a few Williams' films in meetings that day, with the message: "Dare to be different."
The competitive spirit of Seahawks practices has been well-chronicled, but what is unique about his upbeat workouts -- going back to his USC days -- are his attempts to distract players (open-to-the-public workouts, blaring music) to teach focus. There's even a basketball hoop in the team's big meeting room. Players are regularly trying to make a shot. On the spur of the moment he stops meetings, calling for a shooting contest.
The last time I was there, the kickers beat the defensive line and the players erupted with cheers and boos, only to settle down seconds later and refocus.
Back when we worked together, he had a ring-toss game in his office. If a staff meeting got heated, Carroll would interrupt it for a tension-breaking ring-toss contest. When he got back to work, the atmposphere would improve.
3. The personality: He is complex yet simple. He loves to play the piano and regularly can be seen banging out a tune in a hotel lobby. The first time I met Carroll was at the Jets' complex in Jan. 1990. I walked down the hall to introduce myself and his reply was, "Hi, I'm Bud Grant." I knew then it was going to be a fun ride.
When he coached the Patriots, my cousin -- a big Patriots fan -- was diagnosed with cancer. Carroll called every week and convinced my cousin he'd get better, keeping his hopes alive. My cousin got better and never forgot Carroll's efforts.
And that wasn't the only such occasion. When Carroll was looking for a strength and conditioning coach at USC, he got a call from Chris Carlisle. Carlisle disclosed he had cancer, to which Carroll responded: "Then get out here and get to work so you get better."
He demonstrated another face one night when we were driving home from work and saw a car with a flat tire on the side of the road. A mother and her two boys were standing outside the car, looking upset. Upon noticing the boys were wearing Steelers shirts, Carroll said to pull over. When he got out of the car, he said we'd fix the flat if the boys traded their Steelers gear for Jets shirts.
4. Crossroads in his career: All of us face life crossroads, and Carroll routinely has turned negatives into positives.
In 1989, he turned down a contract extension as the Vikings DBs coach, which coaches rarely do, so he would be free to do what he wanted in 1990. He joined the Jets as defensive coordinator, later taking over as coach. In 1994, while I was waiting for Carroll in my office, owner Leon Hess fired him -- a shock considering he was in the first a four-year deal. When I walked in his office he said, "I think I'll take the kids to Disney World."
A short stay as defensive coordinator of the 49ers led to being named Patriots coach, when he learned perhaps his most valuable professional lesson: If you don't control the players you draft and sign you are doomed to fail. After going 27-21, he was fired and never again took a job without control of players. Carroll was replaced by Belichick, who got all the power Carroll never had. Years later, Pats owner Bob Kraft told me, "I always wondered what Pete would have done if he had what he wanted."
Kraft later added: "I only hired two head coaches in my life, and I think I did pretty well."
As for Carroll, he got what he wanted at USC, making all decisions on players and coaches. Success quickly followed. Two NFL owners tried to pursue Carroll through me, but their programs weren't set up to Carroll's liking so he declined.
Along came the Seahawks, who named him coach and executive VP of football operations, setting Carroll up to build a franchise.
Now he has a chance to win back-to-back Super Bowls.