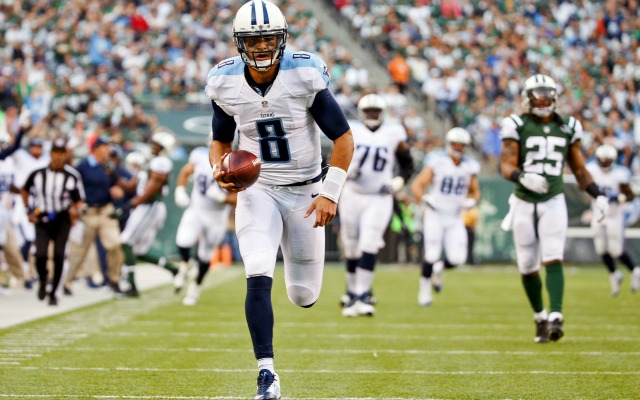 Despite his set of wheels, Marcus Mariota gained fewer yards on the ground last year than quarterbacks like Ryan Fitzpatrick and Blake Bortles. Even Colin Kaepernick, who saw the field in just nine games (three fewer than Mariota), outrushed the No. 2 overall pick.
That's not to say Mariota's rookie season in Tennessee should be classified as a disappointment (it shouldn't), it just goes to show how the Titans prioritized Mariota's development within the pocket instead of letting him run all over the field, as he did at Oregon.
But could that all change in Mariota's second season? According to coach Mike Mularkey, who took over for Ken Whisenhunt in the middle of this past season and gained the full-time position this offseason, he won't shy away from letting his franchise quarterback use his legs.
"My first time as a coordinator was in Pittsburgh with Kordell Stewart, and we were very good with him running the football," Mularkey told PFT Live on Monday. "Designed runs for the quarterback, and my feelings are he can protect himself much better running the football than he can standing in the pocket, and you've seen it over time. We're not going to run him like they run Cam Newton with some of these designed counter plays and things up the middle that are going to expose him by any means, but I think he's such a threat in the run game for defenses. It just gives you an advantage. The playing surface is evened. They don't have an extra guy in the box. There is no extra guy when you have a quarterback like Marcus who can, and we saw it last year, go 80 yards if he has to, to be effective in the run game."
So, a couple of takeaways from that large chunk of text:
1. It's obviously not the worst idea in the world. As previously noted, Mariota is pretty darn fast. See the video below.
Marcus Mariota escapes pressure, turns on the jets and takes it 87 yards (?) to the HOUSE #JAXvsTEN https://t.co/NywmYfmDzx

— NFL (@NFL) December 6, 2015
2. As long as the Titans aren't calling designed runs that will expose him, which Mularkey made clear they wouldn't, then Mariota should be able to protect himself. Though Mariota missed four games with injuries, those injuries were sustained during hits within the pocket.
3. Before Mularkey became the interim head coach, Mariota ran the ball 10 times over five games. After the Titans canned Whisenhunt and Mularkey took over, Mariota ran the ball 24 times in seven games.
4. Kordell Stewart, really?
The Tennessee Titans head coach apparently thinks Marcus Mariota can be the next... Kordell Stewart https://t.co/kkvzjDyBGv

— Chris B. Brown (@smartfootball) February 16, 2016
Mularkey watched the Grammy's, thinks Kendrick is the next Craig Mack https://t.co/WHUlcwwk8J

— Bill Barnwell (@billbarnwell) February 16, 2016