Training camp roundup: What's going on with Santonio Holmes?
As the Jets wait for receiver Santonio Holmes to return to practice, one report questions whether he's milking his injury.
• 4 min read
When healthy, Santonio Holmes would be the best Jets receiver on the roster, but about three weeks ago, he said he wasn't sure when his rehab from last year's Lisfranc injury would allow him to begin practicing.
Now, as the team enters the week of its second preseason game, there's an interesting report from ESPN New York which states that some people close to the organization aren't sure whether Holmes is "milking the injury to protect his self interests."
The reasons why Holmes might be taking his time is because 1) he wants to make sure he's completely healthy before playing because he'll likely be a free agent after the 2013 season 2) he wants nothing to do with participating in training camp.
As ESPN New York writes: "With [Holmes], you never know. The Jets are saying all the right things about Holmes' dedication to rehab, but this will become a vexing issue for the team. The other day, he looked like an old man as he walked across the practice field, seemingly playing to the crowd as fans implored him to get well soon."
Of course, if the rest of the league believes that Holmes is milking his injury, that won't make anybody want to spend a ton of money on a player who's already been such a disappointment for the Jets. So, if Holmes is taking his time, he walks a fine line.
E.J. Manuel has solid end to his day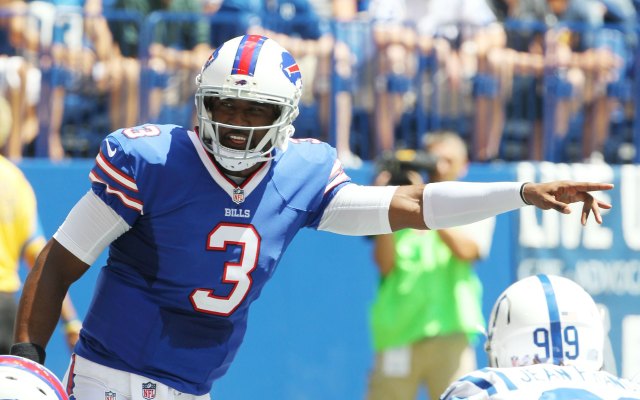 With Kevin Kolb battling with first-round draft pick E.J. Manuel to win the starting Bills quarterback job, Manuel has taken steps toward winning that position this week, especially since Kolb missed most of practice last week after slipping on a mat and tweaking his knee.
Though Manuel, who was in for the entire first half Sunday, played quietly for most of the day vs. the Colts in the team's preseason opener, his final drive had to make the coaching staff happy.
Manuel finished the game by completing 16 of 21 passes for 107 yards and a touchdown, but he started off a little slow. After an inconsequential first drive, Manuel and Spiller couldn't convert a handoff on the first play of the second, the ball squirted away from Spiller and the Colts recovered.
But Manuel found his footing on his third series, completing two shorts passes. One of his best plays of the game occurred on a third-and-6 when he couldn't find a receiver. That's when Manuel scurried out of the pocket and showed off his speed by gaining 24 yards. After throwing behind Chris Hogan for an incompletion to end the fourth series, Manuel reentered for his fifth series -- mostly against the Colts second-team defense -- and led the team on a short field goal drive.
But he really shined on his final series of the first half, a classic 2-minute drive where Manuel completed 9 of 10 passes (nearly all of them short attempts) before drilling Dorin Dickerson for the 17-yard touchdown pass to give the Bills the halftime lead andto  top off a 10-play, 92-yard drive.
Even if the drive came against the Colts third-string defense, it was most likely a big confidence boost for the No. 16 overall pick and the coaching staff who must choose the starter.
"We're very, very pleased with his development. I think that a lot of times at that position you're going to look for a lot of things and expect it to happen overnight, and it's not," coach Doug Marrone said last week. "And I think he and a lot of the other players, from a team perspective, we've got a lot of work ahead of us."
Bowers still winded
As Da'Quan Bowers enters his third year in the NFL, Buccaneers coach Greg Schiano wants to see more out of his defensive end. Bowers, of course, knows this. He also knows he's not quite in tip-top shape.
"I think I'm still a little winded at times," Bowers said, via the Tampa Bay Times. "I'm still not in the best shape. I'm still getting used to the speed of practice. But other than that, [training camp] has been decent."
For now, Bowers is expected to start (in his first two seasons, he's only started six of 26 games). But he also knows that this opportunity might not last for long.
"I'm a firm believer that there are no missed opportunities in this league," Bowers said. "If I don't take advantage of it, somebody on the street will. I have to bring my game. I have to play hard every step of the way, every down, whether it's 10 plays in a row or whether it's two plays in a row."
Fisher hurting
During Friday night's preseason opener, No. 1 overall pick Eric Fisher, who already had led the way during a 1-yard Jamaal Charles touchdown, left the game with a thumb injury. As the Kansas City Star points out, Fisher, at one point, had to leave the sideline and head to the locker room with a team trainer.
Coach Andy Reid said the X-rays were negative and that he expected his tackle to practice Sunday. Well, it's Sunday, and Fisher, in fact, did not practice.
Afterward, Reid said, via arrowheadpride.com, that Fisher also had a bruised shoulder and he was considered day to day.
Allen says he'll be fine
After missing the last couple days of practice because of an unspecified foot injury, Colts tight end Dwayne Allen didn't play in Sunday's game vs. the Bills. Reportedly, Allen had been seeking a second opinion on his foot.
But on Sunday, Allen tweeted the news that he would be OK.


Have to sit this one out but Im confident Ill be back out on the field very soon! Excited to watch the new ... http://t.co/Iun1OeM1Av

— Dwayne Allen (@Dallen83) August 11, 2013


In case you didn't see that last part, Allen said he was excited to see people trying to win jobs.
A bouncing baby boy
Eagles right tackle Lane Johnson, the No. 4 overall draft pick, has a new member of his family. And hopefully it will be a child who tells wild tales.


Lane Johnson's wife gave birth to their first child Saturday. It' not certain whether he ever has wrestled or will wrestle a bear.

— Paul Domowitch (@pdomo) August 11, 2013
Reportedly, Johnson will be back in town for Philadelphia's second preseason game.
Weight watcher
Seriously, former NFL center Jeff Saturday, what happened to all of your … girth?


Very slim Jeff Saturday @colts game. @indystar pic.twitter.com/rpHNKTx06x

— Matt Kryger (@MattKryger) August 11, 2013


For a reminder, here's what he looked like seven months ago at the Pro Bowl.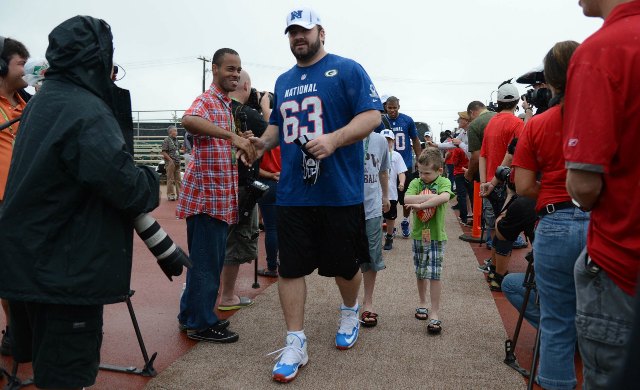 Follow Josh Katzowitz on Google+
Grab some turkey and get ready for this NFC North showdown

SportsLine's top NFL and college football experts pick a 4-team parlay that pays 10/1

After an epic collapse against the Saints, the Redskins are hoping to right the ship
Brice Irvin is not a happy camper right now

Linda Del Rio is not happy with the president

The former New Orleans Saints wideout leads the NFL in 40-yard catches with New England