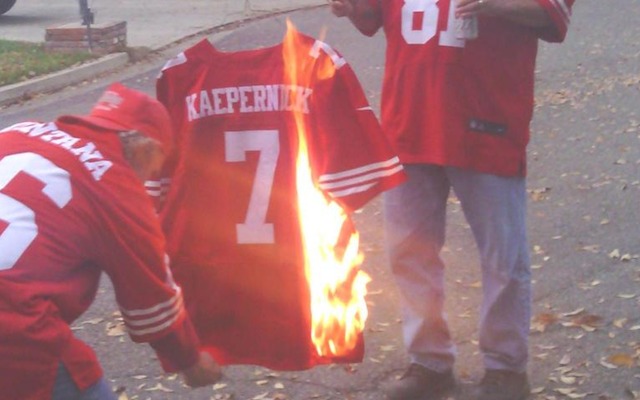 Some people like to drink after their favorite NFL team loses, some people like to nap and then there's a segment of the population that likes to set things on fire. 
That third group is the one we're going to focus on here. 
After the 49ers lost to the Raiders on Sunday, thanks in part to a poor showing from quarterback Colin Kaepernick, several 49ers fans decided it was time to burn their Kaepernick jersey.
Spending $150 on an NFL jersey and then setting it on fire might seem crazy, but your team didn't just lose to the Raiders for the first time in 14 years. 
My niner fan uncle burning kaepernick jersey hahahahaha pic.twitter.com/oKjFSmfoTS

— brendo (@bdiiddy) December 8, 2014
This is 2014, so don't think for a second that 49ers fans were just burning their jerseys on Twitter, they were also burning them on Instagram and YouTube (Both links contain language you might want to mute depending on where you are and what you're doing).
There was so much jersey-burning going on in San Francisco that the guy below randomly ran into a charred Kaepernick jersey. 
Just found a burnt Kaepernick jersey in the street after SF lost to Oakland #dobetter pic.twitter.com/ncJzyb3c2n

— Mats (@MatPlural) December 8, 2014
If you do plan on burning your Kaepernick jersey -- or any other jersey -- we suggest you take the route that Katie Green of KSFO-AM in San Francisco took.
Green was going to burn her jersey, but then a listener called in and offered to buy it for $200 as long as the money went to charity.
Everyone ended up winning here: Green made the deal, a charity got $200 and the listener ended up burning the jersey anyway. 
Just remember though, all you jersey burners: You can't unburn a jersey. And charred jerseys do not sell well on eBay or Craigslist.