Winners-Losers: Flacco, Ravens shock Patriots
Here are the winners and losers from the AFC title game.
• 3 min read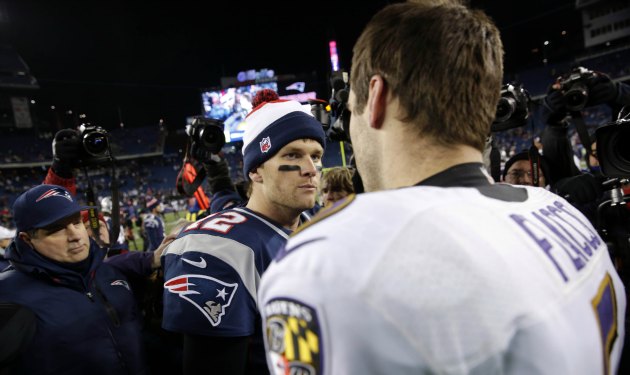 One's a winner and one's a loser. (US Presswire)
Against all odds (well, the 9.5 points they were getting, anyway), the Ravens overcame a strong early effort from the Patriots and managed to get to the Super Bowl by beating New England in New England. It sets up a Super Bowl between Baltimore and San Francisco that will be rife with storylines. Until then, here are the winners and losers from the AFC title game.
Winners
Joe Flacco: Can we start referring to the Ravens quarterback as "elite" now? Or do we need more proof? That's not rhetorical. I'm really not sure. Anyway, after going just 1 of 6 for 17 yards in the first quarter, Flacco was fantastic in the final three quarters, finishing 21 of 36 for 240 yards and three touchdowns. More than that, he outplayed Tom Brady to get to his first Super Bowl. And even more than that, he's pretty much guaranteeing himself a large payday the next time he signs a contract.
Ray Lewis: The Ravens linebacker, on the verge of retirement, didn't have as great an impact this week (though he somehow managed 14 tackles) as he has the past two playoff games, but in two weeks, he'll go for his second Super Bowl title. For perhaps the best middle linebacker of all time, that would be one hell of a way to end a career.
Bernard Pollard: He's a Patriots killer (just ask Rob Gronkowski last year or Tom Brady in 2008 or Wes Welker in 2010), and on Sunday, the Ravens safety knocked New England running back Stevan Ridley out of the game with a nasty hit. He also forced the fumble from Ridley, allowing the Ravens to recover the ball early in the fourth quarter and maintain their eight-point lead.
Dennis Pitta: The Ravens tight end has been under-the-radar for much of the season, but he's been one of the league's better pass-catching tight ends. And he proved it Sunday, catching five passes for 55 yards and a touchdown.
Gloriana: I've never heard of this country band, but its rendition of the National Anthem before the game made Lewis do this with his face.
Losers
Tom Brady: The Patriots quarterback was oh-so-mediocre vs. the Ravens. He completed 29 of 54 passes for 320 yards, a touchdown and two interceptions. But he struggled with his accuracy for much of the day, and he just didn't look … normal. As the NY Daily News' Gary Myers and the Buffalo News' Tim Graham pointed out, Tom Brady has three playoff wins since Joe Flacco entered the league in 2008. Flacco has eight postseason victories. Mark Sanchez has four.
Wes Welker: He was the teams leading receiver, catching eight passes for 117 yards and a score, but he had one bad drop on a third-down pass in the third quarter that would have given the Patriots a first down and continued their drive to increase what was then a 13-7 lead for New England. Instead, as ESPN Sports Info points out, that was Welker's sixth drop of the last two postseasons. His future in the organization is still up in the air.
Aqib Talib: The Patriots cornerback pulled up lame with a thigh injury in the first quarter, he didn't return to the game, and clearly, his team missed him. Talib made two nice defensive plays early on, but without him, New England's secondary suffered.
Ryan Mallett: After going three-and-out on their first drive just 2:03 into the game, the Patriots did something crazy and put their backup quarterback into the game as the punt protector. Then, the team shifted and went into a regular formation as if it was going for it on fourth down. Baltimore quickly called time out -- which might have been part of the reason for the formation in the first place. Still, this was Mallett's time to shine, and the Ravens took that away from him! OK, I'm being slightly sarcastic.

For more NFL news, rumors and analysis, follow @EyeOnNFL on Twitter, and subscribe to our Pick-6 Podcast and NFL newsletter. You can follow Josh Katzowitz on Twitter here: @joshkatzowitz.
The former Heisman Trophy winner made a good first impression on the CFL commissioner

The Dallas Cowboys running back has high expectations for his performance against the Seah...

Mike Tierney has owned NFL totals and has a strong play for Chargers-Chiefs on Saturday
The former No. 2 overall pick drew interest this offseason but did not play in 2017

This matchup isn't quite as glamorous as it looked when the schedule was released in the s...

Patriots-Steelers highlights a week filled with playoff-caliber games