With loss, maybe it's time for Tom Coughlin to think about his future
As the Giants fall to 0-6, perhaps coach Tom Coughlin should think about whether he wants to continue after this season.
• 3 min read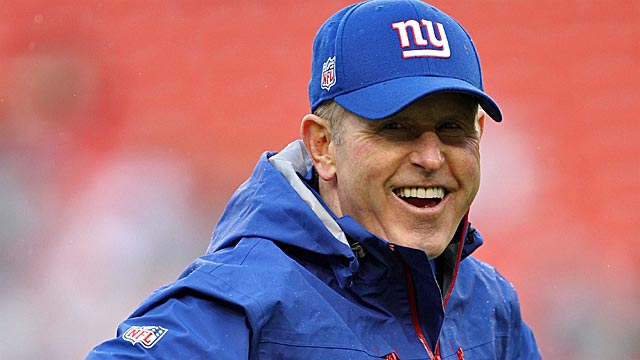 Even with his team's 0-6 start, the worst beginning to a Giants season since 1976, it doesn't seem like the heat on coach Tom Coughlin's seat should be growing warmer.
The guy, after all, has won two Super Bowls in New York -- and remember, some fans wanted him fired when the team struggled after the Giants won the first one -- but then again, that second Super Bowl win against the Patriots was two loooong years ago. People are impatient, and people want results now, dammit.
And then there's this: the frenetic, desperate Giants seemingly have turned into the Jets this offseason, and the comfortable Jets have morphed into the Giants. In the battle for New York's minds and tabloid back-pages, the Giants executives can't be loving that.
The NFL Network reported at halftime of the Bears 27-21 win against the Giants that the team would let Coughlin decide his own fate at the end of the season and that it's believed that Coughlin's decision would be to stay for another year.
But …
Then I got to thinking. Maybe it is time for Coughlin to step away. It should be his own choice of course, but maybe retiring after 18 years as an NFL head coach would be the right choice for him and this team.
This season continues to go this way for the Giants, most people I've talked to close to Tom Coughlin don't think he will want to come back

— Jason La Canfora (@JasonLaCanfora) October 11, 2013
It was clear again Thursday that this Giants squad is going nowhere. There is talent on offense, but Eli Manning threw three more interceptions, including a pick-6 that put the team in a hole and an interception in the final 2 minutes that sealed the Chicago win. The top-flight receivers, Hakeem Nicks and Victor Cruz, aren't making huge impacts. And what does it say when your top player from the game was running back retread Brandon Jacobs?
That's not to denigrate Jacobs, because his 22-carry, 106-yard, two-touchdown performance was impressive with David Wilson sidelined with a neck injury. But really, Jacobs isn't the future of the team. And maybe Coughlin shouldn't be either.
The defense, meanwhile, was brutal Thursday and couldn't do much of anything to stop the Bears and quarterback Jay Cutler. Just like all season for New York. There's a reason this team gives up the most points of any NFL team, and it's because it's not a very good unit.
Maybe I'm wrong, though. Maybe there is a solution to turn around this year's Giants squad. But it seems as if Coughlin is powerless to stop it. Sometimes, after so many years, the magic in the words that you speak stops working on the players who have to listen to it.
Coughlin has found success at both of his NFL head coaching stops. He went 68-60 for the expansion Jaguars and took the team to four-straight playoff appearances before he was fired (ahem, that organization hasn't really recovered since), and now, he's led New York to a pair of NFL titles.
Despite his edge, he's one of the most successful coaches working today.
But in reality, this season has been shocking for the Giants. They weren't supposed to be one of the NFC's greatest teams, but they should be competing for a division title in what has been a subpar NFC East. That they've played so poorly has been a surprise. And I imagine Coughlin feels the same way.
I suppose it's a matter of whether Coughlin thinks it's worth his time to help rebuild this team. Maybe he does, maybe he doesn't. He reportedly gets the chance to decide. Maybe he'll decide he's had enough. Maybe that's the right choice.
Cord-cutters are probably going to like this new deal between the NFL and Verizon

Savage left the game before returning after just one series

Quinton Jefferson explains why things got ugly in Jacksonville
The Eagles lose their franchise quarterback with the playoffs just weeks away

The Packers cornerback held Gordon to one catch on Sunday

Colin Kaepernick, Josh Johnson and Matt McGloin are among the bigger names available