Young, explosive Rams' D-line wants to be NFL's best front four
Prisco: It's not the famed 'Fearsome Foursome' yet, but the Rams' ferocious front four -- which led the charge to an NFC-best 52 sacks last season -- is making its case as the NFL's best.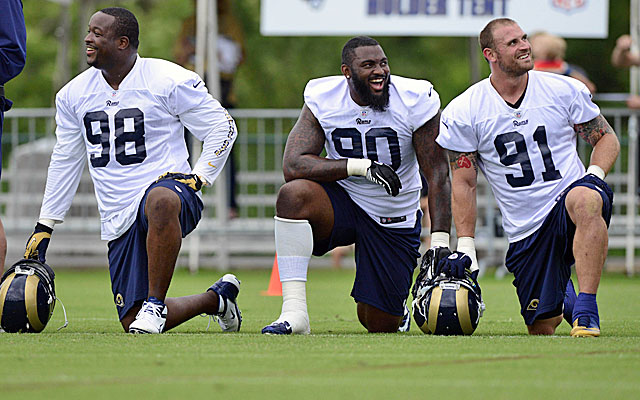 EARTH CITY, Mo. -- Rosey Grier, one of the members of the great "Fearsome Foursome," came to St. Louis recently and decided to stop by for a visit with the St. Louis Rams. Many of the players knew who Grier was, even if they weren't alive to see him play, but now some of them will never forget the unexpected treat they got from the 81-year-old Grier.
"He showed us some of his moves," Rams defensive tackle Kendall Langford said. "He was doing spin moves with a cane."
The Fearsome Foursome, first made up of Grier, fellow tackle Merlin Olsen and ends Deacon Jones and Lamar Lundy is considered one of the best -- if not the best -- defensive lines in NFL history.
That makes playing the position for the Rams franchise -- even one now based in St. Louis -- special for those who do.
It also means living up to big expectations.
"We know how good they were," Rams defensive tackle Michael Brockers said. "We're just trying to do our own thing. We're trying to bring it back. But we call ourselves the "Elite Eight."
That name comes because the Rams, who tied Denver for the league lead in sacks in 2012 with 52, have an eight-man front that might be as good as any in the league. It is deep and talented, thus the nickname.
"Oh, they have a nickname already?" Rams coach Jeff Fisher said surprisingly when I told him they did.
Fisher is a big believer in what good, strong, four-man lines can do for a football team. He saw that as a player on those great Chicago Bears teams in the mid-80s.
That's why he and general manager Les Snead have put such a premium on building a powerful front line. First-year defensive coordinator Tim Walton has a lot of talent to work with on his front.
The starters are Langford and Brockers inside, with Robert Quinn and Chris Long on the outside. The depth is good too, but it's those down four who will decide just how good this unit can be.
"We led the league in sacks last year and we were still trying to figure out who we are as a unit," Long said. "We're at an age where we are all ascending and nobody should be on the decline. I don't see why we can't be a lot better."
The 28-year-old Long is the oldest of the group. Langford is 27, Quinn is 23 and Brockers is 22. They have a chance to really grow together into something special.
"I believe the defensive front is what sets the tone for a team," Fisher said. "I think we have the kind of line that can do that."
If you doubt it, pop on the two tapes from their games with the 49ers last season. The Rams won one and tied the other against the NFC Champions. They did so with their defensive front getting the best of the 49ers offensive line, which is considered one of the best in the NFL.
In two games against the 49ers, the Rams defensive line had 6 1/2 of the team's eight sacks. Brockers, Quinn and backup defensive end William Hayes each had 1 1/2 sacks and Long and backup end Eugene Sims had one each.
"They bully a lot of guys in this league, but the one thing we don't do is let them bully us," Langford said. "We're one of those groups they can't bully."
Said Long: "We'd love to play San Francisco every week. It's smash-mouth football."
To study this young group on tape is to see young talent that I believe can be so much more. Sixty sacks?
"We won't put a number on it," Brockers said. "We just want to keep getting better."
The backup four players help push the starters. In Sims and William Hayes, the Rams have two of the better backup ends in the league. Hayes, who had seven sacks last season, was a free agent after the season, but decided to return, even though he probably could have started somewhere else.
Jermelle Cudjo and Matthew Conrath are the backups inside. Cudjo did some really good things against the 49ers. Oh, and the Rams are excited about end Gerald Rivers from Ole Miss.
Hayes is 28, Sims is 27, Cudjo is 26 and Conrath is 24.
"We are all still so young," Quinn said. "Our best is yet to come."
Here's a breakdown of each of the four starters, in order of age, oldest to youngest.
Chris Long
Long happens to be the longest-tenured Rams player in just his sixth season. That speaks to the youth on this team and gives those in the defensive-line room fodder for laughs.
"They say I am 28 going on 35," Long said.
Long was the second overall pick in the 2008 NFL Draft. In the past two seasons, he's had double-digit sack totals. He had 13 in 2012 and 11 1/2 last season.
At 6-3 270 pounds, Long is a bit undersized, but he makes up for it with great effort and technique.
"He's got that high motor and he's a technician," Langford said. "He's a football player."
Here's a look at a play against the 49ers where Long didn't get a sack, but he won in a big way.
Lined up outside the tight end, Long (yellow circle) came on a fast rush and was immediately met by 310-pound tackle Anthony Davis. All Long did was power through Davis, knocked him on his butt, and had a clear path for Colin Kaerpernick, who was able to escape. Quinn forced him outside and he was run out of bounds for a 1-yard gain.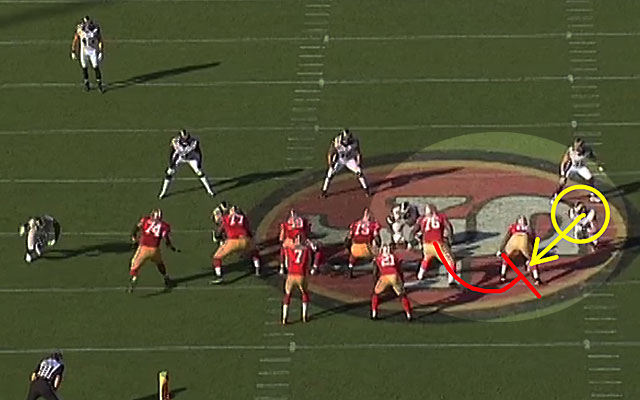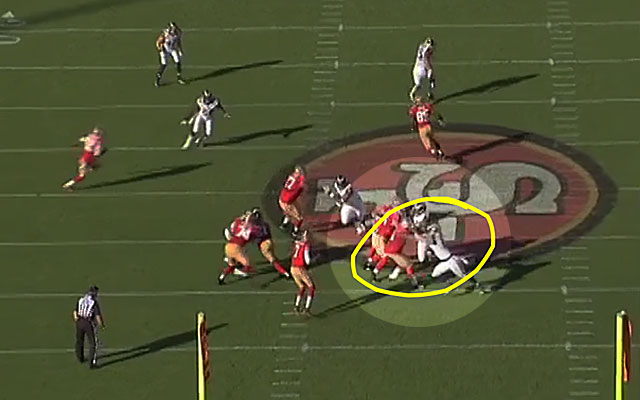 Kendall Langford
Langford, the next oldest at 27, was signed by the Rams last season as an unrestricted free agent. He played his first four seasons with the Miami Dolphins in a 3-4 scheme, so he had to adjust to the 4-3 scheme, playing the three-technique rather than the five-technique. He got off to a slow start, but played much better in the second half.
"I feel much more comfortable coming into this year," Langford said.
At 6-foot-6, 300 pounds, he is the run anchor inside. He had just two sacks, but he is a big part of their run defense. He has power and quickness.
"Kendall is like a big bear," Long said. "You don't want to poke the bear. He gets down and dirty in the run game."
Here's a look at a play from the team's first game against the 49ers where Langford dropped Frank Gore for a 1-yard loss. Langford (yellow X) was lined up in the center-guard gap. At the snap, he stood up center Jonathan Goodwin and was able to shed him to drop Gore for the loss. It's this type of play that makes Langford valuable.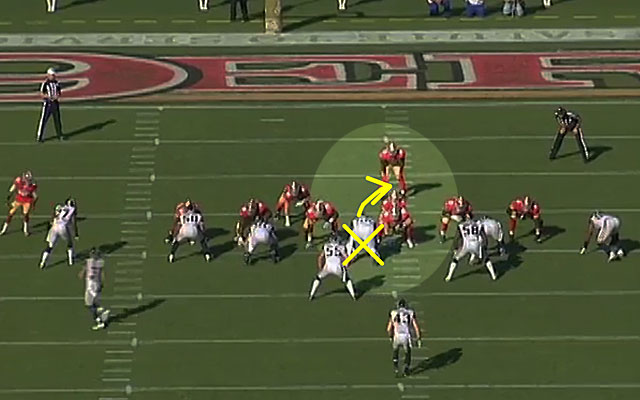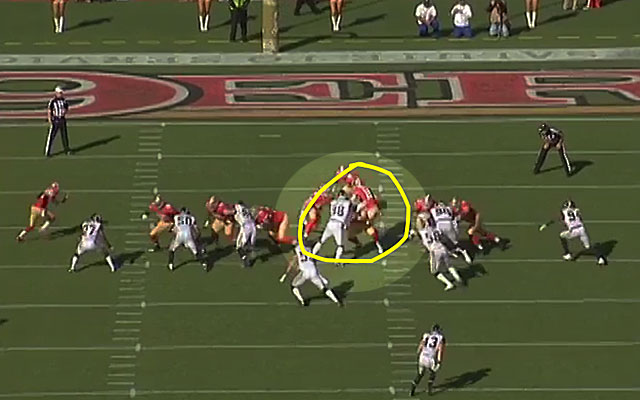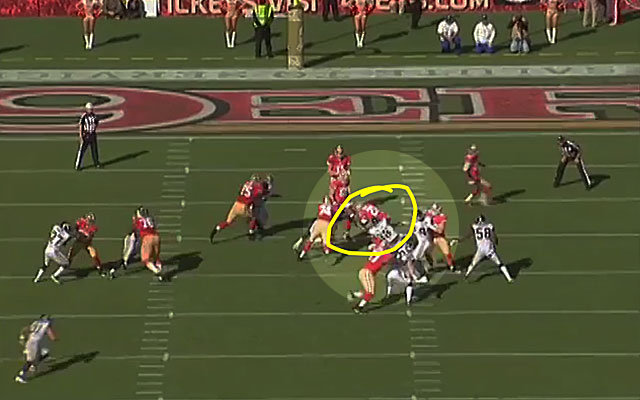 Robert Quinn
Of the four starters, Quinn might be the most natural.
"He's got such rare gifts," Long said. "He has Hall of Fame ability."
That sounds like high praise for a third-year player, but with 15 1/2 sacks in his first two seasons, including 10 1/2 in 2012, it might not be.
Just last week when the Rams met the Packers in a preseason game, Packers quarterback Aaron Rodgers gave Quinn some props after the game.
"I told Robert this is the year he gets the respect he deserves for being one of the premier pass rushers in the game," Rodgers said.
At 6-4, 264 pounds, Quinn has explosive speed off the edge and his loud game belies his off-the-field ways.
"He's just chill," Long said.
"I am pretty laid-back," Quinn said. "But it's different on the field."
Quinn's sack against the 49ers in San Francisco last season is a play that showed his speed, but also shows how good this unit can be together. It was first-and-10 at the 49ers 45. The Rams had four-man pressure, and Long (yellow X) beat Davis, Brockers (red-X) crossed the face of guard Mike Iupati, spun away and then had the speed to close on Kaepernick. When Kaepernick went to move out of the pocket, Quinn (blue x) beat a double by left tackle Joe Staley and fullback Bruce Miller to chase him down for a sack.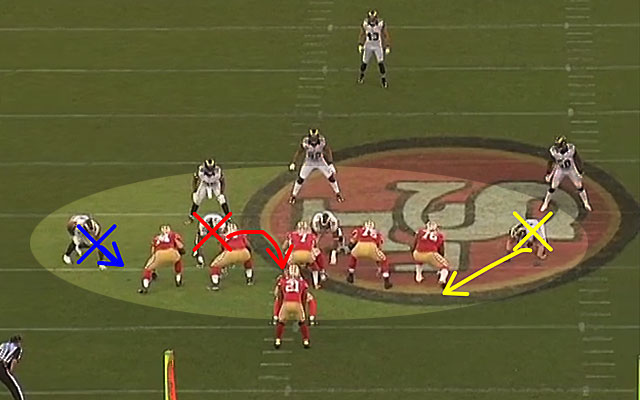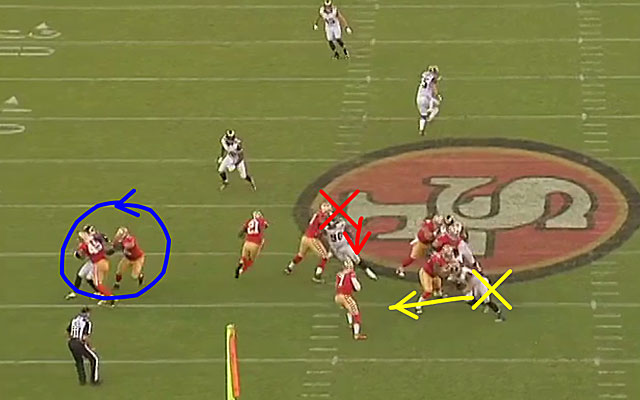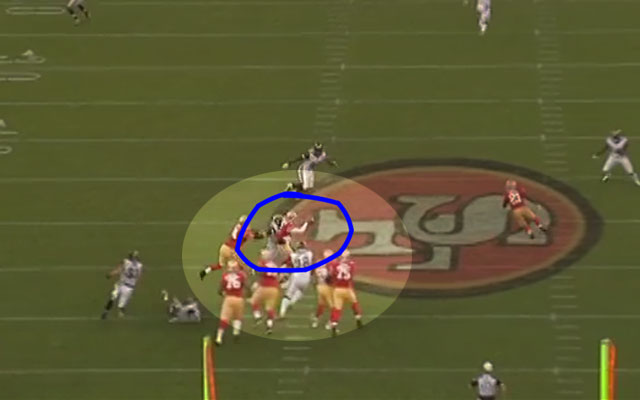 Michael Brockers
At 22, the 6-5, 325-pound Brockers had four sacks and 17 hits and pressures on the quarterback as a rookie after missing time early with a high-ankle sprain that really never healed.
By the second half of 2012, he was playing at really high level. He's also re-shaped his body -- bigger, leaner -- and that should make him even better in 2013.
"He's like a big kid," Long said. "He doesn't know how strong he is yet."
Standing on the team's practice field, Brockers has a menacing look about him. He has this huge beard that gives him this mean look. There has even been some fear-the-beard talk.
"He looks older, but then he opens his mouth and you realize he's like an 18-year-old kid," Long said.
Brockers has a real chance to be an elite inside player. He is strong enough to play the run and he has the power and quickness to be a double-digit sacker from the inside. The solo sack he got against the 49ers was truly a special play. Here's a look.
On the play, Brockers (yellow circle) lined up in the guard-center gap. At the snap, he made a hard inside move. That's where guard Alex Boone picked him up and started moving him to the left side as quarterback Alex Smith (who later got hurt and left this game) moved to his right. Brockers spun off Boone, showed his great speed, and closed to sack Smith for a 7-yard loss. That type of play shows just how special Brockers can be.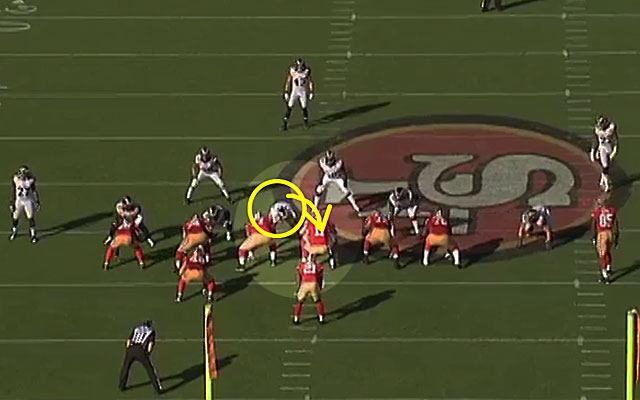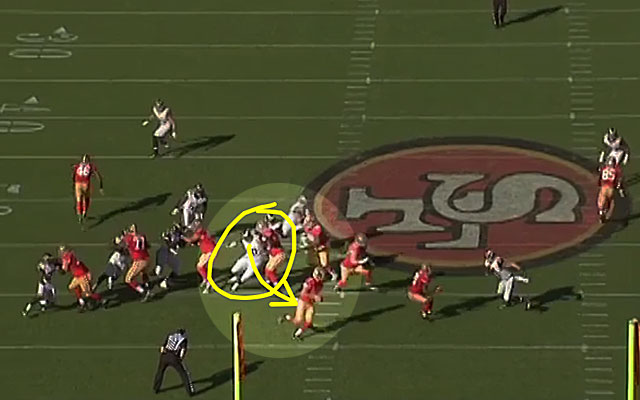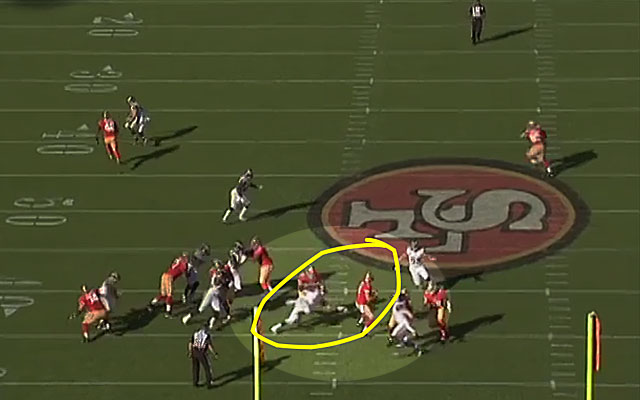 The amazing thing about the Rams' 52 sacks is that they didn't lead in many of their games. That means teams weren't forced to throw. The Rams sacks-per-pass play was 8.68-percent, which was tops in the league. That percentage was twice as good as both Jacksonville and Tampa Bay, the bottom two teams.
"Our offense is better now, so we will be able to pin our ears back and go more," Long said.
Ask most fans who led the NFL in sacks last season, and you likely wouldn't have many even mention the Rams.
"They'd pick all the big-name teams," Brockers said. "Not the little-old Rams."
Take note of this group. It's way too early to call them the next version of the Fearsome Foursome, or even close to that, but as it relates to modern-day lines they have a chance to be special.
Who knows? Maybe someday an 80-year-old Brockers or Quinn or Langford or Long will be showing off their old moves to a group of young players.
"It was an honor to see Rosey do that," Brockers said. "It was hilarious. He's 80 and he's showing off his moves. We're just trying to bring that Fearsome Foursome style back."
The NFC is going to be a blast to watch down the stretch, but don't sleep on the Patriots'...

The Dolphins just created a serious shock in the AFC and MVP races by beating the Patriots

With their 2017 season basically over, it's time for Texans fans to turn their attention to...
Now 10 different players have intercepted Tom Brady multiple times in one game

Brady lofted it between two defenders and Lewis snatched it with one hand