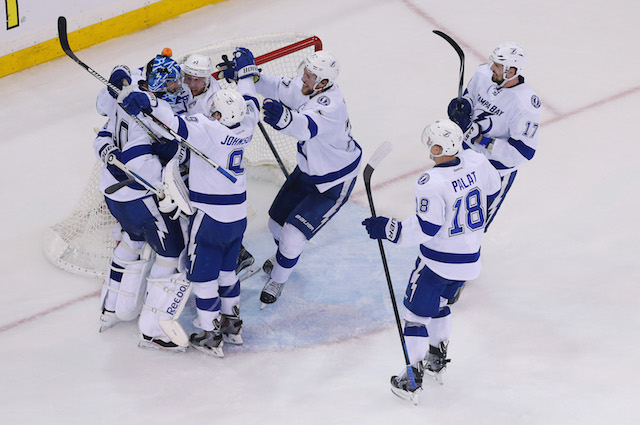 When teams reach the Stanley Cup Final, the 28 other clubs sitting on the sidelines are going to be taking a long look at how the finalists got there. Perhaps the most time is going to be spent on how the teams play, but what is really important is how they were built over the years it took them to reach this point. With that in mind, Eye on Hockey breaks down how each of this year's Stanley Cup finalists were built. Up next, the Eastern Conference champions.
Since taking over as the Tampa Bay Lightning general manager in March 2010, Steve Yzerman and his staff have quietly assembled one of the most exciting teams in the NHL, completely overhauling a roster that had failed to qualify for the playoffs in each of the three seasons before he was hired.
When Yzerman arrived, two of the most important pieces were already in place: Steven Stamkos and Victor Hedman, top-two picks in 2008 and 2009 who would go on to become the foundation of everything the Lightning have become. Having those two already on the roster certainly helped, but other than that, it has been a complete teardown and rebuild, with 20 of the 24 players that have appeared in the postseason for the Lightning having been acquired by Yzerman, his staff and the scouts.
They have done it through the draft, where they are not afraid to go places other teams often avoid (i.e., smaller, skilled players; Russian-born players). They have done it by finding gems after the draft as undrafted free agents, including one of their best players (Tyler Johnson). They have made a few smart free-agent investments to pick up Valtteri Filppula and then snagging Anton Stralman in free agency from the New York Rangers.
After some initial success in the Yzerman era where they reached Game 7 of the Eastern Conference finals (losing 1-0 to the eventual Stanley Cup champion Boston Bruins), the Lightning took a step backward the next two seasons. During that time they replaced Guy Boucher with Jon Cooper behind the bench, and then started to experience the benefits of the great work by the front-office talent evaluators by returning to the playoffs in 2014.
And now they are back in the Stanley Cup Final for the first time since 2004.
This is how they got here.
(Note: Only players that have played at least one game in the 2015 Stanley Cup Playoffs are included in these tables.)
The Draft
Players Drafted by the Tampa Bay Lightning
Player
Year Drafted
Round, Pick
Playoff Points
Nikita Kucherov
2011
2nd, 58
20 GP, 9-10--19
Steven Stamkos
2008
1st, 1
20 GP, 7-10--17
Alex Killorn
2007
3rd, 77
20 GP, 7-9--16
Ondrej Palat
2011
7th, 208
20 GP, 7-8--15
Victor Hedman
2009
1st, 2
20 GP, 1-9--10

Nikita Nesterov

2011
5th, 148
14 GP, 1-5--6
Cedric Paquette
2012
4th, 101
18 GP, 1-0--1
Vladislav Namestnikov
2011
1st, 27
12 GP, 0-1--1
Mark Barberio
2008
6th, 152
1 GP, 0-0--0
Jonathan Drouin
2013
1st, 3
3 GP, 0-0--0
Andrei Vasilevskiy
2012
1st, 19
2 GP, .879 SV%
TOTALS (10 skaters, 1 goalie)
 
 
33 goals, 52 assists, 85 points
Obviously the big names here are Stamkos and Hedman at the top of the 2008 and '09 drafts. When it comes to finding franchise players in the prime of their career, there is pretty much only two ways teams are going to get them: The draft or the extremely rare occasion when another team foolishly trades one. The latter doesn't happen often, and when it comes to the former your best hope is to be bad enough to get a top pick in a year when there is a player like Stamkos or Hedman available at the top of the draft.
But for as important as it is to have elite players at the top of your roster, they can't do it alone. They need help. And for as important as it was for the Lightning to get Stamkos and Hedman as lottery picks, in '08 and '09, the 2011 draft (which came just after the Lightning were one game away from reaching the Stanley Cup Final) was just as important. That is where they picked up two-thirds of their now famous Triplets line (Kucherov and Palat) and two more young, skilled depth players who are still playing for peanuts against the salary cap.
When it comes to the Lightning's top lines, Alex Killorn is sometimes the forgotten guy out of that group but he is having a terrific postseason playing alongside Stamkos. He is one of the holdovers still on the roster from the previous front office.
In a salary cap league it is a necessity for teams to find success through the draft if they are going to compete for a Stanley Cup, especially when they have big-money players at the top of the roster. The Lightning have succeeded.
Free Agency
Players Signed as UFAs by the Tampa Bay Lightning
Player
Year Signed
Original Term
Playoff Points
Tyler Johnson
2011
UDFA
20 GP, 12-9--21
Valtteri Filppula
2013
5 years
20 GP, 3-8--11
Anton Stralman
2014
5 years
20 GP, 1-6--7
Matt Carle
2012
6 years
19 GP, 0-3--3
Brian Boyle
2014
3 years
19 GP, 1-1--2
Andrej Sustr
2011
UDFA
18 GP, 1-1--2
J.T. Brown
2012
UDFA
18 GP, 1-0--1
Brenden Morrow
2014
1 year
18 GP, 0-0--0
TOTALS (8 skaters)
 
 
19 goals, 28 assists, 47 points
We're including undrafted free agents as free-agent signings, and the Lightning have three of them on the roster this postseason (Johnson, Sustr and Brown). What's amazing about the Johnson signing is that it came just a couple of months before the team drafted Kucherov and Palat at the 2011 draft. That means that in the span of four months (again, just after they were one game away from the Stanley Cup Final) the Lightning front office added Johnson, Namestnikov, Kucherov, Palat, Nesterov and Sustr, another undrafted free agent, to the organization. Amazing.
When it comes to adding players via unrestricted free agency at the NHL level, Filppula and Stralman are the two making the most impact.
The Lightning gambled a bit on Filppula in 2013 after he came off of a brutal season with the Detroit Red Wings where he scored just nine goals and eight assists in 41 games. But there was still a really good track record there, and at 28 he was still young enough to think he could bounce back from it. So the Lightning signed him to a five-year contract worth $25 million. In the two years that have followed Filppula has had two of the best seasons of his career. That same offseason the Red Wings, who let Filppula walk, signed Stephen Weiss to an almost identical contract. Weiss has appeared in just 78 games due to injury and scored 11 goals and 18 assists. Filppula has topped those numbers each season since joining the Lightning.
And then there is Stralman. An underappreciated player who struggled to find his place in the NHL for several years, he finally made a name for himself with the New York Rangers the previous three seasons, and especially during their 2014 Stanley Cup Final run, and managed to turn that into a lucrative long-term contract with the Lightning in free agency.
It has proven to be a huge addition for the Lightning, especially as he helped shut down his former team in the Eastern Conference finals.
Trades
Players Traded for by the Tampa Bay Lightning
Player (Traded From)
Year Traded
Key Expense(s)
Playoff Points
Ryan Callahan (NY Rangers)
2014
Martin St. Louis
19 GP, 1-3--4
Jason Garrison (Vancouver)
2014
2nd round pick
17 GP, 1-3--4
Braydon Coburn (Philadelphia)
2015
Radko Gudas
1st round pick
3rd round pick
20 GP, 1-2--3
Jon Marchessault (Columbus)
2014
Dana Tyrell
Matt Taormina
2 GP, 0-0--0
Ben Bishop (Ottawa)
2013
Cory Conacher
20 GP, .923 SV%, 3 assists
TOTALS (4 skaters, 1 goalie)
 
 
3 goals, 11 assists, 14 points
Remember in the free-agent section when we mentioned how in the summer of 2011 the Lightning added a ton of young players via the draft and as undrafted free agents? There was another young, skilled forward who was overlooked mostly due to his (lack of) size added to the organization that summer as well -- Cory Conacher.
And even though Conacher is not on the roster now, his presence is still being felt.
Conacher was signed by the Lightning on July 6, 2011, and a year later was playing in the NHL. After a great start that saw him score 24 points in 35 games, he was traded to the Ottawa Senators for the player who is now Tampa Bay's starting goaltender, Ben Bishop.
How great has that trade worked out for the Lightning? Not only has Bishop been an above-average goaltender since joining the team and recorded a pair of Game 7 shutouts this year, he also has seven points offensively during the 2014-15 regular season and playoffs. Conacher, who spent the season playing for the New York Islanders, had three points.
The Lightning used a few draft picks to help bolster their defense before this season and during it when they acquired Jason Garrison from the Canucks and Braydon Coburn from the Flyers to improve the depth behind Hedman and Stralman.
The only other major trade that went into shaping the team was last year's deadline move that saw them trade Martin St. Louis to the New York Rangers for Ryan Callahan in a rare captain-for-captain swap after St. Louis wanted out of Tampa Bay and the Rangers were unable to sign Callahan to an extension. Offensively the two had pretty similar seasons and both struggled in the postseason. The Lightning were able to re-sign Callahan to a long-term contract extension after the 2013-14 season while St. Louis is eligible for unrestricted free agency this summer. The Lightning also have an additional first-round pick this summer (No. 28 overall) as a result of the trade.
Conclusion
It would be extremely difficult for another team to model what the Chicago Blackhawks have done when it comes to building their team. It takes a special set of circumstances for that type of roster to come together in a salary cap league and keep it together for that long.
But the Lightning should offer a lesson that every other team in the league would be wise to follow. Not only because it can lead to success on the ice, but also because it can produce a far more exciting game for the fans.
That lesson?
Skill.
Skill. Skill. Skill.
More skill.
Over the years the Lightning have been willing to overlook potential size and strength limitations of players in the draft to pick talented, skillful players that have NHL ability. They focus on getting players who project to be top-nine forwards and top-four defensemen and have built one of the best and most exciting teams in the league.
And they are not going away after this season. It's not a fluke.
They drafted well, they made some astute free-agent signings and had a couple of big trades to help build the necessary supporting cast that franchise players like Stamkos and Hedman need to seriously compete for the Stanley Cup.
There are now four wins away from completing it.
>> More on Stanley Cup Final: Expert Picks | How Chicago Blackhawks were built