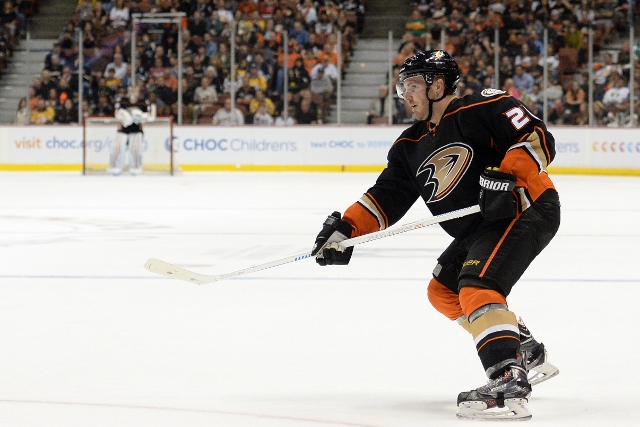 The Anaheim Ducks and Carolina Hurricanes made a trade during Day 2 of the NHL Draft that should prove to be mutually beneficial. After acquiring goalie Eddie Lack from the Vancouver Canucks earlier in the day, the Hurricanes shipped backup Anton Khudobin to Anaheim to nab veteran defenseman James Wisniewski.
The Hurricanes bolstered their blue line with the addition of Wisniewski, who never found a role with the Ducks after being acquired at the trade deadline. Meanwhile, Anaheim sheds Wisniewski's $5.5 million cap hit. Additionally, Carolina gets the two cheapest years on Wisniewski's deal in terms of salary as he is due to make $5 million next season and $3 million in 2016-17.
What is going to be disappointing for the Ducks is how much they gave up to acquire Wisniewski last season from the Blue Jackets including promising prospect William Karlsson and a second-round pick this year. Wisniewski didn't play in the playoffs as a healthy scratch. It proved to be a mistake, but now they don't have to fret over the cap space issue.
Wisniewski had 34 points in 69 games last season and 44 the year before. He brings some experience and extra production to the blue line for Carolina. That should give him a fairly substantial role on the club, much closer to what he had when he played in Columbus.
With the addition of Wisniewski, the selection of Noah Hanifin at fifth overall, and current top blueliner Justin Faulk, there's more to like about Carolina's defense next season after they traded away Andrej Sekera last year.
The Ducks meanwhile get a cheap veteran backup goalie that they may be able to flip later. It also gives them some protection if a tempting trade offer arises for one of their two brilliant young netminders, Frederik Andersen or John Gibson. They may have to decide which one they want to ride long-term soon.
It was a pretty strong day overall for the Ducks, who also acquired Carl Hagelin from the New York Rangers to improve their forward depth.