NHL 2-on-1: Is it too early for Flyers, Red Wings to panic?
Adam Gretz and Brian Stubits discuss slow starts in Philadelphia and Detroit and whether they should panic already or not.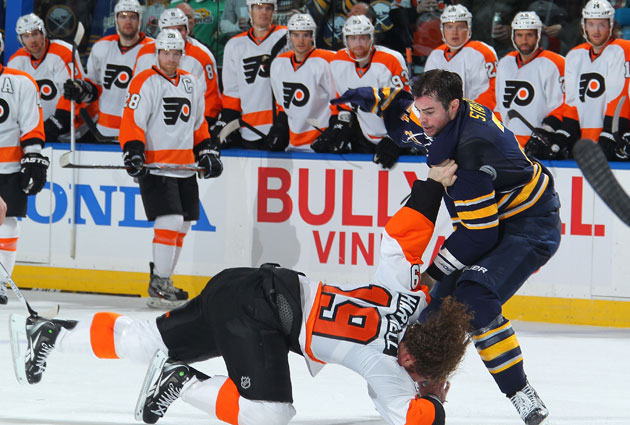 The Flyers are down, but are they out?. (Getty Images)
More NHL: Scores | Standings | Odds | Fight-O-Meter | League Leaders | Rumors
This is 2-on-1, a weekly feature from Eye on Hockey where Adam Gretz and Brian Stubits debate a hot topic in the NHL today.
The Philadelphia Flyers are off to an 0-3-0 start in a 48-game season. Is it too early to start panicking?
STUBITS: It's never too early for a good panic.
Honestly, though, I don't know if I would say it's time for Philly to full-out panic yet. But if nothing else, they should put their fingers on the panic button. As you can plainly see by their 0-3-0 record, the Flyers are behind the 8-ball. They are four points back in the division before they've really even begun.
Does that mean they are buried already? Well, of course not, but it's hard not to admit this much: This isn't the best way to go about getting into the postseason. When you consider the compacted schedule, each game is a little more meaningful since there are fewer to balance it out. A three-game losing streak this season is akin to a five-game losing streak in a normal 82-game season.
Translated: They need to start winning.
GRETZ: As much as I enjoy hockey being back, I always hate the first week of the season for one reason: The irrational panic (and because the universe is perfectly balanced, the optimism on the other side) that suffocates us with a sea small sample sizes.
Every team that starts off 0-1 or 0-2 is doomed, and every team that missed the playoffs the year before and wins a game or two is suddenly going to make some noise this season or be unexpectedly awesome. Even in a 48-game season, there is still a lot of hockey to be played at this point. Even though I'm a big believer that a fast start is always important (short season or full), the '94-95 Devils only won 10 of their first 27 games before winning the Stanley Cup. Not saying that's the ideal way to go about it, but it's early.
It's easy to point to the Flyers' 0-3 start, and conclude that maybe they're in trouble. And who knows, maybe they are.
STUBITS: What makes it worse, though, is how the Flyers have been playing. The defense has been rather predictably atrocious, and Ilya Bryzgalov, while he hasn't necessarily been to blame, hasn't been anywhere near good enough to bail his defensemen out. That's a bad mix.
However, just as culpable for the 0-3-0 start is something that wasn't as predictable: Philly isn't scoring. In three games, the Flyers have a whopping three goals (they might have had a few more in Buffalo if not for some bad luck, but they didn't count, so ...). To make matters worse, Scott Hartnell, their leading goal-scorer last season, is out indefinitely.
Things aren't very sunny in Philadelphia at the moment.
GRETZ: Yes, the defense is an absolute mess and you just never know what you're going to get with Ilya Bryzgalov.
The offense is going to get better. Right now, they're shooting about 3 percent and that's just not going to continue (regression to the mean, and all that stuff).
STUBITS: What they do have going for them is what appears to be a still-not-very-deep Eastern Conference. Presumably, unless the Maple Leafs can actually keep up a high level of play, it shouldn't be too tough to sneak into the playoffs in the East this season. The teams in the Southeast appear to be collectively awful again. And here I thought they were all getting better.
A bad start in the East seems like it will be a little easier to make up than a bad start in the West.
GRETZ: Speaking of the West, another team that is pretty much identical to Philadelphia at this point is the Detroit Red Wings.
Like the Flyers, the Red Wings' defense is a wasteland and is getting more and more depleted by the day (soon they will be pulling people out of the stands if they're wearing a Nicklas Lidstrom jersey). And like the Flyers, they're also not scoring. And also like the Flyers, that's not going to continue as the Red Wings are scoring on fewer than 5 percent of their shots. That's not going to last.
I remember the Red Wings had a similar offensive stretch near the start of last season during a six-game losing streak. They were generating a ton of shots but simply not scoring. Eventually that stuff balances out, and I expect that to happen here. The Red Wings' defense is barely NHL quality at this point, and that's going to close the door on them as a serious Stanley Cup contender. But their offense is still good enough to get them in the playoffs and make them competitive.
STUBITS: I believe the Wings are in a world of hurt this year and not just literally.
As you noted, their blue line is beat up worse than a junkyard car. When you are signing Kent Huskins to come in and play, you know things aren't in great shape.
What worries me though is if the offense will get going. You note they are shooting a miserably low percentage, and I certainly would expect that to come up. But they don't have a ton of offense coming from the back end with the depleted defensive depth. Defensemen might not produce a lot of points, but the puck-movers are a tremendous asset and help any forward line out.
Looking at the East vs. West thing again, Detroit will have a tougher time in what I think is a much more balanced conference. I don't believe Ken Holland was just making lip service before the season about his team maybe missing the postseason.
GRETZ: I see what you're saying about the lack of guys who can move the puck from the defense in Detroit, as well as the strength of the conference, but I still have a hard time believing a team with Pavel Datsyuk, Henrik Zetterberg, Johan Franzen, Valtteri Filppula, Todd Bertuzzi, Dan Cleary, etc. up front is going to miss the playoffs.
Their Stanley Cup window might be closed as long as the defense is in its current disheveled state, but there should be enough firepower up front to get them a chance. Plus, I think Jimmy Howard is good enough to at least help bail them out a little.
STUBITS: The solace for the Wings is they aren't the only favorites off to slow starts (look at Vancouver and Los Angeles as well). We know this: it's going to be a real battle, and the Flyers and Red Wings just need to get their acts together now.
This is pretty clear, though: I'm the alarmist in this conversation.
For more hockey news, rumors and analysis, follow @EyeOnHockey, subscribe to our YouTube account and like us on Facebook.
Rage is all the rage in Montreal

Buffalo's 20-year-old phenom pulls off the highlight of the night against Vancouver

The North American love affair with Edmonton's superhuman center continues to grow
The defending Western Conference champion Predators are also heating up early in the year

The Oilers' young star remains seriously unfair

David Kelly, a Toronto-born hockey analyst, has strong advice for Edmonton vs. Chicago game...