NHL rumors: Predators, Ducks have had talks about Jonas Hiller
The Nashville Predators are hurting in goal with Pekka Rinne interested, so much so that they reportedly have talked to the Ducks about Jonas Hiller.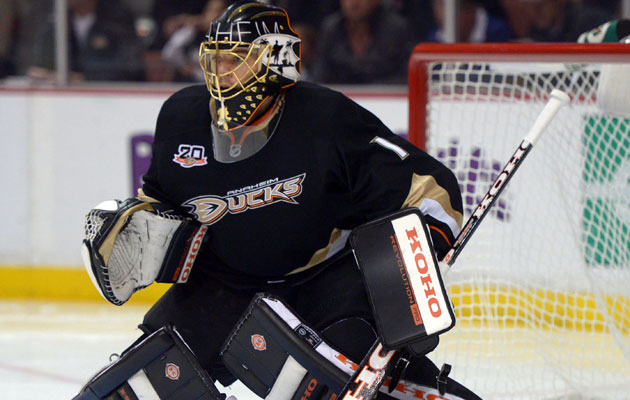 More NHL: Scores | Standings | League Leaders | Odds | Injuries | Power Rankings
To the surprise of few, the Nashville Predators have found life to be very rough without goaltender Pekka Rinne in the crease. Since he has been out with a bacterial infection in his hip, the Preds have been leaking goals left right with their inexperienced goalies.
SO it would make sense if GM David POile weren't at least considering the options out there to try and get the Predators through a difficult stretch and keep them in the playoff race. That reportedly has Poile in contact with Bob Murray in Anaheim about one of his myriad goalies, specifically former All-Star Jonas Hiller.
According to TSN Insider Trading's Pierre LeBrun, the teams have had a some discussions.
The Predators have given up a ton of goals since Pekka Rinne went down; not really a big surprise. Carter Hutton, kind of an unknown commodity, has not answered the bell so the Predators and the Anaheim Ducks, I'm told, have had discussions regarding Jonas Hiller. But what the Predators have told the Ducks is that we need to know about Rinne's health before we decide whether or not we have to make a goalie trade. If they get good news, maybe they could hold off and survive but if it looks like it's going to be longer than they thought, than maybe they'll have to make a trade, and Hiller -- as we've been saying for a month -- is very much available from Anaheim.
It seems strange that a team in the lower half of the standings would be calling a team at the top of the standings but the Ducks have a somewhat unusual situation in net. Hiller is a free agent after this season and it's hard to see him returning. The Ducks also have Viktor Fasth hitting free agency this summer while they are playing Frederik Andersen in net at the moment and don't forget they have hotshot prospect John Gibson in the system. Gibson has been a standout for the American national team in international competitions.
So you can see why Hiller is said to be available. It does seem odd to trade a goalie of his quality while your team is in serious position to go for the Stanley Cup but the Ducks appear to have enough even without Hiller to get them where they want to go.
The bigger question, though, is if the Predators want to go through with it. They are in an odd spot by being less than $4 million from the salary cap thanks to it coming down for this season. They aren't used to spending a lot in Nashville.
But moreover is what it would take to get Hiller from Anaheim and where they would go from there. If Rinne is able to return relatively soon then you have a problem. A good problem, but a problem nonetheless. If Rinne is out for longer obviously it becomes more attractive but it's still fair to wonder if it's even worth going after Hiller for the Preds. Unless they wanted to re-sign him to make a strong pairing with Rinne, which doesn't seem likely, why pay for a rental goalie when the odds of catching the four teams at the top of the Central Division are long as it is.
Still, regardless if the Predators are interested and/or do something about it, it sure seems clear that the Ducks are clearly willing to continue to listen to talk about Hiller.
Joffrey Lupul spent last season on long-term IR but seems to be saying he's healthy

Early playoff trouble has been evident, but the Wild tout an offense capable of making another...

Why walk with skate guards when you can rollerskate instead?
This will not leave your memory any time soon

Vegas isn't being quiet about its hot start to the NHL preseason

The blue-liners are set for another big push, but Edmonton's rise is hard to ignore in the...