Ryan Miller hasn't 'talked about anything' with Sabres about future
Ryan Miller hasn't spoken with the Sabres about his future whether it be a contract extension or a trade just a couple weeks before the deadline.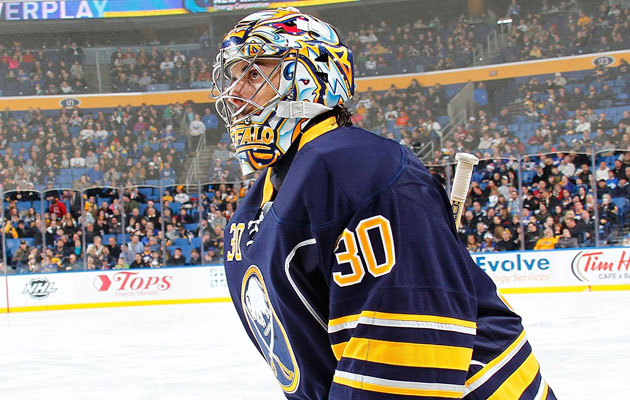 More NHL: Scores | Standings | League Leaders | Odds | Injuries | Power Rankings
For almost an entire year now, the future of Ryan Miller has been in the air in Buffalo. He's a free agent after this season but remains the Sabres' netminder.
Going back to the end of last season there have been questions surrounding Miller and whether he would be traded or if he might re-sign with the franchise. Now with the trade deadline a month away (much closer in actuality with the roster freeze putting a squeeze on the amount of time left), things aren't much clearer.
Miller talked about his situation on Tuesday with Buffalo reporters and he didn't have much of an update, honestly. From Mike Harrington at the Buffalo News:
"I still don't know what to say. There's been a change here even since there was a change here before," he said, referring to the hiring of new GM Tim Murray. "So it's like I'm waiting to see what the plan is and waiting to see what they have to offer. We haven't talked about anything with regard to contracts and we haven't talked about anything with regard to trades. They're doing their business."

So I asked Miller point-blank if he's told the Sabres he wants out or if he's told them he's willing to stay. He was understandably evasive.

"That's not really something I want to discuss with you guys," Miller said. "It's a private conversation about a business transaction. Really, that's what it comes down to. I'm waiting to see kind of what the plans are around here. that would kind of give a little more indication."
While it's an update that's not much of an update, in this case it probably is pretty telling. If they haven't talked to Miller about contract extensions at this point then it's a pretty safe assumption to think his time in Buffalo is at the end of the line. The question then becomes if new GM Tim Murray can find a deal for Miller or if he'll just walk to the end of the season and into free agency.
Miller has a lot on his plate right now with the Olympics coming up in just a few days. He's in the running to be the No. 1 goalie for the US team again after leading the Americans to silver in Vancouver four years ago. That could be a nice showcase for the Sabres if Miller gets the bulk of the time over Jonathan Quick in net.
Miller, who has a salary cap hit of $6.25 million this season, is 14-21-3 but has a .925 save percentage for a Sabres team that has been eliminated from playoff contention.
The puck didn't go in the net but the skater did!

Another sign that Houston is a potential destination for an NHL relocation
The two teams combined for 111 penalty minutes and five ejections

The veteran Minnesota goaltender has recorded three consecutive shutouts

The historic start for the NHL's newest team has come largely from unprecedented balance in...