Experienced VCU team rounds into form in win over BC
After going toe-to-toe in a loss to VCU, 'HAVOC' is one word Boston College players won't want to hear for a long time.
• 2 min read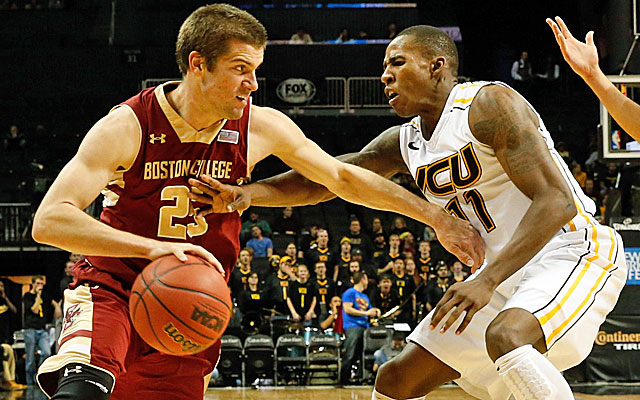 NEW YORK -- The term "HAVOC" has been synonymous with the VCU basketball program since Shaka Smart's arrival in 2009.
The phrase has been regularly used in press conferences, on the back of T-shirts and was literally at the tip of the nation's tongue during the Rams' magical run to the 2011 Final Four.
"HAVOC" is also a word that the players on Boston College never want to hear again.
VCU forced 23 turnovers as the Rams outscored the Eagles 47-33 in the second half en route to a 69-50 victory at Barclays Center on Saturday night.
Juvonte Reddic led VCU with 14 points and eight rebounds while Rob Brandenberg and Treveon Graham added 13 a piece.
"I thought our guys did a terrific job on the defensive end for pretty much the whole game," Smart said.
The Rams' high octane pressure really picked up at the start of the second half as they constantly forced Boston College into a slew of quick decisions.
The results for the Eagles were disastrous.
"They just did a terrific job with their system," Boston College coach Steve Donahue said. "It's unique. When I was at Cornell, we faced Missouri with Mike Anderson -- the '40 minutes of hell.' This is completely different. They're totally bought into what they do. All 10 guys. None of the guys care who gets the credit. That's why they're good."
VCU is 11-3 after 14 games and is on the same type of trajectory it was on during each of the past two seasons.
The biggest difference between those teams and this Rams squad?
Perimeter experience.
Briante Weber has stepped in nicely for Darius Theus at point guard (six points, six assists, one turnover vs. BC) but he's still finding his way with each game he plays.
In fact, the times where VCU has looked its best this season is when Weber and freshman JeQuan Lewis have played alongside one another in the back court.
"Those two guys are extremely quick," Smart said. "I thought Briante (Weber) played the best defensive game of his career tonight. He was terrific."
There are palplable similarities between this squad and the one that went to the Final Four in 2011.
The Rams have terrific depth and unlike the past two years, VCU has the ability to play both big and small.
And while Smart may prefer quickness with more regularity than size, he knows having that up his sleeve during conference play and in March will be a major positive.
"It gives us the opportunity to play in different ways," Smart said. "When most teams play us, they go small because they know that's the way we usually play. That helps us and it's our preference, but with this group we the ability to play both ways. We've got options."
Calipari threw major shade at Duke and the coaching staff's recruiting pitch

Brown is the No. 2 center in the Class of 2018 and a big get for the Bruins

The Sooners are on a two-game losing streak but still rising on one AP ballot
Vegas legend Kenny White has nailed 3 straight UNC picks and just made a play for Monday's...

Josh Nagel has almost two decades of handicapping experience and locked in a play for Monday's...

The Wildcats stumbled to an 0-2 record this week and fell out of the top 25