College Football Hall of Fame Class of 2013: The snubs
The class of 2013 for the College Football Hall of Fame has been announced, and it's loaded. But who else could have or should have made it and didn't?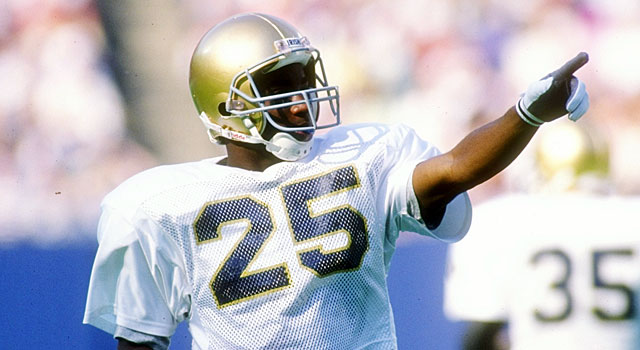 First things first: as snubs go, the College Football Hall of Fame Class of 2013 doesn't rank nearly as high on the outrage scale as the class of 2012, which excluded several players that qualified as 2013 no-brainers. 
That doesn't mean there aren't still several players on the 2013 ballot whose continued exclusion qualifies as a head-scratcher, or more. Here's one list of eight names, in alphabetical order:
Trev Alberts, LB, Nebraska. Albert's injury-marred NFL career shouldn't overshadow a tremendous tenure in Lincoln as one of the most explosive defenders of the early '90s. In 1993 Alberts won the Butkus and was named a consensus first-team All-American after collecting 15 sacks, 21 tackles-for-loss, and leading the Huskers to a national title showdown against Florida State -- one where he sacked Charlie Ward three times.
Brian Bosworth, LB, Oklahoma. Still the game's only two-time Butkus Award winner, Bosworth was also a two-time consensus All-American whose outsized presence defined arguably the most dominant program in all of college football in the mid-'80s. But as Dennis Dodd wrote at this time in 2012, Bosworth's off-the-field reputation has seemingly prevented him from would would otherwise be a slam-dunk induction.
Mark Carrier, S, USC. A two-time All-American in 1988 and 1989 (when he nabbed consensus honors), Carrier is still USC's only Jim Thorpe Award winner. He finished the Trojans' 1989 Rose Bowl championship season with seven interceptions and 107 tackles. Fellow Trojan Tony Boselli, a two-time All-American offernsive tackle and 1994 Outland finalist, also has an argument for inclusion.
Eric Dickerson, RB, SMU. It's probably not realistic to expect Hall of Fame voters to honor a program synonymous with college football corruption. Still, Dickerson is an obvious choice on his on-field merits: the SWC's all-time rushing leader upon graduation, the third-place Heisman Trophy finalist and first-team All-American in 1982, and a deserved reputation as one of the game's biggest big-play tailbacks of all-time (7.0 yards-per-carry on 232 attempts in 1982).
Raghib "Rocket" Ismail, WR/PR/KR, Notre Dame. One of the defining players of his generation, what Ismail might have lacked by Hall of Fame standards as a regular down-to-down player (he finished his three-year career with "only" 1,565 receiving yards) he more than made up for with an entire series of highlight-reel kick and punt returns that helped the Irish to a 1988 national title and a pair of Orange Bowls in '89 and '90. Ismail was a two-time All-American and the 1990 Heisman runner-up behind BYU's Ty Detmer.
Derrick Thomas, LB, Alabama. CBSSports.com's Bruce Feldman sums it up:
#Bama's Derrick Thomas: 52 career sacks; 68 TFLs; 5 blocked kicks. Not College FB Hall of Fame worthy yet?

— Bruce Feldman (@BFeldmanCBS) May 7, 2013
Feldman doesn't even mention that Thomas's 27 sacks in his Butkus-winning 1988 season -- in an era when pass attempts were far fewer and sacks harder to come by -- remain an FBS record. 13 years after his untimely death at the age of 33, Thomas is by nearly all accounts the most puzzling current omission from the Hall of Fame roster.
LaDainian Tomlinson, RB, TCU. Maybe there was only room for one first-ballot game-changing RB from the late-'90s? Ron Dayne got the nod this year (and not without reason), but the call should come soon for the electric "LT," who led the NCAA in regular-season rushing in both 1999 and 2000 (beating out Dayne in his Heisman season), still holds the FBS record for rushing yards in a single game with 406, and in 2000 won both All-American honors and the Doak Walker.
Lorenzo White, RB, Michigan State. One of the biggest stars the Big Ten had to offer in the 1980s, White isn't a household name today despite finishing as the fourth-place Heisman finisher and earning consensus All-American honors in both 1985 and 1987. While White led the nation in rushing in '85 with 2,066 yards (becoming the first Big Ten back to top the 2,000-yard mark), Spartan fans will likely more fondly remember his '87 campaign, when he led the Spartans to a Rose Bowl victory over USC -- still the program's most recent visit to Pasadena.
And five more names for the road: Jerome Brown, DT, Miami; D.J. Dozier, RB, Penn State; Jumbo Elliott, OT, Michigan;  Antwaan Randle-El, QB, Indiana; Andre Tippett, DE, Iowa.
Weis Jr. was an offensive assistant for the Atlanta Falcons in 2017

Lott is joined by three current athletic directors and will serve a three-year term

These are the top guys every school is still chasing
College football lost a ton of star power, but these players are studs going into next fal...

Pac-12 referee Chris Coyte ejected Kentucky RB Benny Snell Jr. for initiating contact with...

The 21-year-old quarterback was expected to start for the Cougars in 2018