The Contenders: New year, same BCS blueprint for high-octane Oklahoma
A week-long survey of the preseason favorites for the BCS championship, and what they have to overcome to get there. Today: Oklahoma.
A week-long survey of the preseason favorites for the BCS championship, and what they have to overcome to get there. Today: Oklahoma. Previously: Alabama … Florida State. … LSU.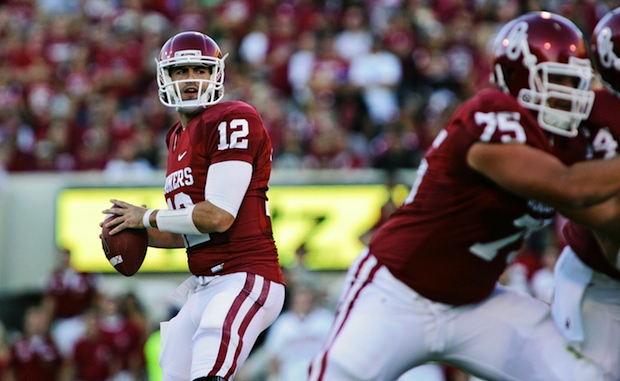 • What we know. Landry Jones has started 34 consecutive games, over which time he's attempted more passes for more yards and more touchdowns than any other active quarterback. He's easily surpassed his prolific predecessor, Sam Bradford, for virtually every school passing record. He's led victories in the Big 12 Championship Game, the Fiesta Bowl and back-to-back romps in the Red River Shootout. He just made the cover of Sports Illustrated. There is more evidence on which to judge Landry Jones as a player than almost any other player in college football.
It's just that, after Oklahoma's abrupt fade over the last four games of 2011, those judgments vary so wildly. Is Jones the engine of one of the most finely tuned, productive attacks in the nation, or a cog who struggles when another piece of the machine falters? Is he the guy who carpet-bombed rival Texas last October in a 55-17 rout, or the guy who looked utterly hapless a few weeks later in a 44-10 humiliation at the hands of rival Oklahoma State? Is he a serious Heisman contender, or a guy who still needs head coach Bob Stoops to come to his defense, as he did last month at the Big 12's media day:
"I didn't ask [Jones] to have to improve on anything," Stoops said. "I asked about 10 guys around him (to improve).

"(Everybody said) Landry struggled. No he didn't. The offense struggled. He had more dropped passes in the last three games maybe ... we couldn't even keep track of how many. We didn't run the football as effectively as we needed to at all. All of that goes together.

"And so to me it's more of an issue of the offense and the offense around him than it is him."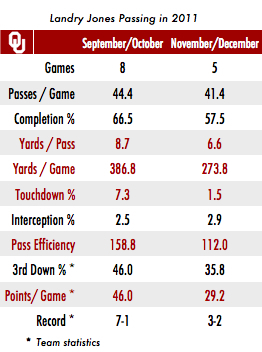 Down the stretch last year, the offense around Jones was missing both its most productive rusher (Dominique Whaley) and most productive receiver (Ryan Broyles) to season-ending injuries. This year, it gets Whaley back to go with a receiving corps that – with the return of headliner Kenny Stills, the arrival of blue-chip freshman Trey Metoyer, the late-breaking transfer of Justin Brown from Penn State, the reinstatement of veterans Jaz Reynolds and Trey Franks – now ranks as the deepest in the conference. The offense still operates under the same up-tempo, pedal-to-the-floor philosophy that consistently generates more plays per game than any other attack in the country. There is no reason for Jones to answer the skeptics with anything less than the best season of his career.
• What we don't. Well, maybe one reason: Less than a week into preseason practice, the Sooners had already lost two senior mainstays on the offensive line, Tyler Evans and Ben Habern, who combined for 59 starts over the last three years – Evans, a regular at right guard, to a season-ending ACL tear, and Habern to a lingering neck injury that forced him to give up football altogether. (Habern's lengthy medical history also includes two season-ending ankle injuries in 2008 and 2009 and an arm injury that cost him nearly half of the 2011 campaign.) Even with regulars Lane Johnson (12 starts last year) and Gabe Ikard (25 starts over the last two years) still upright at left tackle and left guard, respectively, the line as a whole has gone from one of the most veteran fronts in college football – one of only eight nationally with at least 100 career starts among returning members – to one of the greenest before the opening kickoff.
If only youth was the most pressing issue. Behind the starters, Will Latu, a 6-foot-5, 315-pound junior college transfer with designs on the right tackle job, failed to make the cut academically and signed with Arkansas State instead. Incoming freshman John Michael McGee, once described as "a freak athletically" by offensive line coach James Patton, apparently quit the team due to homesickness. Redshirt freshman Dylan Dismuke was placed on medical hardship due to a lingering knee injury he suffered last December, effectively ending his career. Two other backups, redshirt freshman Nila Kasitati and junior Austin Woods, were cleared to practicedespite Kasitati's recent surgery to repair a recurring heart condition and Woods' ongoing chemotherapy treatments against Hodgkins lymphoma.
Including those two, the number of healthy, available linemen on the current roster stands at twelve – just enough to fill out a two-deep, assuming no one else gets hurt, gets in trouble or gets lost one too many times on the way to class over the course of the season. An injury to one of the current starting five could set off another domino effect that drags the rest of the offense down with it.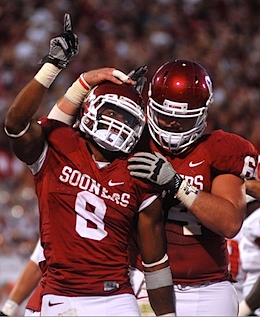 • Where it can all go wrong. Oklahoma never has the luxury of looking past Texas in mid-October, and this year's schedule throws Notre Dame into the path two weeks later, for good measure. But again, the season will be defined by the stretch run, which this year amounts to a three-week sprint to the finish against three potential land mines: At West Virginia, vs. Oklahoma State in Norman, and at TCU.
As always, Oklahoma is the likely favorite in all of those games – oddsmakers have made OU an underdog just four times in the last five years – but it also cannot afford to limp across the line again, with no time to recover from a late blemish in the polls. Depth, and therefore health, could be the difference between a late championship push and another November on 'E.'
• Visions of champions past. Oklahoma has plenty of experience playing for a BCS title under Bob Stoops, most of it negative. But the championship model the current Sooners fit most snugly nearly predates the Stoops era, taking us all the way back to the 1999 Florida State Seminoles. Like Oklahoma in 2012, the '99 'Noles a) Were led by a prolific, pocket-bound quarterback in his fourth year in a pass-happy system, Chris Weinke, who benefited hugely from the talents of b) A slightly undersized but dynamic star at wide receiver, Peter Warrick, and c) Remain the only outfit in the BCS era to win a championship with a head coach who's been on the job for more than a decade. Offensively, FSU was held under 30 points only once all season, and eventually had to outscore Michael Vick-led Virginia Tech in the Sugar Bowl, 46-29, to secure the title.
Florida State also did it with a less-than-elite defense: While solid, the '99 FSU defense remains one of the most generous to bring home a crystal ball, having yielded 305 yards and nearly 16 points per game. Those numbers still happen to be better than the ones Oklahoma delivered in 2010 or 2011, but they're well within reach.
• Crystal ball says… It's tempting to lay last year's slide on a series of key injuries on offense, especially the Bedlam flop at Oklahoma State, at which point Oklahoma in no way resembled the team that opened the season atop every major poll. But the fact is, the Sooners dropped two games as double-digit favorites – at home against Texas Tech and at Baylor – in which the offense scored 38 points, only to be outgunned at the expense of a flammable secondary. That was a virtual rerun of 2010, when the defense was gashed in surprise losses at Missouri and Texas A&M. The 2008 team boasted the highest-scoring offense in NCAA history, but nearly blew its shot at a BCS title in a 45-35 loss to Texas. You see the pattern.
As always, a virtuosic offense is more or less a given, offensive line depth notwithstanding. With four returning starters, so is the secondary on defense. But both sides have shown a tendency for random breakdowns, in a conference that doesn't offer much breathing room for mulligans. The question, then, is whether there is enough consistency to keep winnable games from slipping away as a result of a bad quarter or two or an untimely injury at the wrong position. The more shootouts the offense has to win, the higher the odds it's going to come up one bullet short.


out of five.
SportsLine simulated every bowl game 10,000 times for pick'em leagues and confidence pools

Saban isn't going to win Alabama's special election, but the Crimson Tide coach got some l...

The Tigers are going worldwide for their next punter
Led by Heisman Trophy winner Baker Mayfield, the Big 12 finished with seven first-team sel...

Schiano would have made $4.4 million in Year 1 with annual raises as part of a six-year de...

Dykes spent this season as an offensive analyst at TCU