Allen Craig reinjures left foot on final play of World Series Game 3
While the Cardinals were celebrating their walk-off win in World Series Game 3, Allen Craig had to be helped off the field after re-injuring his foot.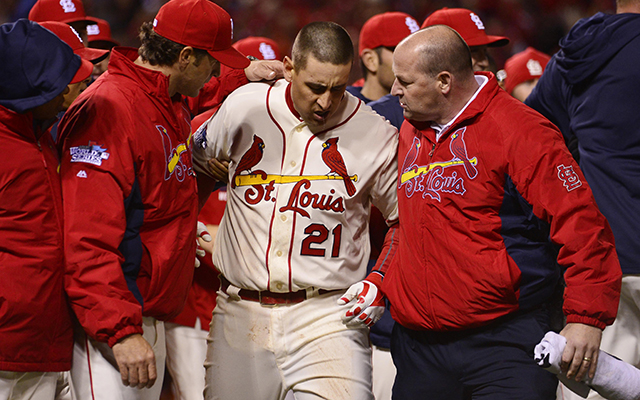 Lost in the crazy finish to Game 3 of the World Series on Saturday night was Allen Craig being carried off the field following the Cardinals' win. He scored the winning run on the walk-off obstruction call but had to slide into Red Sox catcher Jarrod Saltalamacchia at the plate.
Craig, 29, missed roughly six weeks (and the first two rounds of the postseason) due to a left foot sprain. He was healthy enough to be added to the World Series roster to serve as the DH during games in the AL park and pinch-hit during games in the NL park. He's not ready to play first base just yet.
"I feel okay," said Craig following Game 3. "It definitely was a little sore running home. We're going to see how it responds."
Craig was in the trainer's room receiving treatment immediately following the game. When asked by our own Scott Miller if he has any reservations about playing in Game 4 and beyond, Craig said he hopes not but has to see how his foot feel following treatment.
In 134 regular season games, Craig hit .315/.373/.457 (131 OPS+) with 13 home runs and 97 RBI. He went 2-for-7 with a walk as the DH in the first two games of the World Series before setting up the winning run with a pinch-hit double in the ninth inning of Game 3.
The Cardinals lead the World Series 2-1 over the Red Sox.
Where might the Orioles third baseman land?

Kinsler will slot in at second base for the Angels

The Marlins got a better return for Ozuna than Stanton or Gordon
The two teams are going about things in very different ways

The Marlins are indeed in teardown mode under new ownership

The Marlins still have more attractive pieces