Always able, perfect Cain steps out of the shadows on signature night
Matt Cain stood in the dugout soaking in a standing ovation from 42,298 hopelessly-in-love Giants fans, was asked about throwing the first perfect game in the 130-year history of the franchise, and he summarized it in one word. ...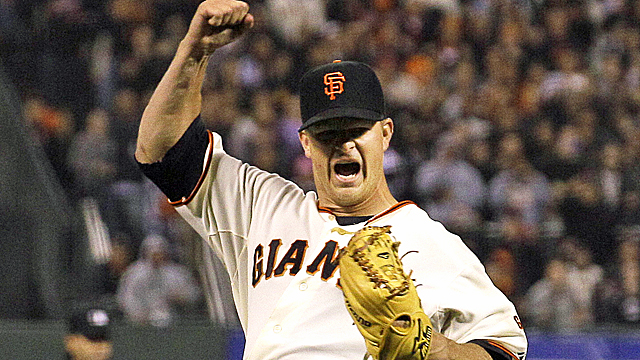 Cain celebrates after delivering the first perfect game in Giants' history.
(U.S. Presswire)
Matt Cain
stood in the dugout soaking in a standing ovation from 42,298 hopelessly-in-love
Giants
fans, was asked about throwing the first perfect game in the 130-year history of the franchise, and he summarized it in one word.
"Wow!" he exclaimed to San Francisco television's Amy Gutierrez, appearing one-part dazed and one-part stunned.
Indeed.
Wow!
It's what so many of us said while watching Cain mow down the Astros, striking out 14 in as dominating a perfect game as you'll ever see.
Wow!
It's what anybody watching right fielder
Gregor Blanco
's across-the-miles dash followed by a fully extended diving catch on the gravelly warning track to start the seventh said, and for how many decades will they be talking about that play in San Francisco? Hint: Forever.
Wow!
It's what everyone in baseball said this spring when the Giants signed Cain to a five-year, $112.5 million extension through the 2017 season.
That kind of dough for a pitcher with a lifetime record of 69-73?
Yes.
Yes, yes and yes.
Cain, 27, for years has been baseball's Most Dangerous No. 2 starter. What he's been is a No. 1 in sheep's clothing. Lots of people just didn't recognize his disguise because of, well, um. ...
You know how the Sabermetricians preach the gospel of wins being overrated? That in today's game, wins too often are out of the control of a starting pitcher?
Anybody watching Cain slice and dice the Astros on a Wednesday night was looking at Exhibit A.
Since his first full major-league season in 2006, Cain has received the worst run support of any starter in the majors at 3.91 runs per game.
Into Wednesday night, when the Giants scored at least three runs of support for him, Cain was 64-9.
Sixty-four ... and ... nine.
Cain always has had the ability plow through his opponent like a mule through a farmer's field, as evidenced by the fact that he's started 30 or more games in each of his six full seasons, he's never missed a start because of injury and, since 2006, entering this season, he ranked seventh in the majors with 1,271 innings pitched.
He's always had the ability to dominate opposing lineups. Witness the five times before Wednesday that he's taken a no-hitter into the seventh inning (his closest call, before Wednesday, was 7 2/3 innings).
He's always been able to step up in pressure situations, as anyone who remembers the 2010 post-season can attest, when he threw seven shutout innings against the Phillies in Game 3 of the NLCS and then went 7 2/3 shutout innings against the Rangers in Game 2 of the World Series.
Cain is that rare combination of workhorse + staff ace, and it's showing up again in this, the year of Tim Lincecum's struggles.
Pressing to stay close to the Dodgers in the NL West, the Giants are 2-11 in games started by Lincecum this season.
But while Suddenly Tiny Tim frantically sorts through issues to find his former Cy Young stuff, Cain's steadiness has kept the Giants on track.
He's 8-2 with a 2.18 ERA through his first 13 starts. The Giants are 10-3 in those starts.
Over his past four starts, including arguably the greatest pitching performance in Giants history, Cain's ERA is 0.59.
"Obviously, we can talk about the sixth and seventh innings, those two unbelievable catches," Cain said of grabs by Blanco and left fielder Melky Cabera, a running catch at the left-field wall to haul in Chris Snyder's drive in the sixth. "That changes the whole thing."
No question, it did. As did manager Bruce Bochy's sharp defensive moves late, inserting shortstop
Brandon Crawford
and moving
Joaquin Arias
from short to third. No way
Pablo Sandoval
makes the play to end the game on Jason Castro's ground ball the way Arias did.
It was a sensational night. It was spine-tingling and nerve-wracking.
Cain threw 125 pitches. He had only four three-ball counts all night. His 14 strikeouts equaled those of Hall of Famer Sandy Koufax against the Cubs in 1965 as the most whiffs ever in a perfect game.
"I literally felt everybody on the mound with me, the whole stadium," Cain said of his emotions following Blanco's catch. "It was electric.
"I had to find a way to calm down. Somehow, it worked."
Somehow. But not by accident.
This was the signature moment of Cain's career, the night he stepped out from behind
Tim Lincecum
and
Barry Zito
and whomever else he's played second-fiddle to during six-plus seasons in San Francisco.
Cain, after this night, is in nobody's shadow.
Marcell Ozuna figures to be the next Marlins star on the move

Several relievers have signed in the last two days

Several teams are interested in the switch-hitting first baseman
Neshek and the Phillies are closing on a two-year contract

And the team that first drafted Cole is interested

This scout was SUPER into Jeter