Barry Zito throws first shutout as a Giant
Barry Zito's shutout gave the Giants their first victory in 2012, a 7-0 win over the Rockies at Coors Field. For the 33-year-old left-hander, it was his fifth career shutout and first since April 18, 2003.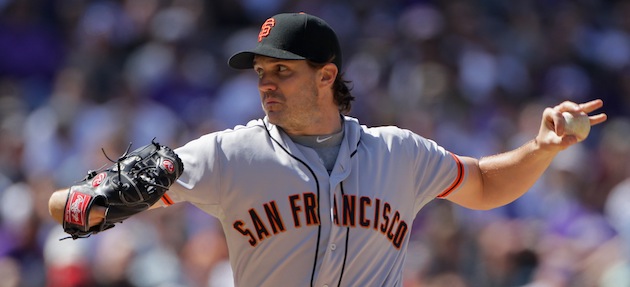 Off to an 0-3 start, the Giants certainly needed a good start and they got it from probably the least likely member of the rotation --
Barry Zito
.
Sure, it's early in the season and sample sizes and all that, but still it was pretty impressive to see Zito pitch like he did on Monday. The 33-year-old shutout the
Rockies
in
San Francisco
's 7-0 victory at Coors Field. It was Zito's fifth shutout of his career and his first since April 18, 2003.
The Rockies managed just four hits, and he retired the heart of the Rockies' order in the ninth, getting
Carlos Gonzalez
and
Troy Tulowitzki
to fly out to right for the first two innings and then got
Todd Helton
to ground out to third for the final out. Zito had four strikeouts and no walks.
The Rockies' top five batters in the lineup managed just two hits, singles by
Marco Scutaro
and Tulowitzki. Zito finished with 114 pitches, 71 strikes.
Meanwhile, Rockies starter
Jhoulys Chacin
was gone after just four innings, throwing 90 pitches, allowing four hits, four runs and five walks.
Zito even had an impressive day at the plate, turning in a 10-pitch at-bat in the seventh inning, culminating in his first base hit of the season.

La Russa has been with the Diamondbacks since 2014

The Yankees are undefeated at home this postseason and the fans are very much into it

How you gonna do The Kid like that?
The Dodgers have a chance to close out the series in Chicago on Wednesday

Only a slight change to the order for the Yankees against a lefty

The Yankees have come back from a 2-0 hole for the second time this postseason