Breaking down Adrian Gonzalez's early resurgence
Dodgers first baseman Adrian Gonzalez is off to a hot start, especially in terms of power. Is it for real?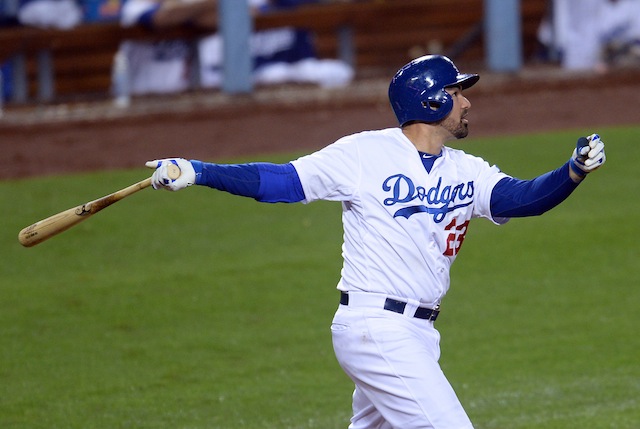 More MLB: Power Rankings | Expert Picks | Latest news & notes | Fantasy news
At this writing, Dodgers first baseman and fulcrum Adrian Gonzalez leads the NL in homers (tied), ranks second in slugging percentage and checks in at seventh (tied) in doubles. It's early, of course, but this has the makings of a power resurgence for the veteran slugger. 
To be sure, Gonzalez has remained productive, even in his "post-power" years (125 OPS+ since he tallied 75 extra-base hits for the 2011 Red Sox). That said, he hasn't been the force of nature that he was from 2008-11. Gonzalez's slow recovery from 2010 shoulder surgery had more than a little something do with his power decline. After all, those lingering shoulder problems caused him to swing on a more horizontal plane, and that, in turn, limited his ability to loft the ball. 
On that front, there's good news. From earlier in April, here's Dylan Hernandez of the Los Angeles Times: 
Now, more than three years removed from the surgery, Gonzalez said of his shoulder, "It's looser."

His expanded mobility has allowed him to follow through on his swing the way he did when he was considered a home run threat.

"My finish is coming back," Gonzalez said. "It's something that's more mechanical than physical. If I can have a high finish and long finish like that, the ball will have more carry.

"Really, it's the basis of my swing. If I have a good finish, I have a good swing, so it's really what I focus on."
So, yes, improved shoulder health has surely played a role in Gonzalez's early surge. 
Elsewhere, we can find some interesting things in Gonzalez's numbers to date. One seeming sign of trouble is Gonzalez's spike in strikeout rate. This season, he's striking out 21.1 percent of the time, which is his highest mark since he was a 23-year-old with the Rangers. In part this is because Gonzalez is offering at more pitches this season (career-high swing percentage of 56.8 percent), and in part that's because Gonzalez is seeing more strikes than ever before. If the power keeps up, then pitchers will likely stop challenging Gonzalez to such an extent. Of course, Gonzalez is a disciplined enough hitter to lay off if they do that. 
As for what happens when Gonzalez does put bat on ball, thus far in 2014 Gonzalez is hitting home runs on 27.6 percent of his fly balls. That's a lofty figure, especially in comparison to his 2013 mark of 11.4 percent. Still, it's not wildly out of step with A-Gon's prime HR/FB rates in 2008 (20.7 percent) and 2009 (22.2 percent). While you can expect his 2014 rate to come back to earth a bit, it may not be as much as you'd think. That is, Gonzalez has proved that he's capable of HR/FB percentages in the 20s. 
As well, Gonzalez is once again hitting for power to all fields, as Eric Stephen of True Blue LA recently observed. Take a look at his spray chart for 2013, and pay special attention to the home runs in black ... 
Source: FanGraphs
As you can see, there's a pronounced pull-field drift to his 2013 home runs. 
Now here's A-Gon's 2014 chart, prior to Wednesday's game in Minnesota ... 
Source: FanGraphs
This season, exactly half of his NL-leading eight homers have been to left or left-center. That's a good thing, insofar as Gonzalez's near-term outlook is concerned. Moreover, Gonzalez, per Jeff Zimmerman's data, has added almost 15 feet of distance to his average fly ball versus last season. 
Yes, sample-size caveats apply, but Gonzalez's improved health in tandem with his renewed ability to hit balls with authority and use the entire field bode well. Gonzalez is of course soon to be 32 years of age, so a long-term renaissance isn't likely. The 2014 season, however, may turn out to be a vintage A-Gon campaign. 
Gallardo spent the first eight years of his career in Milwaukee

MLB revenues are at a record high right now, but teams aren't spending it on players

Chicago added Tyler Chatwood earlier this offseason but might not be done adding to the ro...
The Dodgers and Braves pulled off a whopper on Saturday

Sabathia will reportedly spend a 10th season in the Bronx

Fowler suffered a knee injury at Chicago's Guaranteed Rate Field