Bryce Harper benching is the right message sent the wrong way
Bryce Harper was benched on Saturday afternoon for not running out a ground ball. Manager Matt Williams sent a good message to his team, but did it the wrong way.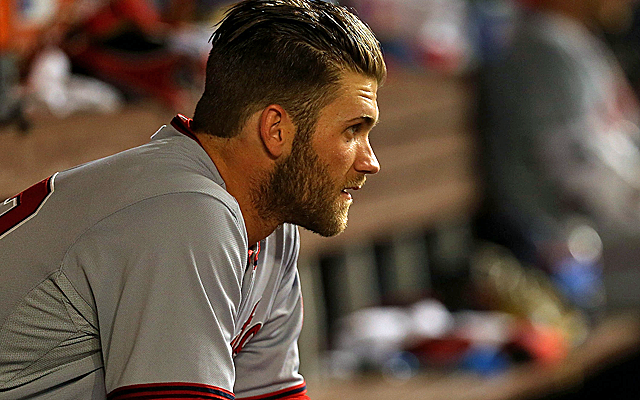 More MLB: Power Rankings | Expert Picks | Latest news & notes | Fantasy news
On Saturday afternoon, Nationals manager Matt Williams pulled Bryce Harper from their game against the Cardinals because he didn't run out a little ground ball tapper back to the pitcher. Williams made it clear the benching was because of a "lack of hustle."
Harper was pulled after his at-bat in the top of the sixth, and sure enough, his lineup spot came up again in the ninth inning, with the tying run in scoring position no less. Replacement Kevin Frandsen grounded out and Washington eventually lost 4-3. There are no guarantees Harper would have come through in that spot, but there's no doubt he would have given the club a better chance to win.
Harper didn't run hard out of the box and hustling is one of those things that everyone can do. It doesn't require talent. To his credit, Harper usually plays very hard, so not running out a ground ball is a rarity for him. The problem isn't necessarily the benching itself, but how it was handled. Here is what Williams had to say after the game, courtesy of Adam Kilgore of the Washington Post:
"It's the way we set out to do it," Williams said. "Regardless of situation, regardless of what's happening to you personally, we have to play the game a certain way to give ourselves the best chance to win. And it's too bad that it came down to that situation in the ninth inning, when he could have been at the plate. For the sake of his teammates, and the sake of the organization, he needs to play with aggression and the way he plays."
Williams lumped all of the blame on Harper, implying that he let his teammates down by not being available in the ninth inning because he was benched. Benching a star player is not something that will go over lightly and Williams, a first-year manager, has to stand by his decision, not deflect the blame elsewhere. A manager should have his player's back, not hang him out to dry like that.
As you might expect, the players took it all in stride. Harper told reporters he understood the benching and was disappointed with himself. Teammates like Jayson Werth and Jordan Zimmermann said they understood Williams' decision as well. It's not often a player will make a big deal out of something like this, so the responses were not surprising.
Benching a player for not running hard is not wrong, but I don't think Williams handled it properly. He put all the blame onto the player rather than standing by his decision, especially when it came back to bite him in the ninth inning. The move had a very real impact on the outcome of the game. The message was fine -- "you have to run hard if you're going to play for me" -- but the way it was sent left a lot to be desired.