Considering 2B, Blue Jays eye Headley but so far not Murphy or Weeks
Toronto could move Brett Lawrie to second base.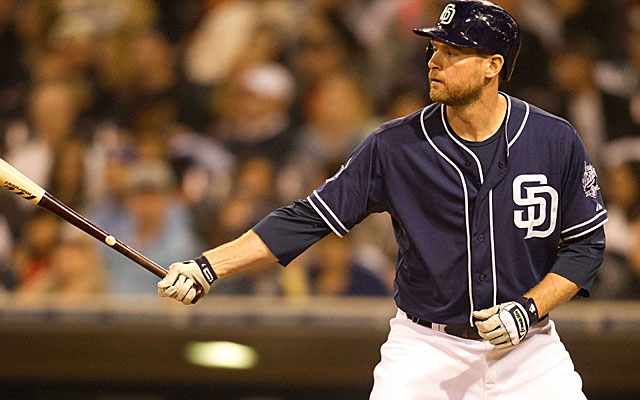 More MLB: Power Rankings | Expert Picks | Latest news & notes | Fantasy news
The Blue Jays have a second-base issue, and interestingly they've looked into a trade for third baseman Chase Headley but not yet second basemen Daniel Murphy or Rickie Weeks.
The reason for that is two-fold: 1) the Jays are open to moving third baseman Brett Lawrie to second base upon his return from a broken finger, and 2) they are said to seek more defense at second base than they believe Murphy or Weeks provide.
The Jays are in an exploratory stage in Headley talks, with no offers made as of Friday afternoon, no surprise since interested teams will want to see how he plays with what has been revealed to be a herniated disk. Headley is having an atypical season thus far, batting .205 with just six home runs to date, another issue.
The Blue Jays have been in the market for a second baseman since the winter, when they tried to trade for Ian Kinsler before Kinsler's no-trade clause prevented a deal.
The Headley talks with Toronto were first reported by UT-San Diego.
With Headley's 2014 salary just north of $10 million, too, his value is pretty limited at the moment. He declined what sources said was a $33-million, three-year offer in wintertime (it was reported here to have been for something in that range, and people familiar with the offer now peg it at exactly $33 million), but with his struggles this year, the Padres surely couldn't risk even extending the qualifying offer, which is expected to be about $15 million, further limiting his value to San Diego. Headley is due to be a free agent after the year.
Meanwhile, there aren't many great second-base or even third-base options on the trade market, leading Toronto to consider Headley, a former Gold Glove defender at third. Lawrie can move to second as he is seen as an exceptional defender who's versatile.
The Jays had been speculated to have interest in Murphy, but while some believe he has improved markedly at second, there's no indication Toronto has even reached out to the Mets. The Brewers have an excellent second-base platoon with Scooter Gennett and former starter Weeks sharing the spot. However, there's no evidence that Toronto is currently pursuing Weeks either at this point; they apparently see a Headley-Lawrie combo as better defensively.
Here are the bullet-points of what went down Tuesday regarding MLB and the Braves' punishm...

The owners need to ratify on the new system in place, but the takeaway here is Ohtani is coming...

A preliminary report National Transportation Safety Board has shined some light on details...
John Coppolella was placed on the permanently ineligible list by MLB on Tuesday

Among other sanctions, Atlanta lost the player who was deemed the No. 1 international signing...

Among other penalties, No. 1 international prospect Kevin Maitan is now a free agent