David Ortiz marketing himself as a first baseman
With impending free agency lurking this offseason, Red Sox DH David Ortiz is letting teams know he can play first base on a regular basis.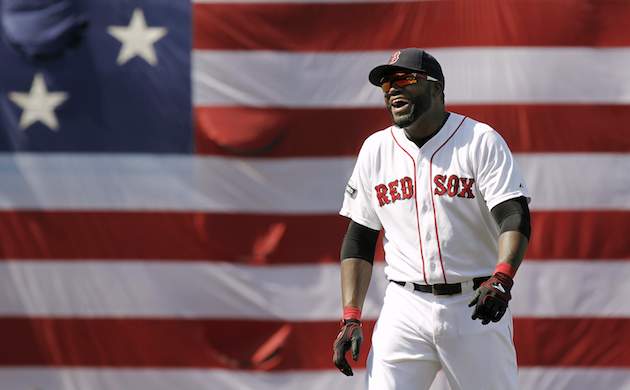 David Ortiz learned this offseason the limitations on the free agent market for a designated hitter -- so he's going on the offensive, citing his defensive abilities.

"Man, the way I feel this year, I feel like I can go play first base in the National League," Ortiz told the Boston Herald.

Ortiz hasn't played more than 10 games at first base since 2004. He has played there seven times already this season.

"I'm not as bad as people think I am," Ortiz said of his fielding to the Herald. "People see you DHing the whole time and they think you're just going to go out there and screw things up. I'll tell you straight-up: I'm not going to be all-fantasy, but you hit that ball where I reach it, I'm going to catch it."

Last offseason, the Red Sox offered Ortiz arbitration and he accepted, avoiding the free agent market that was dry for designated hitters. Ortiz got a one-year deal worth $14.575 million from the Red Sox, but called that "humiliating" and "embarrassing," in a recent interview with USA Today.

Ortiz, 36, hit .309/.398/.554 with 29 homers last season, one of the few Red Sox who actually lived up to expectations a year ago. He's off to a great start again this season, hitting .302/.391/.607 with 22 home runs and is the lone Red Sox player in next week's All-Star Game.

As a free agent this season, it's unlikely the market will be any better for DHs, despite the fact there will be one more team with the DH as the Astros move to the American League. Most American League teams have moved beyond a set DH, using the position more as a vacation spot, a way to give an aging superstar a day off without losing their bat in the lineup. The Yankees have used Alex Rodriguez, Raul Ibanez, Andruw Jones, Eric Chavez and Derek Jeter in the DH spot at least nine times each.

Last offseason, Jim Thome was forced to sign with the Phillies, playing four games at first base and nine as the DH before he was traded to Baltimore.

If teams actually believed Ortiz could play first base on a regular basis, he'd maybe be able to find a salary around what he's making this year, but that's a big if. It's going to be an interesting offseason for Ortiz, who will turn 37 in November. He's been making comments that seem to have him starting to distance himself from the Red Sox, but Boston is the one place where he may be able to continue earning the type of paycheck he's gotten used to receiving. It's smart to market himself as a first baseman, but that doesn't mean anyone will buy it.

For more baseball news, rumors and analysis, follow @EyeOnBaseball on Twitter, subscribe to the RSS feed and "like" us on Facebook.
The Red Sox and Cardinals are expected to make trade offers next

The free agent first baseman may be a fit in St. Louis

The front office changes in Atlanta continue
The Marlins are more likely than you think on our list

Judge finished a distant second in the balloting and he paid respect to the winner

Stanton just won the 2017 NL MVP award but could wind up being dealt this offseason