Dodgers starting pitcher Hyun-Jin Ryu had shoulder surgery Thursday morning, and he'll miss the rest of the season as a result. As the straight-shootin' headline already told you, here are five things to know.
1. The Dodgers have already been fine without him
We know about Clayton Kershaw and Zack Greinke at the top of the rotation. Just as has been the case through much of his career, Brett Anderson is good, too, so long as he can avoid injury. Meanwhile, Mike Bolsinger (2-0, 1.04) and Carlos Frias (3-1, 2.55) have proven to be quite capable back-end rotation options in the early going.
Small sample caveats apply for Bolsinger and Frias, of course, but the Dodgers enter Thursday at 24-15 and in first place in the NL West. They are fourth in the NL with a 3.58 rotation ERA, despite having gotten zero pitches from Ryu all season. Thus, losing him is by no means a significant needle-mover in the present tense.
2. Moving forward, though, the rotation has the potential to be thin
The above being said, Anderson is a walking injury risk to the point that he even jokes about it in self-deprecating fashion.
Frias' track record doesn't scream long-term starter and he still has great trouble with lefties. He obviously has the ability to stick as a four here, but there's also the potential he flops the second time around the league. If nothing else, he's at least a question mark.
Bolsinger was awful last season for Arizona at age 26 while his minor-league track record and 2015 big-league peripherals suggest what we've seen so far is a small-sample fluke. His last two outings came against two of the worst teams in baseball, too, in Miami and Colorado.
Joe Wieland, Scott Baker and P.J. Walters are unexciting replacement options in the minors and then there's prospect Zach Lee. The 23-year-old righty has a 2.89 ERA, 1.20 WHIP and 39 strikeouts in 46 2/3 innings for Triple-A Oklahoma City in a very hitter-friendly Pacific Coast League. Then again, he's a rookie and those are always hard to trust from the get-go on a contender.
So, yes, there are plenty of reasons for concern behind the dynamic top two.
3. There will likely be a decent starting pitching market via trade
We know Cole Hamels is available and will continue to be available, but he's only the biggest fish. Past him, it's easy to see Billy Beane selling Scott Kazmir and maybe he's even crazy enough to deal Sonny Gray. Maybe come July the Brewers are ready to sell while Matt Garza and/or Kyle Lohse look attractive enough to grab. Mat Latos will be a free agent after this year and the Marlins surely wouldn't mind trading if they're gonna continue down their current path. On that front, perhaps a Dan Haren reunion?
I can't help but think, however, that Johnny Cueto would be a nice match. The Reds are a great candidate for a quick rebuild but don't appear to want to fully commit to it until after the All-Star Game (which is in Cincinnati). Once that's been played, free-agent-to-be Cueto could become available and the Dodgers have an enviable prospect stash. Maybe then the Dodgers work out an extension with Cueto due to the expectation that Greinke will opt out of his deal at the end of the season and become a free agent? Just a thought.
This is mostly conjecture, but there's nothing wrong with kicking ideas around.
4. The Dodgers have the pieces to make a splash
The big-league roster is oozing with depth. Once Hector Olivera joins the ballclub and Yasiel Puig returns from injury, the following players will be bench guys capable of starting elsewhere: Alex Guerrero, Justin Turner (or Juan Uribe, whichever guy you don't list as the starting third baseman), Olivera (or whoever he replaces as a starter), Scott Van Slyke (or Andre Ethier). Everyone has varying degrees of attractiveness in a trade, of course, but the point is there is talent to spare already on the big-league roster. Come July, they'll have a lot better idea which direction they want to go.
And, as mentioned above, the prospects are there, too. Baseball America ranked the Dodgers has the third-best farm system in baseball (behind the Cubs and Red Sox) heading into the season. The hot shots -- Corey Seager and Julio Urias -- have long been said to be untouchable, but there's some depth here to swing a deal if so desired. They could shoot a bit lower than the Cueto/Hamels types if they can't get either without losing Seager or Urias.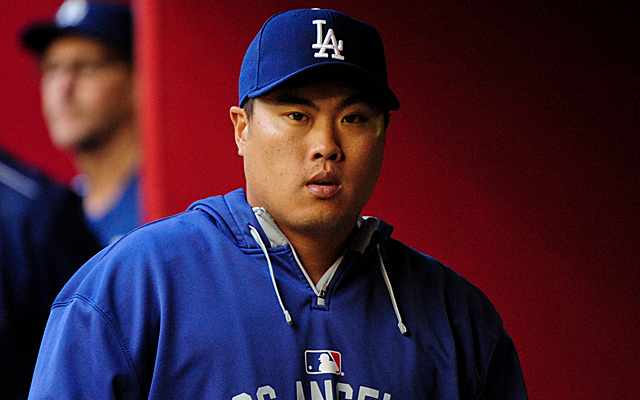 5. Ryu's contract isn't a problem
This is Ryu's third year of a six-year, $36 million deal. He's already provided the Dodgers great value on the deal, being a key cog in two NL West division championships. He's also reportedly going to be ready for the start of spring training next season, so he should provide three more years at great value -- above-average starting pitching these days is worth far more than $6 million a year -- to the ballclub. Obviously the ideal scenario would be six uninjured years, but this isn't even close to being a sunk cost in totality.