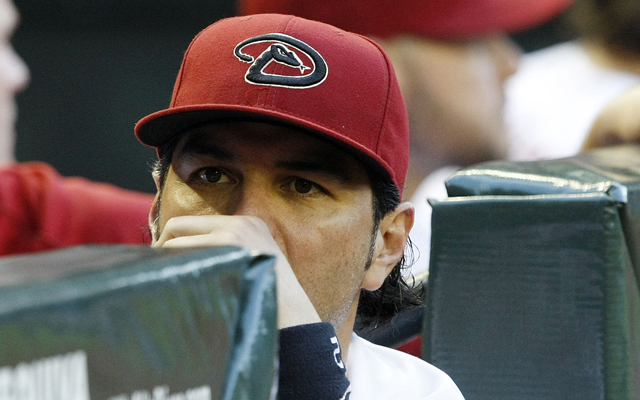 More MLB: Deadline news | Power Rankings | Latest news & notes | Fantasy news
Eric Chavez, the five-tool third baseman with extraordinary skill and a low-key California personality who won six straight Gold Glove awards and became the only star of the famed Moneyball A's to sign a long-term deal to stay in Oakland, is retiring Wednesday after an exceptional 16-plus-year career.
Chavez rode great natural ability that allowed him to post six 25-homer seasons before he was 28 and unusual dedication and work ethic that transformed him from an "all hit" prodigy to become one of baseball's best third basemen. He would later reinvent himself as a student of hitting and became a high-percentage bench player. But while Chavez characteristically expressed no regret save for the one disappointment over never quite reaching the World Series with the overachieving A's teams or star-studded Yankees teams -- despite some very close calls -- his interesting, bifurcated career path may leave some one wondering what might have been if not for a string of mid-to- late-career injuries.
"He had an amazing career," said A's GM Billy Beane, the famed Moneyball architect who is so close to Chavez that folks around the Oakland baseball scene often viewed him and Chavez as big and little brother. "Quite frankly, had injuries not hit at the wrong time, he was on his way to a Hall of Fame career. If you look at what he did to age 26, you could see him ending up  (in Cooperstown)."
Chavez, best remembered for a rare power-defense combination in his A's heyday, made the retirement announcement Wednesday in an interview with CBSSports.com. Chavez already has turned in the papers with MLB, sacrificing well over $1 million by volunteering to move from the disabled list to retirement, no surprise if you know Chavy, as he is called by his baseball friends.
Chavez said he wouldn't have felt right taking money for sitting his last days on the disabled list with the knee injury that finally felled him, years after refining his swing and reinventing himself as one of baseball's best bench players. He enjoyed his last years as a role player on Yankees teams filled with big names, then later took less to play and stay in Arizona, where the family man makes his home. While he was blessed with outsized talent and movie-star looks, it served him well to be just off the cusp of the limelight, first as a star of a small-market team and later a bench player with that storied team in New York.
"I'm very lucky," Chavez said. "I just enjoyed competing and being on the field. There's nothing like winning at the major-league level."
As it happened, there was a lot of winning for both the A's and Yankees, two teams on opposite coasts with opposite approaches. He thought his career was over when he left Oakland but found success later playing with the big-market team that barely kept the upstart A's from reaching the World Series.
Chavez, a No. 10 overall pick out of high school, used exceptional hand-eye coordination, hand strength and natural skill to post six straight seasons with at least 26 homers playing in the cavernous Oakland Coliseum. Beane recalls Chavez, who rose to the A's only two years out of Mount Carmel High School (coincidentally the very same San Diego school Beane attended), lining outside pitches for opposite-field home runs to left field Oakland, an amazing feat for a young man barely of drinking age.
The lefthanded-hitting Chavez, who finishes with 260 home runs and a .268 batting average, was the right man for a small-budget team, as he never emphasized money or material things. Before he signed his below-market $66-million, six-year contract, Chavez told Beane he'd like stay with the A's his entire career even if meant taking far less. Beane's A's made a run at keeping Jason Giambi long-term, too, but ultimately didn't have the funds to keep him, shortstop Miguel Tejada or pitchers Tim Hudson, Barry Zito or Mark Mulder.
Chavez is recalled as someone who shared his good fortune, awarding one of his six Gold Gloves to then-A's coach Ron Washington as a way to reward Wash for all the hard work to turn Chavez from a talented kid with an "all hit, no glove" rep who possessed "terrible footwork" into the best third baseman in the league. Three of the Gold Glove trophies are in his parents' San Diego home.
Of all his achievements, Chavez took the most pride in his defense. From the moment as a kid he let a ball go through his legs, inciting a memorable stare from a veteran A's pitcher that put the "fear of God" into him, he strived not to disappoint any of his pitchers. He finishes with a .970 fielding percentage, the fifth best in big-league history at baseball's toughest position historically. "If you don't make the play, you're not only affecting yourself, but you're affecting your teammates," is the way Chavez looked at it.
Chavez made a major impact with the A's, averaging a 5.2 WAR over his six prime seasons, putting him in the top 10 in the AL in that period, and he continued to play well in his later years for Oakland, the Yankees and Diamondbacks. He posted an .825 OPS since 2012 (even better than his .818 career mark) despite some more occasional difficulty staying on the field as a variety of injuries, sometimes freak ones, sidelined him. Despite knee pain that has limited him to 44 games, Chavez had a more-than-respectable .795 OPS this year.
"It's been a fun ride," Chavez said.
Stardom was predicted for Chavez right from the start, and he turned down a USC scholarship offer to sign for $1 million with the A's. The decision quickly was proven to be the correct one, as Chavez was named the Minor League Player of the Year by Baseball America in his second professional season, then became the second youngest player in the majors, at only 20, upon his ascension to the big leagues late in the 1998 season.
He rarely struggled, but Chavez was by far his best in the second halves of season, as evidenced by the quirk that he never made an All-Star team. That's OK with Chavez as he never sought the spotlight or personal glory. The one hitting category where he led the league was walks (he had 95 in 2004), a testament to how he worked to fit into Oakland's plan.
It was also fine by him that he barely earned a mention in Moneyball despite being the A's clear positional star, along with Tejada, of the 2002 A's team that was featured. The highlight was a 20-game winning streak that was featured in the film, and while it didn't warrant a mention he hit .329 with six homers and an astounding 28 RBI in that alltime run.
That might have wound up on the cutting room floor, as the movie was about a submarining reliever Chad Bradford, a converted first baseman  Scott Hatteberg and most of all the brilliance of his close buddy Beane and his front-office sidekick Paul DePodesta. Chavez, characteristically, didn't mind a bit. He also gives Beane and other A's scouts and decisionmakers the bulk of the credit for figuring out how to win on a shoestring, year in and year out. "It really didn't bother me," he said. "Billy did a tremendous job. The win with that payroll and reinvent (the team) year after year is simply amazing."
Chavez was more interested in team fortunes than personal glory, so it made sense he earned MVP votes in four straight years despite being maybe the best player over the past quarter century never to make the All-Star team. The reason for that is that while he was a solid player in the first half, his first-half numbers (.257 batting average, .457 slugging percentage, .789 OPS) are dwarfed by second-half superiority (.282, .500, .855).
The one real void was never quite making it to the World Series with all those great overachieving A's teams. "I thought we were the better team, but Derek had the flip," Chavez recalled. "We were just young kids new to the scene."
Chavez would like to stay in the game as a batting coach after learning abut the nuances of hitting in his later years and reinventing himself (just like the A's do). That should fit him, as he was always one of the mature ones. The only complaint he has about today's game is the self-glorifying celebrations that are becoming routine. "To say it was an honor and a privilege to know and represent Chavy the last 19 years is an understatement. He is one of the most special human beings I have ever known," Scott Leventhal said.
That's how everyone feels about Chavy.