For star-studded Dodgers, as injuries pile up the rhetoric is toned down
With the West Coast version of the Yankees, the goal is to hang on until some stars return (or maybe more stars can be imported).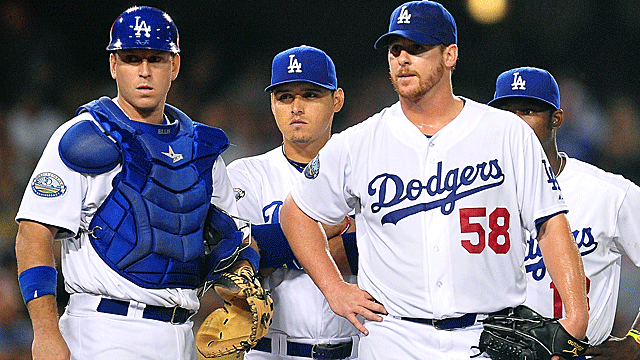 NEW YORK -- Stan Kasten is sitting in the Caesar's Club in Citi Field, some might say an appropriate spot for the president of the team that leads the league in high-priced gambles. The Dodgers' new ownership group, the Guggenheim Partners, ran the payroll from $90 million a year ago to $220 million. They made the biggest trade last summer, then followed it with the biggest signing this winter.
Kasten is very pleased by all their acquisitions, and says so. And while no one will dispute the talent stash seems very impressive, the results on the field have been far less so. With that McCourtian $90-million payroll last year, the Dodgers started 30-13. Now they have begun 9-10, which followed a 19-19 finish after The Trade late last summer.
Though the spending is up, the rhetoric has been toned down a tad, even from spring. The swagger shown by Dodgers people at the Camelback Ranch appears to be on hiatus for the moment anyway, as most of the talk has been about injuries, timetables for returns and missed opportunities on the field. There are no bold proclamations about unseating the world champion Giants, at least not at the moment.
"In most cases, we look to be getting most of the players back in a time frame where we can still have a good season,'' Kasten said. "We still have very high hopes for this season, as we should,''
"If we hang on,'' he declared at one point, "we can still have a good season.''
Something that seemed a certainty back in spring appears to have been downgraded to a possibility contingent on health. Hanley Ramirez (broken thumb) could be back in two weeks, Zack Greinke (broken collarbone) in four. The Dodgers are pleased by their progress, which is more than you can say about the team's performance in their absence.
But Tuesday they received another blow when they learned that solid starter Chad Billingsley, who had hoped for many months to avoid an operation, would indeed be undergoing Tommy John elbow surgery, which will sideline him until sometime early next season. The Dodgers, who once boasted an embarrassment of riches in the starting-pitching department, are down to four proven big-league starters from a high of eight, thanks to the trade of Aaron Harang and the injuries to Billingsley, Chris Capuano (who'll be back next week, they say) and Greinke (the big winter signing).
Veteran Ted Lilly, who was mostly biding his time, is a worthy eighth man in. Until Capuano returns, Stephen Fife is the fifth starter "for now,'' according to one Dodgers official. The fans are already clamoring for big-time prospect Zach Lee, who was coaxed away from a scholarship to play quarterback at LSU and has started 2-0 with a 1.17 ERA at Double-A Chattanooga, Tenn.
"I guess we're fortunate we have enough players who can do it,'' Kasten said. "But it's still a bad run.''
At the same time, Kasten knows how quickly things can turn. The day they pulled of the deal that's been called the Trade of the Century, importing Josh Beckett, Adrian Gonzalez, Carl Crawford, Nick Punto and assuming $260-million in payroll obligations, was the very day Billingsley first hurt himself, as Kasten noted, wryly.
Forgetting the injuries for a second (which isn't easy to do) and the amount of money they've spent (even tougher to do), Kasten said they are happy with all their main acquisitions since they took over a year ago next week. They include Ramirez, Brandon League, Beckett, Gonzalez, Crawford, Punto, Hyun-Jin Ryu and Yasiel Puig.
The goal appears to be to put a star at every position. There are big names aplenty on the team, though the biggest one in the clubhouse today was new Dodgers employee Sandy Koufax, who showed up to greet the ailing team in his hometown. The new Dodgers think big, from the Dodgers Stadium makeover to everything else they've done. They are an unfinished product, however.
"We want to keep going, we want to do more,'' Kasten said. "It's a long-term plan.''
In the short term, they are hurting, and the Greinke injury is the real stinger, seeing as he signed for a $147-million, six-year deal this winter and was looking like everything they could hope for. There have been a lot of regrets about Greinke's competitive instincts coming out when he leaned into the charging Carlos Quentin, suffering the broken left collarbone. They miss him dearly. "I wish he hadn't done it,'' Dodgers ace and good friend Clayton Kershaw said, softly, before his start here against the Mets. They all feel the same.
In the meantime, the goal seems to hang in there until he returns, which seems pretty feasible considering the talent level on the team. They have won two straight, including a 7-2 victory here Tuesday against the Mets in which Mark Ellis had four hits and two home runs, including the 100th of his career. Kershaw said he saw "signs of life ... which is awesome.''
It would seem their luck has to start turning around. "We're still in pretty good shape,'' manager Don Mattingly said. "And we're still going to get Zack back.''
Mattingly won't use all the injuries as an excuse, pointing instead to an annoying inability to hit when men are on base. That's certainly a big part of it, as they were hitting a lamentable .185 with runners in scoring position heading into the game, which amazingly enough, isn't the worst mark in baseball, thanks to Chicago (the White Sox are at .163, the Cubs .147). But just as big as been some severe sever dry spells by players ranging from the solid (Luis Cruz) to the superb (Matt Kemp).
Mattingly called Cruz, who has a slugging percentage of .087 (not a misprint) into his office to explain his benching, which may last a few days, or more. Mattingly pointed to "lost confidence'' as the issue with Cruz. "Without being harsh, this is a production business,'' Mattingly said. "That being said, we're going to give him a chance to get it together and get back in the mix.''
There is no option to bench Kemp, though Mattingly dropped him to cleanup for a game before bringing him back up to the No. 3 spot. One scout suggested Kemp appears passive, while another said he believes he's been anxious.
Mattingly just thinks he got into some bad habits playing while more injured than they knew about late last year. "He's working on his swing to get back on track. I'm not worried about Matt,'' Mattingly said. "I know he's going to continue with that. And he'll probably take off.''
The hard reality is that there probably just isn't time to dwell on Kemp. They have to assume he'll get it back soon, as the track record suggests he will (beyond that, the alternative is just too terrible to think about). "He was among the very best players in baseball, and we expect him to return to that, hopefully very soon,'' Kasten said.
For now, they sometimes act as if Kemp is one of the casualties. The player who almost pulled off the 40-40 trick, then predicted 50-50 the next year and appeared on his way early, has three stolen bases and no home runs. "You can't minimize how important it is to get Matt back,'' Kasten said. "When we get Matt back, we can have as good a lineup as there is.''
Kemp will be Kemp, and ultimately, Kasten said, the Dodgers will be the Dodgers. That to him means they'll be back to being elite in the areas of scouting, player development and international signings. Their scouting guru Logan White, the man who picked Kemp and Kershaw and also signed Puig, who looks like a home run (he hit over .500 in spring training and is slugging .625 at Chattanooga), should aid in that endeavor.
"That's' where we're really focusing,'' said Kasten in a statement that may surprise competitors who saw them raise the payroll nearly 150 percent.
Ultimately, he said the payroll "is not going to be where it is,'' meaning they hope to reduce it by using home-grown players. Of course, as Kasten admitted, that may take a few years (or more).
In the meantime, he said they are trying to make the team the best it can be.
And at the very least, they have raised expectations as high as the famed Hollywood sign. Season ticket sales are up more than 80 percent, from 17,000 to 31,000.
Expectations have been crazy. Mattingly said he doesn't mind. As he pointed out, he was a Steinbrenner employee for a quarter century, so he's used to it.
But as the injuries pile up, they do appear to have been toned down the talk a tad.
No, you're not imagining things. This MLB offseason has been very slow compared to the last...

Francesa will retire from radio next month, so he'll have plenty of free time next summer

Get your sports fans something that they'll wear all year
Get 15 percent off any order of more than $75 at CBS Sports Shop

The Twins need help in the rotation, and they may look to the trade market to find arms

Here are the bullet-points of what went down Tuesday regarding MLB and the Braves' punishm...